There IS a use for you!
To me, this is like a cock shaped wand! It's too hard to put inside, but the power makes it still a great clitoral vibe. The only reason I rated this down is because it's purpose seems to be insertion, which doesn't work for me. If you can handle hard plastic inside of you, don't pass this up!
Published:
Pros:
- Powerful
- Doesn't Collect Lint
- Easy to Clean
Cons:
- Material is too Stiff/Hard
====================
Power Stud: Cliterrific
by California Exotic Novelties
Purple Model
====================
I wish I could rate this better, because I WILL have a use for it, but it's overall functions are lacking. In order to keep my reviews fair between all aspects of function, I have to rate this 3 stars. However, don't pass this up if you are looking for clit stimulation in the tub!
==========
PACKAGING
==========
This item comes in a box you would expect to see hanging in a sex shop. The box is NOT discreet! Good enough, I say. Do you really need fancy packaging? Inside the item is wrapped in a clear plastic bag that includes battery directions. Erm. Battery directions included do NOT show how to insert them for THIS item. What was the point of that? It could have came in handy too because the inside of the cap doesn't tell you how the batteries need to be replaced. It took a few tries to get it right.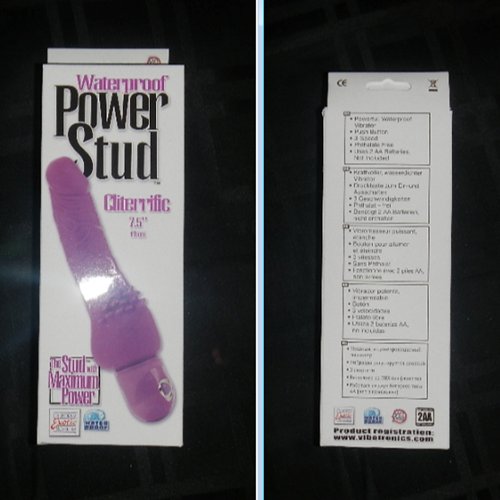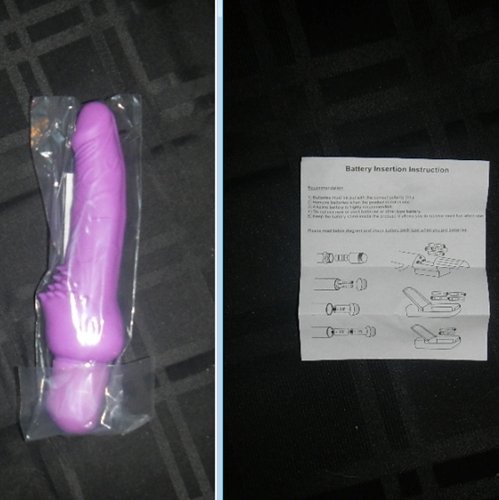 ==========
DETAILS
==========
According to the box, this item is:
* Waterproof
* Phthalate Free
* For External Use Only
* Used with a Water Based Lubricant
* Takes 2 AA Batteries NOT INCLUDED
Dimensions:
Overall Length = 9 1/2"
Insertable Length = 6"
Head Girth = 1 1/2"
Base Girth = 1 3/4"
Speeds:
This is controlled by ONE push button at the end cap. You have to push the button to cycle through each speed to turn it back off. The button isn't sensitive, so you shouldn't worry about cycling through accidentally.
Speed 1 = Mid-strength Solid Vibration
Speed 2 = Slightly Stronger than Speed 1
Speed 3 = Strong Solid Vibration
I would compare the strongest speed of this to the lowest speed of the hitachi wand, or a good bullet vibe. It surprised me how strong this actually was, as most vibrating dildos I've tried don't have much power. Another great aspect of this is that the vibration is actually sitting right below the head of the cock. How wonderful! The first speed is pretty silent, but even the highest speed should be covered up by a blanket.
Material:
According to the box, this item is Phthalate-Free PVC. The cap is ABS.
I noticed no odor with this item. It feels slightly softer than hard plastic and is just a tiny bit squishy. There are ridges under the head and veins that add some nice texture. As for the weird nubs at the base, they feel the same as the rest of the toy and really seem pointless to me. The color looks just the same as it does in the stock photos. This item is NOT a lint collector!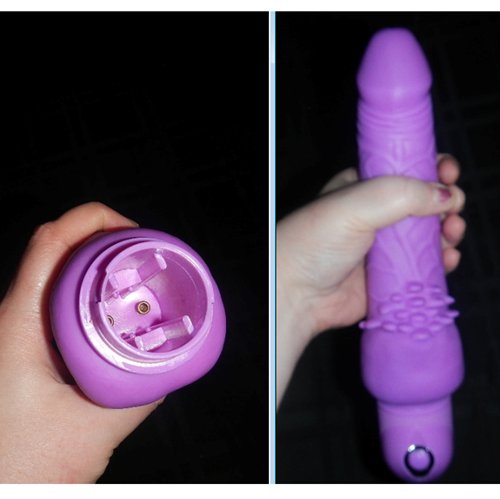 Care:
This is a simple toy to care for! Because it's waterproof, you can clean it with regular soap and water. I wouldn't suggest submerging it, though. You can keep the cap tightly on, angle downwards with the cap pointing up, and wash the insertable area under the faucet. You can also use regular toy sprays or wipes. Because of it's material, you can just wipe it dry and put it away!
Experience
Negative Experience:
My main problem with this toy is it's way too hard to be inserted inside of me. There just isn't any give to this toy to squeeze inside my sensitive bits without causing me pain. I never even got more than an inch in before I quit. However, I believe I'm more sensitive then a lot of people and this could possibly not be a problem for you.

My only other complaint is the battery compartment. I originally thought the toy was broken because it didn't show which way to insert the batteries. I tried a few methods before I figured out which end should be up and which should be down. This really isn't a big deal because it works fine once you figure it out.

Positive Experience:
The power of this toy really makes it for me. Even if it wasn't waterproof I could use this alone for clit stimulation out of the tub. However, because it IS waterproof, it's now my go to shower/tub toy. It's a little bulky to be used just for the clit, but hey, the hitachi is my favorite toy and it's twice the size!

I also love that this is easy to clean and doesn't pick up lint. However, in order to avoid another toy sucking up dust, I lose the ability to have it squishy enough to be inserted.

Overall
Although I won't be using it out of the shower/tub, I WILL be using it. I take baths almost everyday anyways. If you think you can take it inside of you, I think it could easily be a 5 star item for you. If you're on the fence, it's worth the price to replace bullets that numb your fingers. Because the vibe is away from the remote, this has the power without the numbness!


Thanks for reading! Happy sexy times!
Follow-up commentary
2 months after original review
Although I still can't use this for insertion, it is now my go-to bath toy. So far it's held up perfectly against water. It has also been very good for retaining battery life as after two months I still haven't had to change them. So many toys drain batteries too quickly, so this is a major plus to my love for this.
This product was provided free of charge to the reviewer. This review is in compliance with the FTC guidelines.

Thank you for viewing
Cliterrific power stud
– traditional vibrator review page!