Wanting to love Roae
The Zini Roae is a stunning looking vibrator. It gives such high hopes. For its intended use, it just is a huge miss. Thankfully, it can still be used other ways.
Published:
Pros:
Gorgeous design, rechargeable, silicone
Cons:
Won't fit many women as a dual stimulator
USE:
Zini. Oh Zini. I got the Seed and Hua not long ago. They are such lovely pieces of vibrating goodness. I read reviews on the Roae and they were not so great. I wanted to give it the benefit of the doubt. After all, how can a company that makes such awesome toys have a product that sucks that bad. And really, just look at it. It is so sleek and sexy. It looks like some bizarre ray gun and I want to run around with it going "PEW PEW" to everyone I see.
Roae is classified as a rabbit styled vibrator. It is supposed to contour a woman from the inside while it gently buzzes on the outside. It holds a total of 3 motors that can rove and pulsate in various modes and speeds. The looped over handle makes it impossible to be swallowed up if you use it for anal play.
MATERIAL/TEXTURE/DESIGN/SHAPE:
Roae is made of velvety smooth silicone with a bit of shiny plastic around the handle portion. The silicone is soft with a firm inner core so there is no squish to this one. It has a straight, but curvy shaft and the and curls around that is supposed to be inline with your clitoris. The total length is 8 inches with 5 of that being insertable. It has 3 motors - one in the outer tip, one on the tip of the clitoral arm and one just under that for labia stimulation. The third motor seems to only come on during the pattern mode and works simultaneously with the motor in the tip of the shaft.
FUNCTIONS:
You will receive your toy in Travel Lock mode. To unlock (or lock) your toy at any time, you will hold down the "-" then add in the "+" button for a few seconds. When the control pad flashes red it is locked and a green flash means it is unlocked.
To turn the toy on you will push the "+" button and you can continue to press it to get through all 5 vibration speeds. You can lower the intensity by pushing the "-" button or hold that one down for a few seconds to turn the toy off completely.
Patterns are turned on by the "O" button. You can cycle through the various patterns using the "+" button and go back using "-". Holding down the "O" for a few seconds will put you into random pulse mode where the toy cycles through all the patterns on its own over and over. There are 10 patterns total which include various pulses, rolling between motors, and escalates. They can all be used at all the different speed levels.
CARE AND STORAGE:
This toy is not waterproof so do not submerge it. It is listed as splashproof and I find the best (although slightly awkward) way to wash it down is to make sure the charging port is closed and then hold your thumb over it while you wash it with warm water and soap. This ensures the port is down good and tight and nothing will get in there. You can also use your favorite toy cleaner or a 10% bleach solution. The product manual warns against using alcohol based cleaners on it. So, don't use alcohol or you risk ruining the finish. Only waterbased lube should be used with this toy and it does have some drag so you might need it.
To charge, you plug the charger into the bottom port. When it is plugged in, it cannot be used. The backlighting of the control pad will shine red as it charges and when the charge is complete it will turn green. It is supposed to flash red when the battery is low. Mine actually went a little bazurk and just turned itself on and would not respond to any pushing of buttons when it was a bit low and plugging it in fixed this problem.
Roae came in a beautiful box that held the toy, 2 manuals, the charger and a lovely storage bag that is big enough to hold everything in. Ditch the box if you don't have the space and put everything in the bag.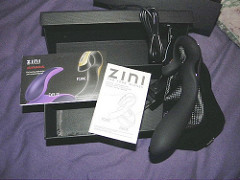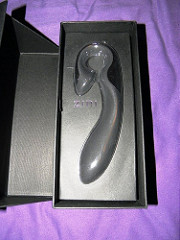 Experience
HOW DID IT WORK?
Let me tell you how this didn't work - as a rabbit. The shaft is too long, and the external motor sits too low if you angle it and poke your cervix to get it there. It is just an epic fail all around.
But! What it was good for was just a penetrative vibe. The curves of the shaft nestle right in there nicely. The vibrations are rumbly at the lower settings and get buzzier the higher you go but not so much you go numb really fast. The bad shape of the external arm makes it low enough to incorporate a clitoral vibrator as well.
If only they would chop off about an inch or so from the shaft and curve the clitoral arm just a little higher this one would be perfect and people would be after them like candy.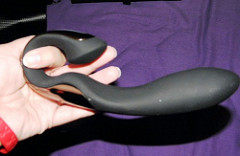 This product was provided free of charge to the reviewer. This review is in compliance with the FTC guidelines.

Thank you for viewing
Zini Roae
– rabbit vibrator review page!