Who Needs a Flashlight?
What is that blue light over there? Is it..wait, that's a sex toy?!? That's right! This vibrator lights up for lots of fun in the dark with yourself or a partner. Forget needing a light on or finding a flashlight, just use your new vibrator to light the way to ecstasy!
Published:
Pros:
Lights Up, Easy to clean and store, Powerful.
Cons:
Can't be totally sterilized, Very hard material.
First Impression:
I felt excited to try it out and couldn't wait to see how it would light up.
Material:
The LED Glider by Cal Exotics is made of a translucent hard plastic earning it a safety of 8/10. Plastic is hypo-allergenic, latex free and phthalates free so will most likely not harbor much bacteria if taken care of properly. The plastic does not have an overpowering smell, rather a more subtle hint of plastic if anything.
Lubricants best suited for this toy are water, oil and silicone and the toy should be covered with a condom if sharing it with a partner who is not fluid bonded with you.
Color & Texture:
The LED Glider comes in two different colors; purple and pink, of which I received the purple. The material is firm, smooth and is formed into little nubs around the shaft just under the head. This plastic material is a little bit grabby on the skin but nothing a spot of lube won't take care of.
Controls & Shape
There is a simple spin dial control on the base of the LED Glider that ranges from low to high when you turn it on. A blue LED light indicator lets you know that it's on and also makes it fun to play with in the dark since it lights up the entire vibrator.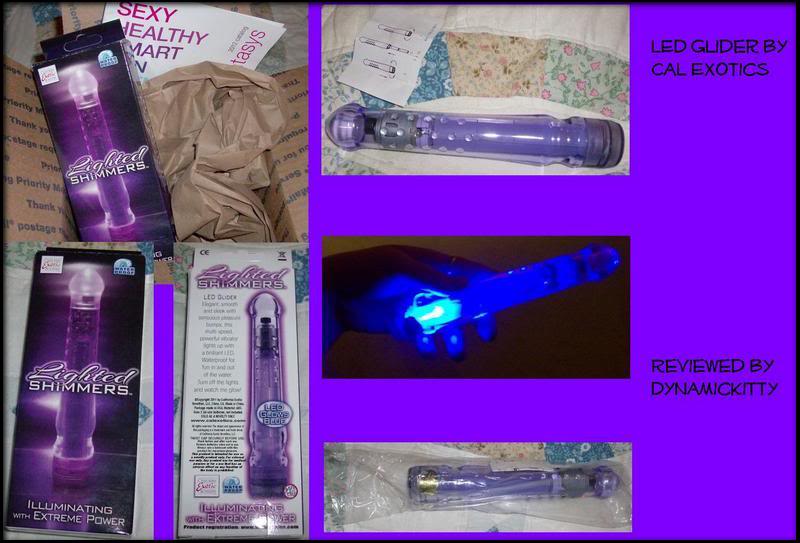 The LED Glider is a 7 1/4" vibrator with a small pronounced head and some little nubs around the shaft right below the head. At 3 3/4" in circumference and 1 1/4" in diameter this toy is not big enough around to make those nubs irritate sensitive bits of the female anatomy.
Down at the base of the vibrator the shaft flares out a little and then back in to form an easy to hold spot for your hand/fingers. All the internal workings are visible through the translucent plastic, which makes it interesting, and there are no gaps or seams to worry about.
Insertable Length: 6 1/4"
Weight: 3 oz.
Noise & Power:
The LED Glider is moderately loud with deeper rumbly vibrations, but not loud enough to be heard through a closed door. You could however hear this easily through a blanket or three, so it may not be suitable for dorm use.
This toy runs off of 2 AA batteries inserted in the base and kept in by screwing closed the end cap. So far the batteries have lasted well with occasional sporadic use.
Cleaning, Storing & Packaging:
This toy is waterproof but be sure the end cap is tightly in place and make sure you dry it out really well when done using it. Shallow submergence is okay, about 6" or so, but deeper may cause too much water to enter the toy and damage the motor.
Wash the LED Glider in hot water, using soap or wipe with a toy cleaner. For moderate disinfection, wipe down the vibrator with isopropyl alcohol or a 10% bleach solution. Be sure to thoroughly rinse off the bleach solution before using again.
This toy did not come with a storage pouch, but storing it is very simple. Just toss it in a drawer or on a shelf and don't worry about it touching other toys as it will not melt with them. The plastic material also will not pick up lint or hair so anywhere you want to store it is fine.
The LED Glider came in a paperboard box with a purple background on the front. It depicts the toy, has the Cal Exotics logo and says "waterproof" on the top half. The box says "Lighted Shimmers" in the middle and "Illuminating with Extreme Power" on the bottom. All of that information is on the sides except for "Illuminating.." but also says "LED Glider".
The back of the box is white, has another photo of the toy and gives a description along with cleaning and use instructions and Cal Exotics website. This box is not very discreet at all, is not good for storage and should be wrapped if gifting, but is recyclable.
There were no warranties in the box, only a paper instructing how to put the batteries in the toy.
Use:
The LED Glider is designed to be inserted while vibrating or can be used to stimulate externally. It is not recommended for anal internal use because it lacks a wide base and can be very slippery when lubed up.
This toy is for women or their partners to use solo or incorporate during foreplay or sex. The size is great for beginners, but advanced users can get some use out of it as well. The stiffness of the material may aid in hitting the g-spot for some women, but the LED Glider was not specifically made for that purpose.
Experience
I was a little nervous about the nubs being too much for me to handle because I've had that problem in the past, but I lubed it up before using it the first time and had no problems at all. I was pleasantly surprised at how powerful the vibrations were and how awesomely the entire vibrator lit up. Hubby was watching me play with it for a while until he deemed it necessary for me to stop so he could finish the job, so I'd say this was useful as a couple's toy in that aspect.
Follow-up commentary
2 months after original review
This toy is still a lot of fun to play with and I really enjoy the rigidness of it. It hasn't shown any wear and tear signs and the batteries have yet to die.
This product was provided free of charge to the reviewer. This review is in compliance with the FTC guidelines.

Thank you for viewing
Lighted shimmers glider
– sex toy review page!