Attack of the Spider Vag!
Ever wanted to have a bright blue vagina hanging off your ceiling? Are typical wall decorations not enough for you? You need the Pleasure Sleeve! It's sticky enough to hang it anywhere in your house. It defies the laws of physics! With it's compact size and alienesque appearance, it's freaky enough to scare any house guest. It can even double as a duster with the amount of dirt and hair it picks up. What's not to love?
Published:
Pros:
Makes cleaning a breeze, defies the laws of physics
Cons:
Sticky, small, crooked canal, imperceptible texture, did I mention sticky?
The Pleasure Sleeve by Doctor Love's is a male masturbator but it's best used as some sort of scary wall decoration. The opening of the sleeve has a full female vulva and clitoris so it is realistic in appearance...except for the bright blue color. This thing is so incredibly sticky you can stick it on any wall or ceiling you think needs a little pizzaz. It can defy the laws of physics. It clings to surfaces so well, it looks like Spider Man's unwanted cousin, the Spider Vag. It reminds me of those gross sticky hands I always got from the dentist as a kid. I was having too much fun throwing this at my walls and ceilings, just trying to see where I can make it stick. It definitely is more useful as a stress reliever than a masturbator. Whenever you're feeling a little frustrated or angry, just chuck the Spider Vag at the wall and relax as it slowly rolls downward.
Spider Vag on my wall: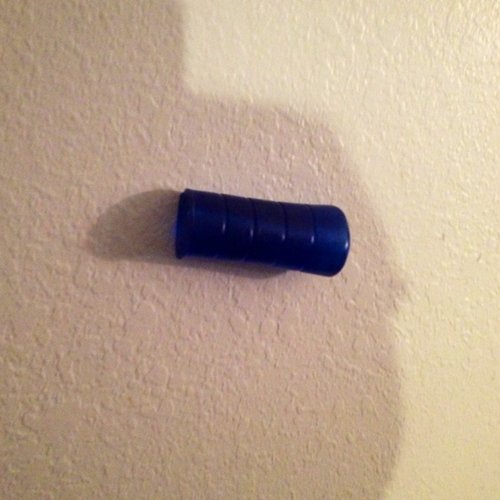 and here she is dangling from my ceiling, Spider Man style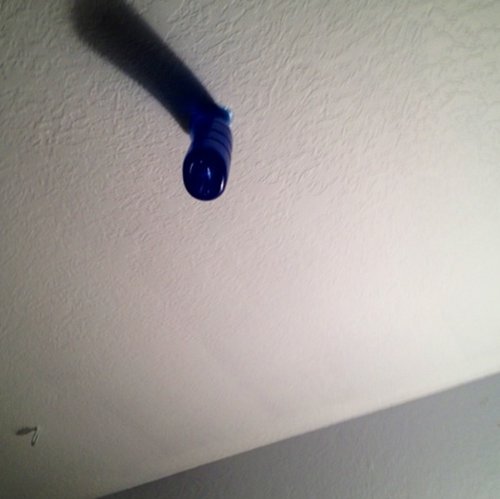 The Spider Vag will pick up any hair and dirt you had no idea was even hiding in your carpets. I vacuumed by bedroom before I started examining the Spider Vag. When I dropped it, the entire thing was covered in hair, dirt, and lint, even though my vacuum does a thorough job cleaning my carpets. I'm sure I found dog hair and I don't even own a dog. I'm thinking about sticking this on the end of a broom handle and using it to dust hard to reach places. No more will ceiling fans, tall corners where cobwebs accumulate, or window blinds be the bane of my existence. Cleaning will be easy now that I have the Spider Vag.
So, in all seriousness, time for some basics about this Pleasure Sleeve. If you choose to buy this Spider Vag, keep in mind the sleeve is a mere 4.5" long, which will not fit the average man's entire penis. The total circumference is 5.75" so it is quite narrow. The internal canal is not straight, it is crooked within the entire sleeve. It is open ended but the hole on the back side is extremely small and most men will not be able to "pop" out of the end. The hole is to aid in cleaning. The crooked, narrow canal can make it difficult for any man to use this toy. The canal has very,
very
small, light ribs inside. When I insert a finger into the Pleasure Sleeve, I can't detect the texture. I can see it, however, so I know it's there.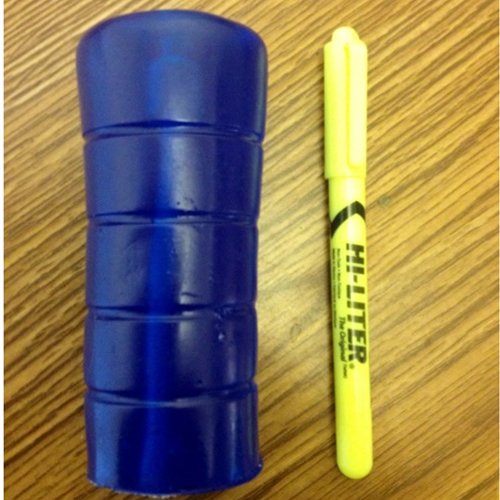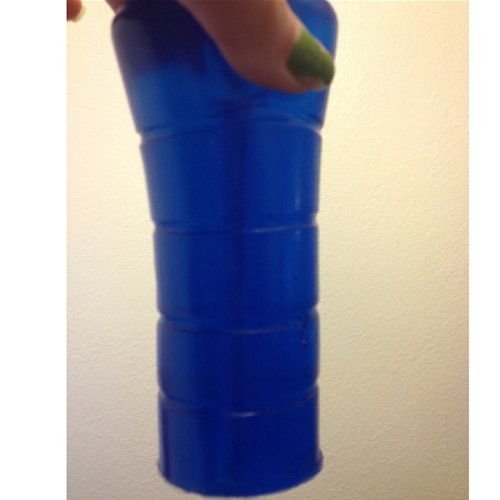 Hopefully you can see the crooked canal in this picture.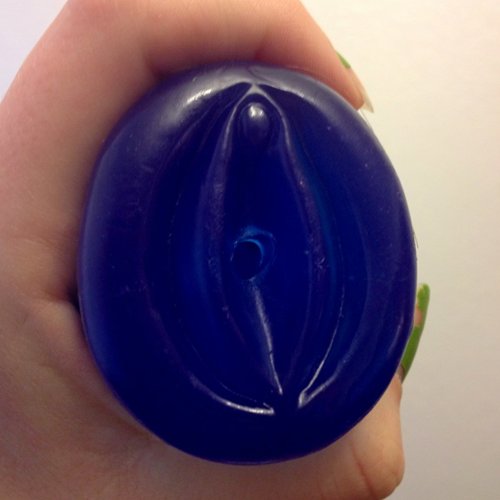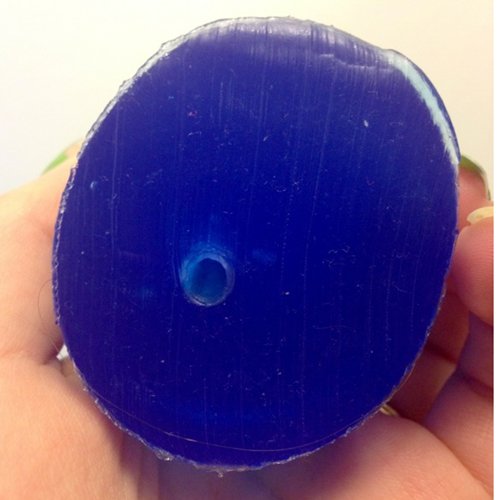 Such a small back hole.
The Pleasure Sleeve is made of TPE, or thermoplastic elastomer. The TPE is sticky, even after washing. There is no smell with the Pleasure Sleeve. I'm not even going to try and taste this thing. Both water based and silicone based lubricants are safe to use with TPE. TPE is less porous that Cyberskin materials but is still more porous than silicone so be sure to use a condom if you plan on sharing the Pleasure Sleeve. TPE can not be fully sanitized. To clean the Pleasure Sleeve, just used soap and water or your favorite toy cleaner. Because this thing picks up more hair and dirt than a vacuum, it's important to clean this before and after use.
The Pleasure Sleeve comes packaged in a plastic, clam shell style package. It includes two samples of Pjur bodyglide lubricant. Pjur bodyglide is silicone lubricant. Be sure you don't use these samples on any silicone toys if you keep the samples for a different use. The packaging is see through and not discreet in the least. It's not suitable for long term storage. You can stow your Pleasure Sleeve in a plastic bag for storage. If you don't want to store the Pleasure Sleeve in your toy box, you can always stick it on a wall for safe keeping.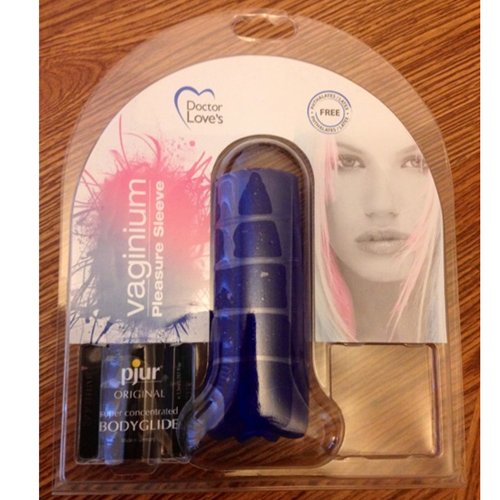 Experience
My partner did try this, even if he was reluctant. He tried on three separate occasions and found it to be way too tight to be pleasurable. It was painfully small and tight, despite any amount of lube we used. He is on the larger side of average, so that definitely doesn't help, but I feel like this would work for very few men. The internal texture couldn't be felt by him in the short period of time he used this. The crooked canal made it really awkward to use. Basically, he tried this and absolutely hates it. He says it's the worst masturbator he's tried to date and he can't recommend it to anyone. I'd recommend it if you want a new cleaning tool or a creepy wall decoration.
This product was provided free of charge to the reviewer. This review is in compliance with the FTC guidelines.

Thank you for viewing
Pleasure sleeve by Doctor Love's
– penis stroker review page!