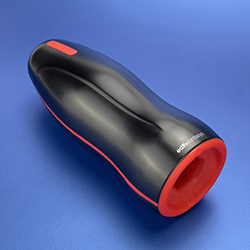 Evolution XL
Vibrating masturbator by EdenFantasys
Big Toy, Big Risk, Big Reward
I'm going to continue to use this, but I think I will try the regular Evolution in hopes that I will be able to get better glans stimulation while I stroke my shaft. Perhaps this model is better for basketball players.
Published:
Pros:
- Makes for an intense orgasm and better experience stroking
Cons:
- Cleaning instructions would be good
- It's pretty loud
I've used other masturbators before, such as pocket pussies (no, that is not a toy cat you can put in your purse to get around the "no pets allowed" rules of the store). So, reading that this is a "hands-free" masturbator, I may have used this with unrealistic expectations. I'll get into all of that when I write about my experience with it. But overall, this is better than any pocket pussy I've tried.

The solid exterior around a soft, silicone interior made for better control over the experience. It's easier to get a firm grip on it without worrying about the lube you used making it slip right out of your hand and hitting your toy cat (20 points for body, 50 for face). The suction is tighter because there is no hole at the top for air to move around like on the pocket pussy, and the heating feature makes it, so you don't have to buy the warming wands. I did not find any instructions on cleaning, but as I've used soft silicone devices before, I used water-based lube to pleasure myself with it, and I use warm water to clean the interior. It comes with a USB charger, but without the adapter for a wall socket. Charge it when you open it.

To activate the heating feature, hold down the top button for about 3 seconds. The red LED will illuminate underneath the button. For the "swirling" feature (Daddy, is that you?), hold down the center button for 3 seconds. It will start with the swirling motion going down your shaft. Clicking the button will change the direction to upward motion, and another button click will make it go back and forth every second. Lastly, to activate the vibration feature, hold down the bottom-most button for 3 seconds. It will start on the lowest vibration setting. A button click will make it more intense. Another button click will make it vibrate its hardest. One more click will make it pulsate.

Having some combination of all 3 on does make for a more intense orgasm, and you don't have to worry about the cat getting your money shot (again).
Experience
I'm 2" in diameter, which I'm told is thick (no, I will not send you proof, unless it's a pic of how tiny my car is), and I sometimes have trouble maintaining an erection (too much spanky spanky). These two realities proved to be a problem at first, and I thought I wasn't going to be able to use it to its full advantage.

I read "hands-free", and I think I just stick it in and let it do all the work. This is not the case, at least not for me. The lube I use is plenty slippery, so my issues with initially penetrating the toy were not because of that. It was because of the other two things. My thickness combined with the lack of a secondary hole made for a lot of resistance to the point almost hurting trying to get it in. Not being constantly stimulated from stroking, my penis started to lose interest, and I could not get it all in.

On my next try, I waited until I was super hard. I lubed up and tried again. I was able to get it in (it queefs, which if you're anything like me, is a huge turn on), and I started pressing buttons quickly, trying out the different features I've been dying to feel. It wasn't really doing anything for me. It just made lots of noises. I could feel it moving, but it didn't feel amazing or even stimulating enough to keep me hard.

Finally today, I tried it once more since I had plenty of time and wouldn't feel rushed. I got myself hard and lubed up and penetrated it. The noise turned me on, but the motors did not. I felt myself getting soft, but the tight suction at least kept me in place instead of just falling out. When I took it off to try masturbating again to get hard, I noticed the lube was almost gone. So, when I added copious amounts after getting hard again, it made its embarrassing noise (Mommy, is that you?), and I was in all the way much easier. I went through all of the different settings and still nothing. I thought perhaps the issue was that I wasn't long enough to reach the part where my glans would be stimulated, so I forced myself inside as deeply as I could. Kinda felt it, but nothing great. Out of frustration, I just started using it as a manual masturbator like a would a pocket pussy. The tight suction kept me erect and instead of just my skin moving, the extra lube allowed a bit of slipping. It felt so good, I had to cum, and that's when I finally got it working for me! Being so deep inside while in mid-orgasm, the rotating motors and vibrations really made my swollen sensitive glans go crazy, and I came so hard, my voice went a little hoarse after.

So, what I learned: use way more lube than you normally would, jerk off with it, and when you cum, then let the features do their thing. At least, that's how it works for me.
This product was provided free of charge to the reviewer. This review is in compliance with the FTC guidelines.

Thank you for viewing
Evolution XL
– vibrating masturbator review page!