Has Promise!
If you need just a touch of desentization to prolong your pleasure or to train your body to resist the first impulse to ejaculate then this is the perfect product! There really isn't any other application for this product but it will allow you to retain some sensation and warmth while allowing you to be desensitized just a touch. This lotion will not enhance sex all that much if you don't have issues with premature ejaculation.
Published:
Pros:
Works as intended, doesn't last for hours at a time
Cons:
Numbs everything it comes in contact with if it is not rubbed in fully
Sometimes you just want to prolong the pleasure for you or your partner. Let's face it there are many products that claim to desensitize your penis so that you can concentrate on pleasing your partner rather than risking the fun ending too quickly. For many guys this is a real problem that can take some time to retrain the body to calm down and just take things slower. For others it may take a trip to the doctor or other trained professional.

Now the three of us have never had a problem with premature ejaculation but in the interest of helping a guy who might we agreed to try Duramas lotion by Doc Johnson. This is a white creamy lotion that is supposed to numb a penis just enough to allow a guy to retain some pleasurable sensation but not so much that he loses control.

The lotion has as it's active ingredient Benzocaine, about 7.5% in a water based solution. The inactive ingredients are: Cetearyl Alcohol, DMDM Hydrantoin, Ethoxydiglycol, Ethylhexyl Palmitate, Glyceral Sterate, Mineral oil, PEG-100 Stearate, Petrolatum, Poly-Sorbate 90, Stearic Acid, Tetrasodium EDTA, Triethanolamine, Water
Now, I am going to break down the ingredients for one reason only: This stuff, of all the products we have tried, will actually do what it claims to do! I think the consumer should be well informed about what they are putting all over their bodies.
Cetearyl Alcohol- A fatty acid used to turn a product into a lotion like solution commonly used in hair conditioner.
DMDM Hydrantoin- Anti-microbial agent that is also commonly used in shampoos, conditionaer, and skin care products.
Ethoxydiglycol- Solvent used to thin out and increase viscosity commonly used in, you guessed it, cosmetics!
Ethylhexyl Palmitate- Commonly used in cosmetics as a solvent, a carrying agent, a pigment wetting agent, a fragrance fixative and an emollient. It has a dry-slip skin feel similar to some silicone derivatives.
Glyceral Sterate- White or cream colored wax like solid used to create that lotion feel of cosmetics and sun tan lotions.
Mineral oil- Petroleum based oil used to prevent the product from drying out quickly.
PEG-100 Stearate- according to my research is "an emollient, an emulsifier and a moisturizer, although PEG Stearates in general are also known to clean the skin and hair by helping water to mix with oil and dirt so that they can be rinsed away". There seems to be very little risk as assessed by the FDA to this ingredient.
Petrolatum- An FDA approved skin protectant.
Poly-Sorbate 90- Used to blend essential oils into a water based formulation. Not found to be toxic as it does not build up in the body's tissues or found to be excreted in the urine.
Stearic Acid- Used to create the 'pearly effect' of soaps and conditioners. Research seems to conclude that this specific formulation is safer than other saturated fatty acids.
Tetrasodium EDTA- Water softener and preservative. It has been shown to be a persistent organic pollutant.
Triethanolamine- pH balancer in cosmetic preparations. Can cause mild allergic reactions limited to redness and other dermatitis on skin contact risk is very low.
This product does contain a high amount of ether and ether derivitives. Ether has been shown to cause reproductive problems if used in high concentrations. It is my belief that this product wouldn't be used in high enough concentrations to cause problems but couples looking to boost fertility should probably steer clear.

Ok, so what can be gleaned from all this information? This is a fairly benign formulation that is unlikely to cause any sort of adverse reaction. Yay Doc Johnson! The real question is: Does it work?
The formulation is specifically sold to aid gentlemen with a sensitivity issue, ie: premature ejcaulation not related to a medical problem. To treat this particular problem the skin of the penis needs to be desensitized just enough so that it allows the guy to maintain his control, but not so much that he either loses the ability to maintain an erection or to ejaculate completely.
Duramas seems to meet all of these criteria! It will, in fact, desensitize the penis slightly without giving the user a 'dead penis' effect. Unlike other products we have tried, the Duramas lotion doesn't leave the penis with a cold sensation but rather a warm one when friction is applied. This allows the user to maintain his erection easily while thrusting! The sensation is not cut off so much that the user has a hard time when he wants to orgasm and the effect doesn't last for hours at a time.
Experience
My bottle has a slightly different label than the one pictured on the site but the product is the same. The container is a slim plastic bottle with a white flip top lid. The product comes out easily with a gentle squeeze. It is travel friendly except perhaps if you are traveling to a spanish speaking Country.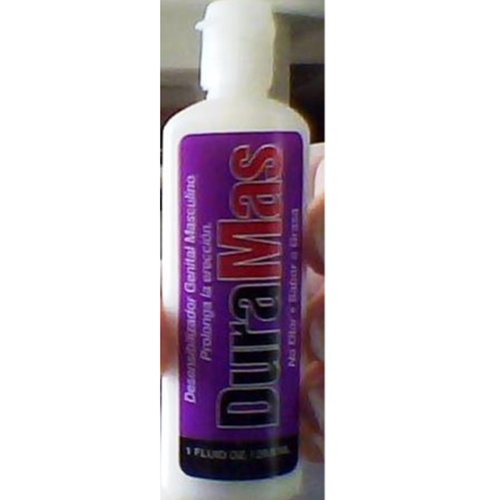 The bottle doesn't leak even if it is stored on it's side but I wouldn't store this in a particularly warm area as it could break down the lotion and possibly degrade the benzocaine.
The lotion goes on white and creamy and needs to be thoroughly rubbed in until it disappeares or it will cause numbness to your partner which may not be pleasant. The fragrance of this product is soft, subtle and pleasant, it smells like drugstore unfragranced lotion. It has almost no flavor but will numb the mouth and throat on contact. Given the list of ingredients it would seem that ingesting the product will not cause problems but the product is not intended to be used to numb the mouth or throat.
Doc Johnson recommends you rub a small amount into the head and shaft of the penis...or as directed by a doctor. After having sex you should wash any remaining product off with soap and water. If you find that using this product doesn't solve your issues it is recommended that you discontinue use and consult a doctor.
This product should be treated as a medication and kept out of reach of children.
We found that the numbness lasted about 30 minutes on average if you use a pea sized blob of the lotion and rub it in thoroughly. It washed away easily with warm water and soap leaving the skin soft and feeling pleasantly moisturized.
Duramas lotion has been one of the best products for desensitization we have tried but we all think that if you are having marked problems with ejaculation you really should seek professional help before trying a product such as this one.
Follow-up commentary
10 months after original review
I use this cream to desensitize my face just before I tweeze and it works very well. I don't use it near my eyes but my chin and upper lip benefit from the desensitization, however.
We don't use these sorts of gels, creams and lotions but if we felt the need or if we should meet someone with the need for a lotion that desensitizes we would recommend this lotion.
It is gentle and effective.
This product was provided free of charge to the reviewer. This review is in compliance with the FTC guidelines.

Thank you for viewing
Duramas
– cream review page!