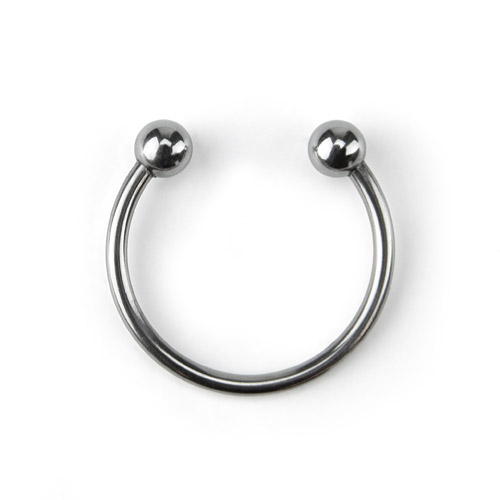 Glans cock ring
Metal penis head ring
by EdenFantasys
I hope she is into heavy metal...
The glans penis ring was a new experience for use that we really enjoyed. We had to adjust it before giving it a good testing. If it doesn't fit correctly, you may need a hammer. For the ring! Not your penis...
Published:
Pros
once sized it was easy to use
This was my first glans ring experience. And overall, I would have to say it was a positive one. This ring does not work like a regular cock ring that you wear at the base of your cock. It sits just below the head like you are wearing a little collar. At first, this was very strange to me due to the glans ring poor initial fit. (Note: This ring did not come with any packaging or instructions except for a black satin bag to store it in. Therefore, I had to look up how it should be worn and how it should properly fit.) The first fit was very loose.

So loose that it would have come off during play. Since I did not want to go fishing, I tried to adjust the ring by hand. The metal is much harder than my hand, so this did not work. Since we were already in the moment, the ring was put aside until I could properly fit it.

Fitting the glans ring was fun. I had to use a vise and a rubber hammer to get the sizing just right. I wish they offered this ring in more than a one size fits all size. I am a little above average size wise, and it was loose. I must have brought it in almost a half inch. I read that it should be a little hard to get on and should feel snug. That way the head keeps it on.

Once I got it to fit correctly, it was time to try it out. I used a little lube to slide it on. I first tried the glans ring with the balls on either side of the urethra (the pee tube). From what I read online, this was the correct positioning. The internet was right! The ring stayed in place during sex, she enjoyed the extra sensations and had a very hard orgasm, and all was well in my world.

I then tried the ring as shown in the pictures above with the balls facing up. This way was not comfortable at all. It still felt good for her but put pressure on all of the wrong places for me. It may feel good for you that way. Who knows.

The ring itself did not add much sensation for me. It made my head a little more pronounced. And the wife liked it. I do have to note that you do want to make sure she is very wet and turned on before using this ring. Otherwise, it may not feel great for her. We found that it felt better in certain positions as well.

Overall, we both enjoyed the glans ring.
This product was provided free of charge to the reviewer. This review is in compliance with the FTC guidelines.
Thank you for viewing
Glans cock ring
– metal penis head ring review page!