It's not my bag, baby
You know those Spencers stores in the mall that sell black lights, naughty novelties and KISS figurines? Well this is the kind of pump you'd find tucked away at the back, hanging on a wall right above the inflatable sheep and blow-up boob bath pillows. And that's where it belongs. This is gimmicky and while it does work when the sleeve is in place, it loses pressure very quickly and the effects are all but gone the moment you release the pressure.
Published:
Pros:
Inexpensive, Black looks nice enough, Does get you harder while you're inserted.
Cons:
Loses effect rapidly, Cheap materials, No instructions
For years before finding EF I saw Penis Pumps as an almost joke toy that are only used by men who can't get girlfriends or are smaller than 'average'. You only have to look at the well-known scene from Austin Powers to see the awkward embarrassment and denial when he's caught red-handed (or should that be red-fisted?) with one in the first movie.
However, since I'd been learning more about sexual health and wellness (and had already bought a lot of the 'regular' toys that were on my wishlist}, I decided to try one of these pumps for myself to see whether they lived up to the hype. But which to choose? They all make fanciful claims that they will do wonders for your size, no matter how big you are to start with. This particular model uses some very corny euphemisms on the indiscreet packaging, with statements like "Rise To New Heights" and "Reach Your Full Potential - American Pumpers Association" (who knew there was such a thing?). If I'd known that this blurb was on the box I probably wouldn't have ordered it. As it was, I relied on some positive reviews before I made my choice. Near the bottom on the back of the box are the words "Rise to new heights and reach your full potential with this versatile stamina pump". Really, Cal Exotics? You honestly couldn't come up with anything more than reusing the same two soundbites you had already used just a little further up on the packaging?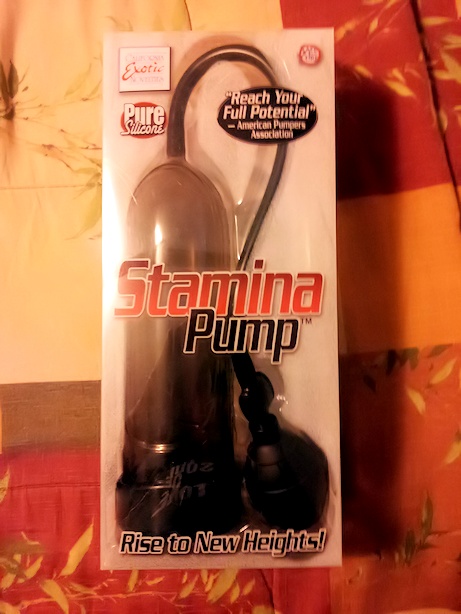 Well it turns out that this is a classic case of something working for others but not for me. This is by far one of the worst buys I've made here. But more on that shortly.
The pump itself looks just like you'd expect. It's a nice enough, smoked black plastic affair with the kind of pump you see on a blood pressure cuff. The sleeve and pump are pretty much all there is to this, although I'm such a newbie to pumps that I still haven't worked out why you need a gauge (which this doesn't have) anyway. Is there a set PSI that men know their cocks are supposed to throb at that nobody's shared with me? Are you supposed to aim for 35 because that's the point where your car tyres feel really firm? Who knows? (That was rhetorical - I'm sure some of you reading this know). Measuring 8 1/2" in overall length and 3" diameter, the sleeve itself is easily big enough for most - if not all - men. There's a fairly stretchy silicone base with a 1 1/2" opening that you enter, but this opening does stretch a little. It's officially listed as silicone but if it is, it's cheap silicone and feels more like thin rubber to me. If those measurements sound small then you really don't need to be using a pump like this in the first place! For the sake of being thorough, I'm about 6" and just shy of 2" diameter (I think!). So I have no problems fitting in this.
As for actual use - this comes with no instructions at all. Maybe Cal Exotics assume that either most men don't read instructions or that if you're buying something that you stick your penis into you probably know how to do that. Either way, the only real bit of info is a box with several health warnings printed underneath the packaging, safely tucked away in a place where you're not likely to see it.
Experience
I have tried this pump several times, fine-tuning the process each time to see if I could get better results. All have failed. I've tried just putting this straight over myself, pressing it down against my body and pumping slowly (ALWAYS take your time pumping. Serious and potentially permanent damage can ensue if you're not careful). I've tried it both with and without a cock ring on, and with and without lube around the silicone base. My results have always been the same, no matter what I do. Just two or three pumps really does get me bigger and harder (almost painfully so), but the effect disappears literally the moment I release the pressure.
Sure, this looks impressive when you're lying next to your wife and she's watching your manhood grow to almost mythical proportions through the plastic sleeve. And if just lying there in bed with a cock of steel smiling back at you through its plastic spacesuit was all you wished for then you'd be happy with this. But for the entire effect to be lost instantly makes this a dud rather than a deal for me.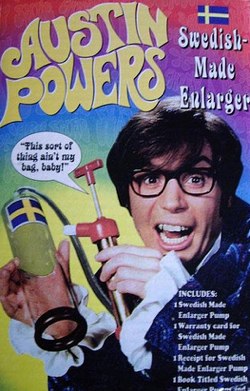 I wouldn't rule out trying a different kind of pump one day. Maybe it's just me. But after trying everything I can think of (and some other tricks I found online that I'd never have considered) I can safely say in true Austin Powers style that this just ain't my bag, Baby.
This content is the opinion of the submitting contributor and is not endorsed by EdenFantasys.com

Thank you for viewing
Stamina pump
– penis pump review page!