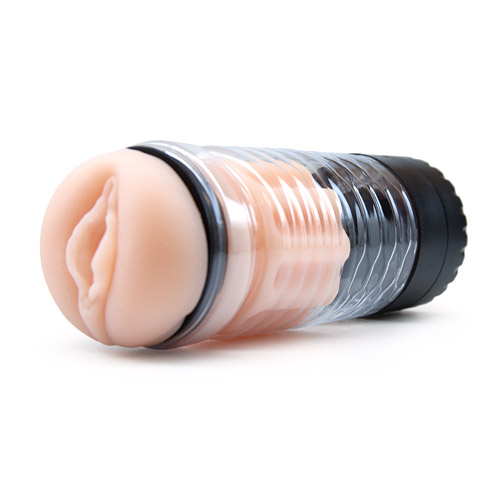 Auto BJ
Licking realistic masturbator
by EdenFantasys
Let The Auto BJ Tickle Your Cock, Clit, And Titties With It's Tongue
The Auto BJ is a very versatile sex toy. It can please nipples, tits, and cocks. Just lay back and let that little tongue work its magic on you.
Published:
Pros
Cap for storage, Comes apart to clean, Lots of uses for both men and women.
Okay, first, I have to explain why this review is a little late. When we first got the Auto BJ, and I really don't understand the name, it doesn't give you a blow job, and the vibe part didn't work. I tried different batteries and turning the switch off and on. There's only one control switch to turn it on and control the vibes. Nothing I did, helped and even the recommendations from customer service didn't fix it. Needless to say, my wife and I were very disappointed. I was about to take it apart and see if a wire was broken when I noticed something on one of the contacts for the batteries. Using tweezers, I removed a small piece of plastic, installed the batteries, and the tongue came to life.
The Auto BJ has a TPR pussy with nodes and ripples inside that feel wonderful on my cock until I get a full hardon; then I'm so thick it squishes them, and I didn't feel them very much. The bottom of the Auto BJ has a little tongue surrounded by little vibrating fingers. Once fully hard, my cock was tickled and licked by the tongue and little fingers. It did feel good. The Auto BJ comes with a cap to cover the TPR pussy for storage, and the end that vibrates with the tongue and fingers is removable, so my wife used it on her nipples and clit. She said it didn't do much for her tits and nipples, but the tongue and vibes really got her vagina excited and cumming.
The Auto BJ breaks down in many pieces making it easy to clean; I use anti-bacterial wipes to clean ours and occasionally give everything except the control end a good cleaning with soap and water. Because the TPR is a soft form of silicone use, only water-based lubes, and if you are sharing with a friend, you may want to use condoms. I tried this and it in no way lessens the feelings. You'll need three AAA batteries. The Auto BJ also comes with an instruction and care booklet. The Auto BJ is not waterproof, at least the vibe end isn't; the stroking end is fun in the shower or bath.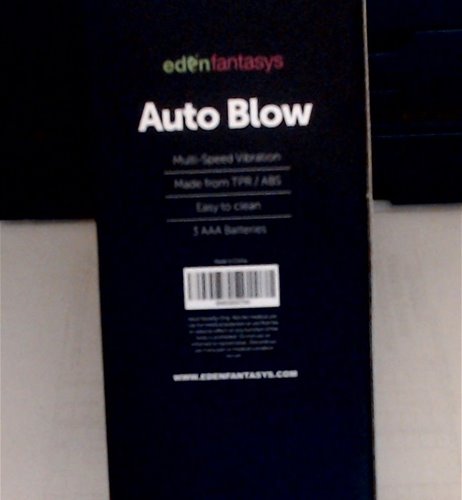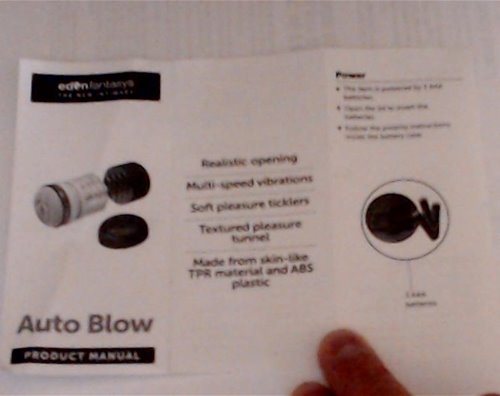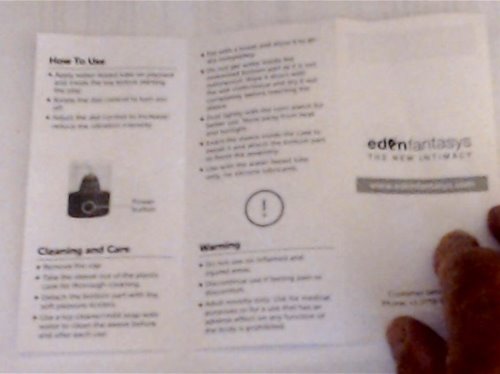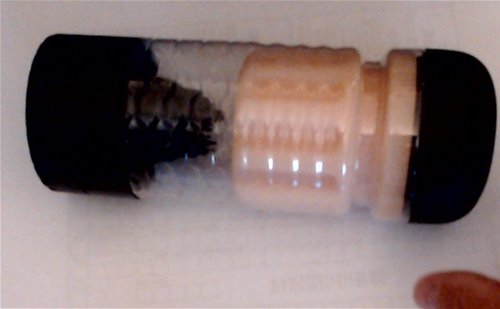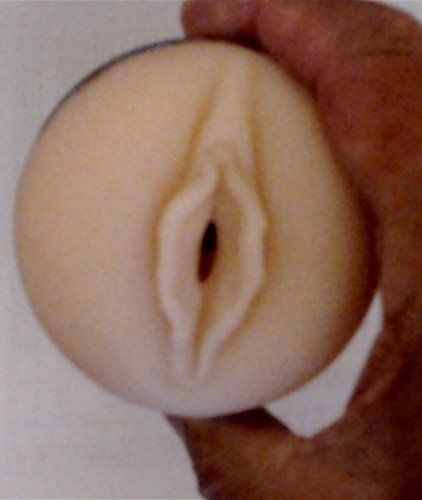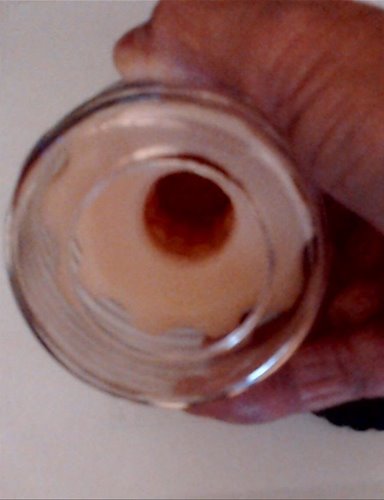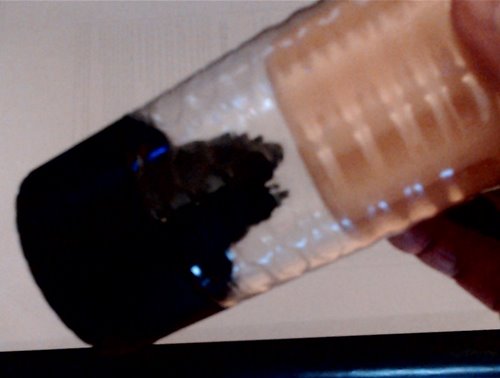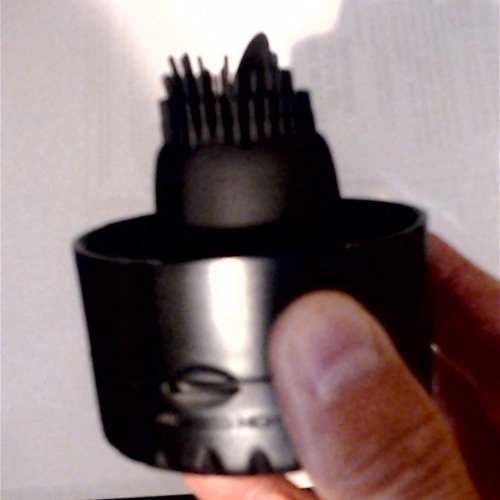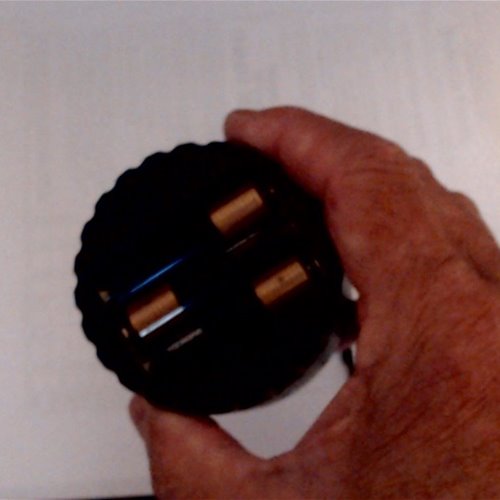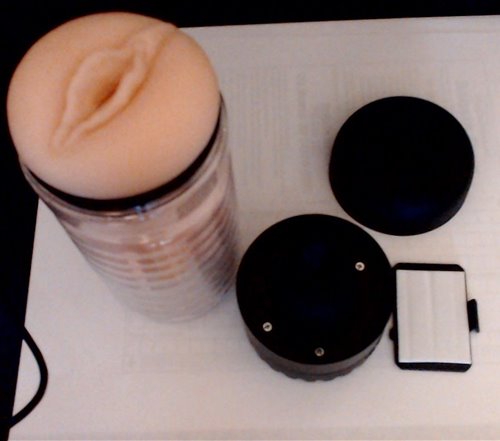 Experience
Once we got the Auto BJ working, my wife and I had fun with it. We got naked, and because Di had waited so long to try it out, I pulled the end with the tongue in it off and let her try it. While she let the little tongue and fingers tease her nipples and tits, I lubed up my semi-hard cock and squeezed it into the pussy end. Even taken apart, both ends are usable. As I watched Di spread her pussy open and expose her swollen clit for the tongue and ticklers to go to work on it, I was stroking my cock with the pussy end. It makes a very nice masturbator, Di said the tongue didn't do much for her tits, but I noticed she was starting to wiggle around and get excited with it working on her big clit. I knelt between Di's legs to get a better view of her excited pussy while I stroked my cock. My cock is a little bigger than two inches thick, and when fully hard, I didn't feel the nodes and ridges very much, but the TPR pussy felt very nice caressing my cock and in no time had me cumming. There's a hole in the bottom of the Auto BJ for the tongue and ticklers to go through, and my cum load shot through that hole and all over Di's pussy while she was cumming all over the tongue. We cleaned up, and I thought I'd see what the tongue could do for my cock. Di sucked me to a nice big hardon, and I lubed up and shoved my cock in with the tongue and ticklers working away. I started to use it the way I did as a masturbator, and my cock went in so far that the tongue slipped into my pee hole and was so intense I almost dropped the Auto BJ. I was cumming all over that tongue in no time.
Follow-up commentary
7 days after original review
I spent last night playing with the Auto blow. I was stroking with it and letting the tongue and ticklers tease my hard cock while my wife watched and played with her pretty pussy. After I shot a huge load all over that tongue, my wife pulled the end with the now cum covered tongue off and pressed it against her swollen clit while I continued stroking my spent cock to another nice hard-on. The tongue and ticklers had her spurting pussy cum all over the already cum covered tongue. The Auto blow makes for a great toy for both my cock and her pussy.
This product was provided free of charge to the reviewer. This review is in compliance with the FTC guidelines.
Thank you for viewing
Auto BJ
– licking realistic masturbator review page!