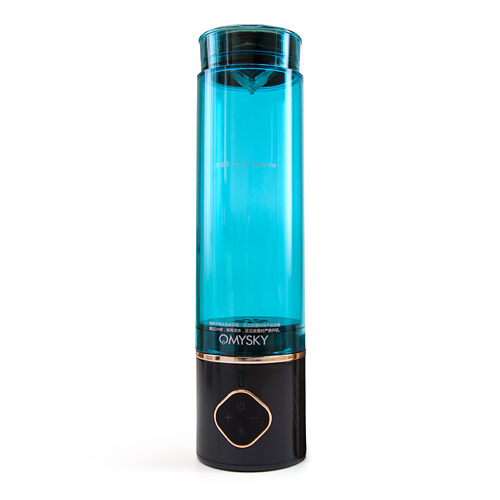 Hydro enlarger
Water penis pump
by EdenFantasys
Massive Erection Under Water
She caught me using this. Saw my huge erection and said, "Oh boy! Is that for me!"

This is not inexpensive but more comfortable than a traditional air vacuum pump. The controls are very easy to use. I used this for over two months before publishing the review. I wanted to see if my penis would actually get bigger. I was fatter(so she says), and I was 1/8-1/4" longer at times.
Published:
Pros
Motorized vacuum device, rechargeable, easy to clean, two donuts
Cons
Hard to remove the inner donut, no length markings
Technology is great, isn't it? Everything in life is getting more advanced to make our lives easier. Technology and innovation, of course, have made sex toys better too. This erection pump is not only motorized; it surrounds your manhood with water. This should give one a better and more comfortable experience. If you have ever pumped up your penis before, you already know about the discomfort.

This is USB charged and has simple controls. On/off modes decrease pressure. The tube is made of hard plastic. There's an inner sleeve to keep water in. Included are 2 "penis" sleeves/donuts. All 3 of these sleeves are very soft and made of TPR.

It's great to see one's manhood grow to its fullest potential. The wife likes seeing it so hard, also. Reminds her of when we were in our twenties. Of course, the price you pay is your penis feels like it is getting choked. Having your penis surrounded by water hopefully makes it more tolerable.

Here are the facts:
1) It does work and will give you a hard massive boner.
DO NOT fill up water past the line. Water reaching the pump unit will not allow suction. Tilt the tube upwards, so water doesn't touch the vacuum pump. No fears of the water leaking out if the opening is pointed downwards.
2) There are 5 different modes of vacuum controlled by the + button.
a)The first setting is enough already to get you erect
b) The next provides a bubbling sensation
c) The next will suck you hard and pull your penis out ( I recommend using the "Pause" button often.)
d) Next two settings, even more suction. (be careful)
3) The pause button will stop suction and hold your stiffness where it's at.
4) The - button releases pressure. Each press releases more. Use this and pause or power off to make removal from the tube.
5) There are 2 donuts but very close in size (opening)
6) The inner donut will keep the water from flowing out. It's very soft and stretchy and will hug the penis tight, so no water will leak out
7) Best to fully charge before every use.
8) There's not any penis stimulation. You will be so hard all you will really feel is water all around your erection. With the water surrounding your penis, it will be more comfortable than a regular air suction pump.
Experience
Additional details I've found after many uses:
Fill the water under the "water line "indicator. Your erect penis will make the water level higher. The pump doesn't work as well if water is touching the top mechanism
You will not be able to put on a cock ring to maintain your erection for intercourse. It takes some doing to get your erection out of the pump. The outer donut will cling tight and take much effort to remove. You will still be pretty plump, though.
You will get an erection for intercourse easier after using this. The penis will keep more blood than usual for a day or so.
Don't be overzealous to make your penis too big. Your skin lining can get stretched out. When your erection returns back to normal flaccid size, your skin won't. You may have a layer of skin sagging about.
Let your penis grow gradually when using this. Use the pause button and the pressure release often. This will make it more comfortable. It will also let you grow another 1 1/2 to 2's while pumping it up.
Wear an anal plug to aid in your erection. An inflatable is more fun and, while seated, will massage your prostate.
Perform Kegel's. (Not if using an anal plug, though). I read this will make your erections stronger and last longer during intercourse.
Couldn't remove the motor unit as instruction mentioned. Fear of breaking it.
Works better if one is shaven.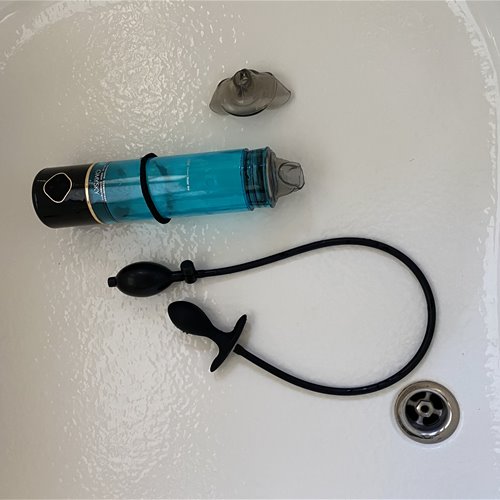 Invert the inner donut to help dry it, and an Inflatable anal plug helps to stimulate blood flow to the pelvic region, also simulates the prostate
Follow-up commentary
5 months after original review
This stopped working after the second week. I left it in the closet in hopes it would come back alive. Nope, Nada, pooped out. I wouldn't be surprised it Eden discontinues it.
This product was provided free of charge to the reviewer. This review is in compliance with the FTC guidelines.
Thank you for viewing
Hydro enlarger
– penis pump review page!