Medieval torture device? Not with a few adjustments...
With some modifications, and assuming you get one with two working bullets, this can be a great ring in anyone's collection. However, for the price point it was a disappointment. There are better options at better prices.
Published:
Pros:
- Easy to replace watch batteries
Cons:
- 1 bullet was broken
- Very small ring, too small for the average male without adjustments
My husband and I strongly favor toys that can be used during intercourse. Hands-free are all the better. We have tried many different bullets and rings over the years, and were excited for the opportunity to review the "O Wow Double Whammy" by Screaming O. It is hypoallergenic / latex-free / nonporous / phthalates-free, and made from TPR Silicone. This makes it a lint-magnet, but also pretty comfortable to use during intercourse.
When the package arrived, we opened to find this: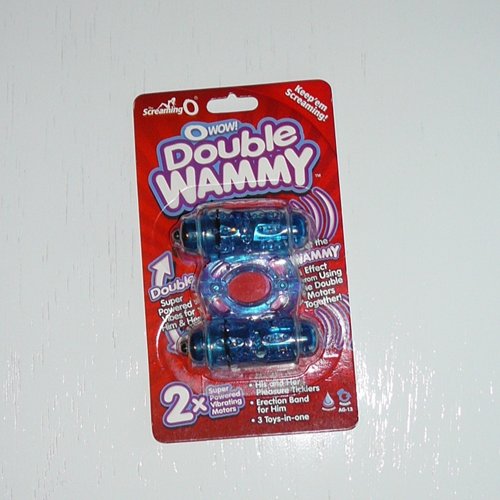 Novelty, eye-grabbing packaging. Our ring arrived in blue — there is no a color selection tool when you order, so the color you receive is luck of the draw. My husband's response was "Looks like a torture device!" due to all the little "ticklers" that look like tiny spikes (they are a jelly material and quite soft, not as painfully spiky as they look). The toy comes fully functional and ready to use. Each of the two bullets came loaded with batteries, and the packaging claims that they are good for 60 minutes of use.
Unfortunately, only one of the bullet vibes worked. They have what Screaming O calls the 'EZ On/Off buttons'. There is only one setting — ON — so that part is simple, but the issue is that one of the bullets would not stay on. It would buzz as long as you were pushing the button, but as soon as you released your finger it would turn off again. The other bullet functioned correctly, turning on and off with single pushes. The button is actually quite easy — easy to find in the dark, and easy to push with slippery fingers, small fingers, large fingers, etc.
The bullets are standard size — I checked and it looked like if we removed them we could easily slip them into other toys and rings powered by bullets. They take standard watch batteries, and the packaging tells you exactly what to ask for when you're shopping for a replacement. We have purchased other rings in the past that we had to discard after the battery was out, so this is definitely a pro.
The next thing we noticed was the size of the ring. It is very small, only ¾" diameter. The ring is thick, so it is not easily stretched. While this adds points for sturdiness, it made the ring too painfully small to use. My husband dutifully tried it on at my request, but was begging me to take it off within minutes. He is average girth, making this ring only usable for men or on toys of below-average girth. Here is a comparison with another ring that we use frequently: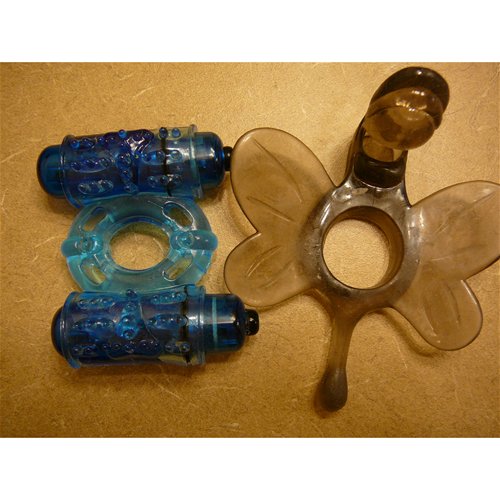 While it was on, I did test the bottom bullet against his sensitive bits. He said that the vibrations didn't do much for him, just tickled. I did feel the vibrations through his shaft, even with both bullets buzzing away. Sadly, there is just no way that the "comfort fit gel erection band" will "stretch to fit every member" as it claims. The product description said it would stretch to a diameter of 2½", and while that may be physically possible, it will be extremely tight and uncomfortable.
Looking at the toy I had been so eagerly awaiting, I was disappointed. One unusable bullet and too tight to be comfortably worn as intended — it looked like this toy was a dud. Then, I noticed that there were four holes around the band and I realized there were circles in the band of the ring. If you snipped the band to the circles, you could widen the ring and make a more comfortable fit.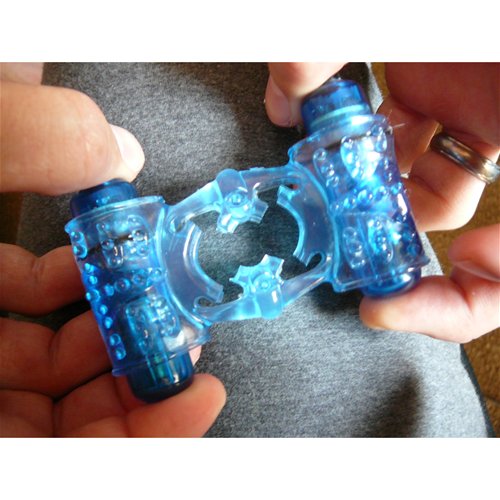 After this adjustment, we were able to use the ring as intended. While the bullet only had one speed, it was a nice constant buzz and did the job. It was also surprisingly quiet. I would have no fear about using this with someone in the next room. My husband said that, with the modifications, the ring was comfortable enough that he didn't mind wearing it.
Experience
For us, this ring was most effective and fun when we were in the girl-on-top position. It enhanced missionary, but really hit the spot with girl-on-top.
Follow-up commentary
1 month after original review
We don't use this toy very often, it looks pretty ghetto all cut up, and with just one working bullet it is hard to get the right placement. Good concept, poor execution.
This product was provided free of charge to the reviewer. This review is in compliance with the FTC guidelines.

Thank you for viewing
O Wow double wammy
– double bullets penis ring review page!