Trust me, I'm a professional.
If you or someone you know is into getting a good rubdown in or out of sexy contexts (and who doesn't?) you need to invest in all the magic this book has to offer. The sections on the actual "erotic" part of massage have nothing on the those of general massage techniques. You'll be turned into a pro masseuse in no time! Trust me, my roommate is a massage therapist. This book knows what it's talking about. Buy three copies in case you lose the first two.
Published:
Pros:
Therapeutic techniques, sensual approach, written by pros, amazing intro
Cons:
Really, just the old school cover and illustrations.
Who doesn't love a good massage? I know I do! The art of massage is highly intimate and sensual. Depending on what you're massaging, it can be an erotic experience, as well. Sexy! Massage is fun, easy, and can be a true art form when you know the best techniques. When you've got experienced hands you have the ability to make someone melt with the touch of a hand. Not only are massages highly intimate, but they're also incredibly relaxing and therapeutic. Give them. Get them. Do it lots and lots.

Erotic Massage: The Touch of Love is a highly useful and informative guide on how to give amazing massages. It's written by Kenneth Ray Stubbs, Ph.D. who is a certified masseur and took up a postion as a faculty member of the Instute for Advanced Study of Human Sexuality (so you know it's legit). Louise-Andree Saulnier, the co-author, is a clinical sexologist and educator. This book combines both therapeutic massage techniques and genuine information on sexuality unlike most of those other "sexy massage" books out there. The book was published in 1989 and still has that vintage 80's feel to it and some silly old school illustrations of guys with 80's mustaches and stuff. I find it a bit amusing but sorta wish they'd publish a more modern looking edition.

I found it slightly odd that the introduction section was written in poetry form, but it's a nice little touch. We begin the book with an invitation:

"This is a language
without words.

This is a time
outside of time.

This is a song
that sings
a celebration.

This is the touch of love."

That's actually really sweet, you know?

I really liked the first part of the introduction, too. Again, it's really sweet. And just to show you more of how this book is set up in this part:

"This is a love book especially for lovers.
Your boyfriend, your girlfriend
your wife
your husband
your significant other, your lover, your mate
the label is not important
the feeling is.

You may be friends
exploring becoming lovers.

You may be lovers
exploring becoming friends."

Again, that's really beautiful and a little bit of food for thought. I've always had my own philosophy on labels that is along these lines, but that's a story for another day. I really wish I could type up how wonderful this whole intro is, but that would take quite a while. Instead, I'll try to include some pictures you may be able to read.

We continue in (beautiful) poetry form through the rest of the information provided:

- What you need: A willing participant, a quiet place, a warm room, oils or lotions, a padded table or comfortable surface. Those sorts of things.

- Massage guidlines: Be present in the moment. Make full contact with the skin. Keep a continuous flow. Consider the recipient wishes. "More important than the recipient's wishes is your never forcing yourself yet being open to discovering new horizons. It's a delicate balance." I like that.

- Reminders: These go over the right ways to touch, the importance of varying your touch, a little bit about what strokes to use, etc.

- Health: This is where you can tell that this form of massage comes from a theraputic background. This small section covers how to take your partner's health into consideration.

- Preparations: Little suggestions of the where and when for massages, and what to use for it.

Now we get into the actual massage section that contains techniques. In the section called "Beginning" you'll lie your partner on that comfortable surface, center yourself and tune into your breathing, and gently stroke them from head to foot. This helps the partner to relax. Then you'll spread the oil on them. Fun times!

The first part of the anatomy we reach is the back. The most common place for massaging. We're given 10 different and varied techniques for this area. I'm not gonna lie, I really want these done to me right now because they look like they'd feel amazing. Next we have the back of the legs. We have 7 different strokes here that focus on all parts of the muscles. Even though we're in the area of the nether regions, it's still a professional massage. I like how they're not like "grab their crotch and fondle their butt while your up there." 9Stupid amateur massage books. Pssh. After this, we finish up the back section with a few full body strokes and then a "back hug" where you basically lay over your lover and hug them sideways. It's a nice touch.
Experience
Now we move on to the front of the body starting with the arms. These are all long strokes that release tension in the muscles. I love that the hands come next because hand massages are quite nice. Six different strokes here! Very in depth for such a small part of the body. Next we get to the front of the legs. It's much like the back side was. Long and steady strokes. Woo! Foot time! I really want a foot massage with these techniques now. That would be splendid.
We start to enter sexy territory with the front torso techniques. It's nothing too risque, but it's getting there. The first strokes are pretty plane jane, but then we get into boob and nipple massage. Even more sexy! Then bam! Now we're on to penis massage! This basically goes over simple hand job techniques, but nothing that's overly crazy. Again, we're keeping it sensual here. Vagina time comes after this. Clitoral massage. Simulating! You can't forget the insides, either! That G-spot sure feels good when massaged, right ladies?
After this we tiptoe back into non-sexy territory with the head and neck massage. It just looks like it feels so good. Who doesn't like scalp massages? Best thing ever. Finally we reach the face. This is also quite soothing, too. Massaging those temples along with those head scratches might just put you to sleep. The last section here is on how to do your wrap-up strokes to complete your massage. The cherry on top, if you will.
At the end of the book there's also an appendix containing information on how to eroticize safe sex. That was very nice of them!
I'm really impressed with this book because most erotic massage books don't contain theraputic techniuqes and are more about giving your lover a rubdown before sex. My roommate is a massage therapist and I've looked through a ton of his textbooks and I've been given practice massages on occasion so he could get his clinical hours in. The techniques used in this book (except for, you know, the "happy ending" ones) were the exact ones he used on me. Professional, that's what this book is.
I wasn't expecting much out of this book because of the silly 80's cover and the title being "Erotic Massage", but all of these techniques are highly practical, explained very well, and easy to do. You'll never look at massages the same way after this.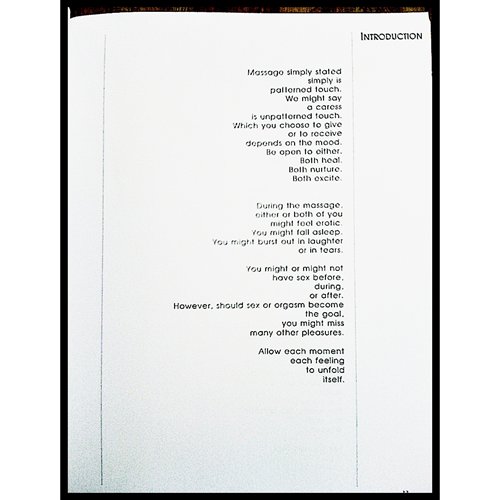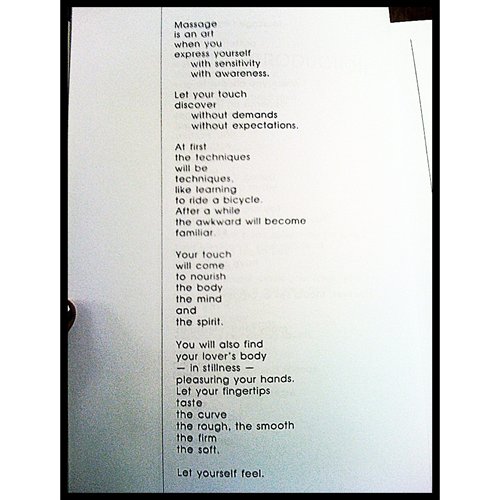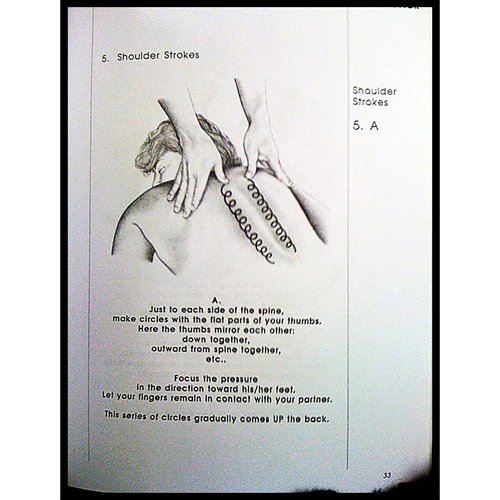 This content is the opinion of the submitting contributor and is not endorsed by EdenFantasys.com

Thank you for viewing
Erotic Massage: The Touch Of Love
– book review page!