A Fun Scratch Card Game That Will Keep You In Suspense!
Both my partner and I really enjoy this game! The fact that you get a scratch card that only you know what is on it, keeps the suspense level high! This game seems to be made for heterosexual couples, but most of the cards that we have used so far can be used by anyone in any type of relationship. I recommend this game to both new couples, and those who have been together for ages. It really adds excitement!
Published:
Pros:
inexpensive, scratch-cards, cute ideas on cards, comes with drawstring pouch
Cons:
geared towards heterosexual couples
My partner enjoys playing games with me, and he also loves scratching lottery tickets. I knew this was the perfect game idea for us!
The games packaging is a box. On the front of the packaging there is the brand, product name and photos. The back of the packaging just explains the product a bit, and is the only place you will find any sort of "rules" for the game. On the back of the packaging, it states: "Simply pull a card from the satin pouch and see what romantic surprise awaits you & your loved one!"
Inside of the packaging, you'll find a black satin drawstring pouch, and 52 cards that read either "For him to read" or "For her to read". These cards are attached to one another, but are perforated for easy detachment from one another. You can leave them in a long strip (as they came) or you can tear them off so you can mix them up in the black pouch that the game came with. We tore ours to separate them.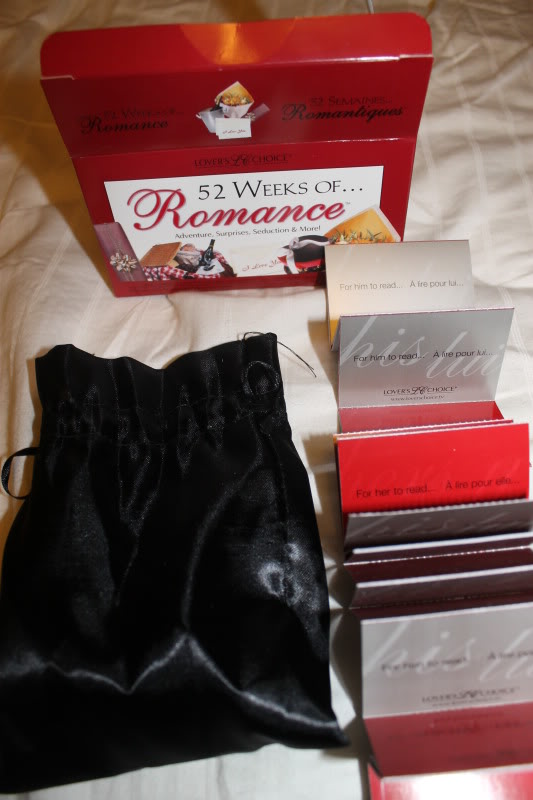 The cards are cute. The "for him" cards are grey in colour, and the "for her" cards are in red. The faces of the cards, which have the romantic gestures on them, are scratch cards. This means that you will not know what is on the card until you have scratched it. Since we have just started the game, I am unable to tell you what is on each and every card. I did however read in another review that some of the tasks are only appropriate for certain seasons of the year. I have not come across one of these cards yet, but my partner and I agreed that we would improvise. If it's winter and it says to have a picnic, we'll have the picnic in our living room.
I have not read all of the cards, but this game seems to be made for heterosexual couples. The cards we have drawn so far could be used by female-female, female-male, or male-male relationships… but I believe the products intended target market was for heterosexual couples. This is apparent, just by looking at the gender-specific cards (his and hers).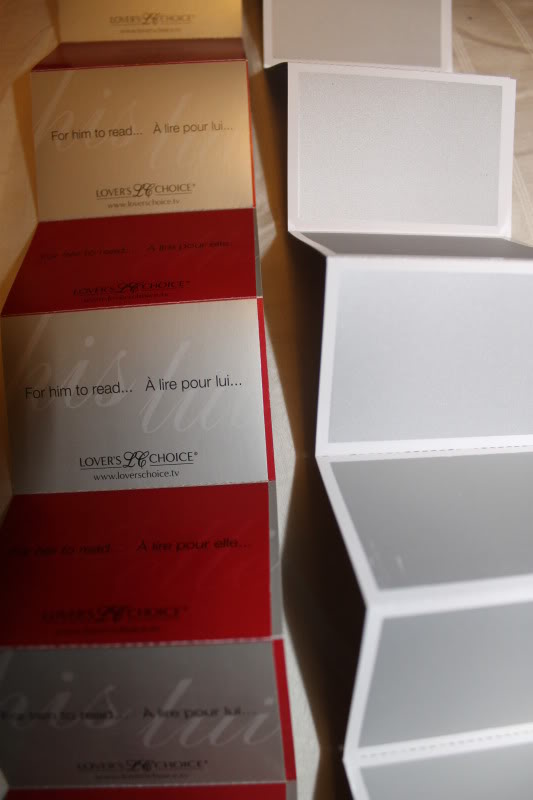 The game is supposed to be played by one person choosing a card per week. If you play this way, it will last you a year. My partner and I have made our own rules. We both choose a card for the week, and we do not show each other if we do not want to. We have a week to fulfill whatever it says on the card. We must give each other the card we chose at the end of that week. If you are a very busy person, I think this game can still work for you, because there are no set rules telling you that it must be done ASAP. For example, my card that I chose says: "Tonight is his lucky night. Entice his senses with soft music, enticing looks, gentle touches, that irresistible perfume…only you know where this can go!" Since my partner and I made the one-week rule, we do not have to do any of the card actions immediately. I have one week to complete my card's task.
The scratch cards are very easy to scratch off. My partner and I both used a coin. The task/suggestions on the card is written in both French and English. The tasks on the cards vary from simple tasks such as telling your partner why you love them, to more sexual activities.
This game is good for heterosexual couples, regardless of how long they have been together. It's a cute way to remind your partner you care, and have fun while doing it! Both my partner and I love the suspense of not knowing what each other has for the "task" of the week. I am pretty sure that his has something to do with hugging me everyday because he has been hugging me a lot more than usual. I'm excited to see his card at the end of the week and I know he wants to see mine too!
Experience
...continued


We will be keeping the scratch cards and once we are finished the game, we will put them away and possibly reuse them in the future. The only downfall of this is that they will already be scratched (and that is half the fun!). If you do get this game and decide to toss out the used scratch cards, you will still have a nice drawstring pouch to store things in once the game is over.

Both my partner and I give this game a 5 out of 5, simple because we're having a lot of fun with it! The price is reasonable, and who doesn't love scratch cards? Also, the rules are quite vague, so you can make up your own to fit your needs. If you want to draw a card once a month, or if you'd prefer to draw one once a day… It's completely up to you! The only thing I can possibly think of that I would change is that they would add more scratch cards so that the game could last longer… or offer a different set of cards to purchase to continue the game once you have completed it.
Follow-up commentary
4 months after original review
My partner and I have been slacking. We've been pretty busy so we slowly stopped scratching the cards (for now). It's not that it's very time consuming, but the game hasn't been on the top of our priority list. We still both enjoy the game, and the concept of it. When I told him that I had to do a follow-up, he said to me, "We need to start remembering to play". The one thing nice about this game is that if you get busy like my partner and I had, there are no rules where you HAVE to continue the game daily/weekly/monthly/etc. We'll pull the game back out soon.
This content is the opinion of the submitting contributor and is not endorsed by EdenFantasys.com

Thank you for viewing
52 weeks of romance
– adult game review page!