Make me... Lavender?
If you're looking for a new bath oil to take with you on a trip and price doesn't matter, this is for you. It has a very calming lavender scent that stays on your skin for hours after getting out of the bath. It dries out your skin and might not be for those with nut allergies or sensitivity to parfums.
Published:
Pros:
Smells lovely. Relaxing. Cute packaging. Nice size for travel. Good for people with sensitive skin.
Cons:
Expensive. Drys out skin. May smell too strongly for some. Contains nut oils. Doesn't come sealed.
Make Me Milky is a one time use bath oil that has a lovely relaxing lavender scent. I can't stress enough that is a one time use item! It is only 1.6 fluid ounces.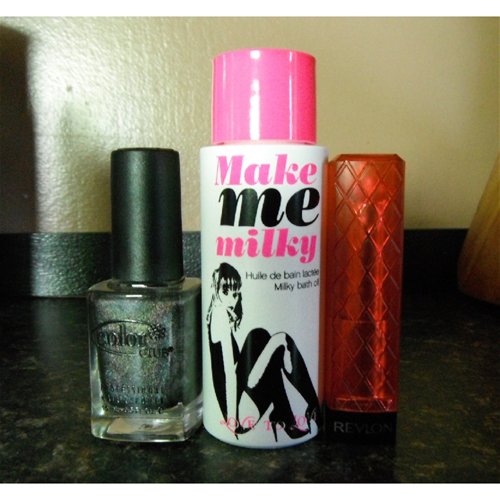 Tiny!
This oil does not come with a foil safety cap or in a plastic bag. Doesn't Eden usually send out it's lubes and other liquid products in a tied plastic bag? What if it had come open and spilled all over somebody's new toys? What if it had been tampered with? The box wasn't sealed, either.
Make Me Milky comes in a simple white cardboard box with neon pink and black writing. The pink and black colors are reversed on the bottle. It also features a girl wearing thigh-high boots. I'm not sure if she looks sad or pouty. Maybe bored? The inside of the box is the same neon pink, but with lots of bold white writing in French. In side the box was a tiny black and white pamphlet. It lists the other products available for purchase from Love To Love, and in eight different languages is says,
"Loyal to it's motto, 'sex, fun & rock'n'roll'. Love To Love is proposing a line of erotic cosmetics. These products promise playful and unusual love sessions. To experience it all, from well-being to ecstasy, by making your fantasies reality."
Make Me Milky is made by the Love To Love company in France. This is the first time I've heard of it. On the back of the box it says in six different languages: "
Make your bath into a gorgeous milky could with this oil.
" It also mentions that this bath oil is paraben free. The lot number is listed near the bottom of the box.
Avoid eye contact!
Instructions: "
Milky Bath Oil - Make your bath into a gorgeous milky cloud with this oil. Pour the entire bottle into your bath heated from 37°C to 99°F. Avoid eye contact, keep out of the reach of children.
"
Out of the bottle Make Me Milky feels very oily and slick by itself. Almost dish soap like consistancy. It is a light golden brown color and reminds me of beer. It smells nice, not sweet or chemical at all, but is not very strong either. It took me a moment to figure out what the smell was. I was expecting it to smell milky or like almond after reading the ingredients. But, no! It is lavender scented! I thought once it was poured into the water it would fade, but I was wrong!
When I added Make Me Milky to running water, it became foamy like bubble bath and turned the water a milky white. I loved the lavender scent and it wasn't oily at all after being mixed with the water. There wasn't an oily residue floating on the top of the water like I expected. Within five minutes all the bubbly foam had left the water a blue-ish grey.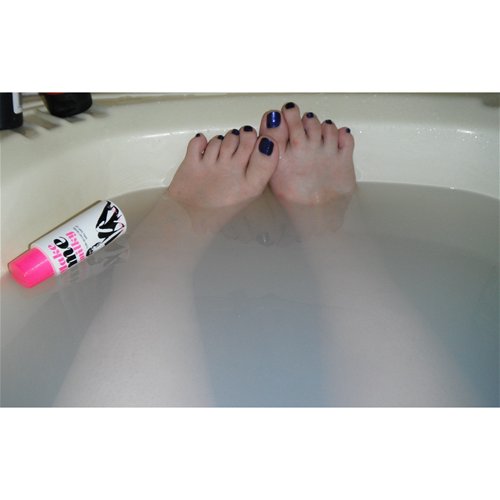 Milky... grey?
Ingredients: PEG7, GLYCERYL COCOATE, HELIANTHUS ANNUUS (SUNFLOWER) SEED OIL, PARFUM (FRAGRANCE), PRUNUS AMYGDALUS DULCIS (SWEET ALOMOND OIL), CORYLUS AVELLANA (HAZEL) OIL, ROSMARINUS OFFICIALIS (ROSEMARY LEAF) EXTRACT, LIMONENE, BENZEL SALICYLATE, BENZEL BENZOATE, EUGENOL, HYDRACITRONELLAL, LINALOOL, COURMARIN, GERANIOL.
This probably wouldn't be good for those with nut allergies or bad reactions to parfums. Don't drink the water, and avoid eye contact.
Experience
When I saw Make Me Milky, I really wanted to try this beacause the bottle looked so cute. It sounded like a great way to spend a romantic evening with my guy. He loves relaxing in the bathtub almost as much as I do! You know the routine. Light a few candles, toss in some rose petals, and play some music. Maybe try out all the new toys we got from Eden...
When it arrived, I wasn't sure what to think. I thought that I was sent the wrong product because the bottle is so teeny tiny! I didn't think it was actually going to be a one time use product beacuse of the price. Maybe it was shock? Disbelief? I stood there dumbfounded; looking at this tiny little bottle sitting in a big box for a moment. Before it sunk in. This... was my bath oil.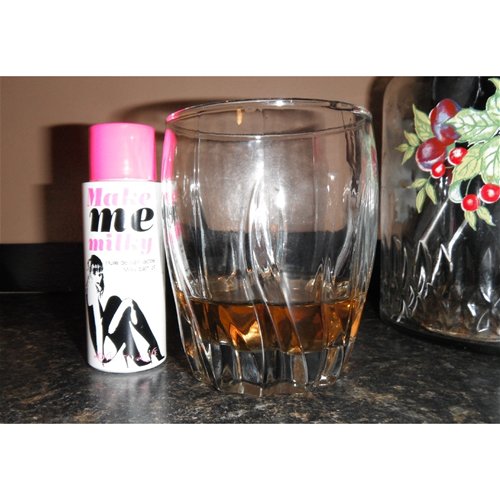 Only 1.6 oz
I really like the lavender smell of Make Me Milky. It smells like the real thing. And for several hours after getting out of the bath, I still smelled like lavender! I loved it! I was disappointed that it didn't leave my skin soft and moisturized like most bath oils do. For the price, you think it would! It really dried my hands and feet out. I tend to have bad reactions to bath and beauty products, so it was nice to see that Make Me Milky is safe for those with sensitive skin.
My bathroom still smelled like lavender well into the next day. My boyfriend thought I had brought home a new air freshener. I think I'll stick to my usual bath salts. They leave my skin soft and go for under $2.00 a box.
Follow-up commentary
2 months after original review
Since the Make Me Milky bath oil was a one time use item, I can't really say that I like it anymore. It smelled nice, but I wouldn't go out of my way to buy another one for that price. If I was to buy it again, it would be a gift for someone else.
This product was provided free of charge to the reviewer. This review is in compliance with the FTC guidelines.

Thank you for viewing
Make me milky bath oil
review page!