This aromatherapy is "Uplifting".
If you're looking for something simple to keep around your house that smells nice, and will give you a few hours enjoyment, you may want to give this a try. Bluecorn Naturals has created a gently smelling candle that uses natural ingredients to provide you relaxation during a bath, in the bedroom during lovemaking, or just to have on your counter burning while you read a book. But don't get too attached, this puppy won't burn for long.
Published:
Pros:
Nice smell.
Reusable tin.
Paraffin & Lead free.
Pure beeswax.
Cons:
Expensive.
Short burn-time.
So I have sort of a thing for candles. By "sort of a thing" I mean, if I see a candle and it's on sale and smells good, I have to buy it. Because of this, I have candles all over my house. JimmyJane, Yankee Candle, generic Dollar Store ones. They're all over the place. So when I saw this one come up on sale here at EdenFantasys, I had to jump on it and add it to my collection.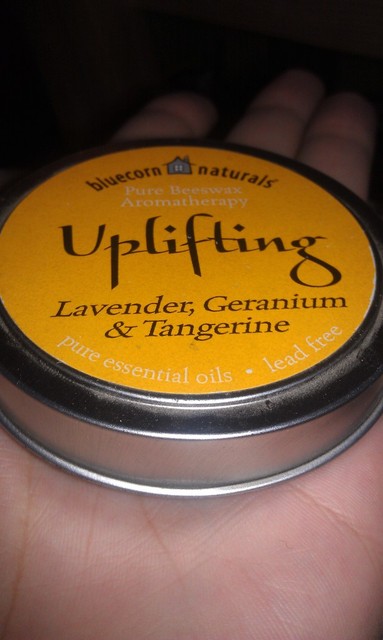 This candle came wrapped in the traditional style of EdenFantasys -- it was tossed in a plastic bag, with a knot around the end, and that's it. No paperwork, or box, or anything else. Just this little guy, sitting in his little candle tin, all by himself. Bluecorn Naturals makes up for this by making the candle and the tin that you do get both very good quality.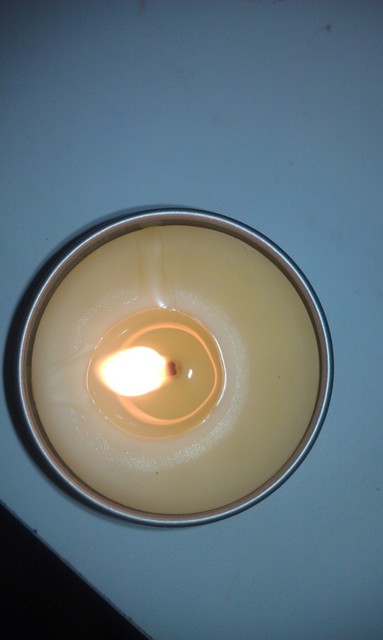 The tin is nice and thick and even though mine did have a couple little dings and scratches on the outside, it's still sturdy enough and thick enough that when this candle is used up, I will still keep the tin for either other candles, or to store nails or something small in. It's nice, simple, and sturdy, so it's reusable for sure. The outside of the tin has only a single sticker on it, on the top. There is no contact information, ingredient list, or anything else outside of the name of the company, the scent "Uplifting", Lavender, Geranium, & Tangerine, and that it's "pure beeswax" and "pure essential oils". I'm assuming those are the only ingredients, since there is nothing else that leads me to believe that's the case.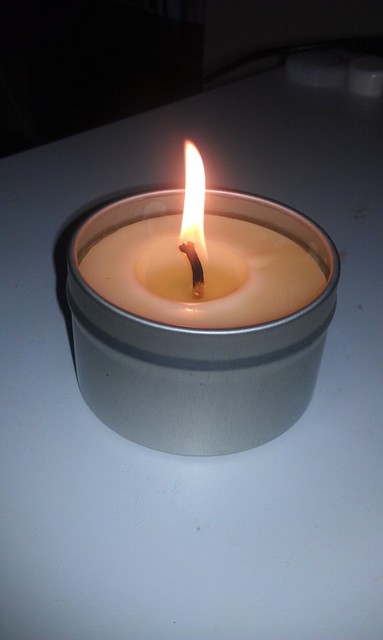 I was a little bummed that the candle I got wasn't the one I ordered, but that's not a big deal, since this one still actually smells really nice. The lavender is subtle, and the tangerine is earthy, and the geranium ties it together very nicely. I don't burn this one too often, because it does tend to burn on the faster side (as all beeswax candles will do, since there's nothing to slow the wick down), but when I do I'm always happy that I picked it up. You certainly won't be getting as many hours out of this little guy as you would a big glass candle, but you'll get enough out of it to enjoy it a few times. Edenfantasys claims it's 6oz with a 15 hour burn time, but that seems stretching it on the burn time (unless you're keeping your wick trimmed nice and low and let it just basically inch along).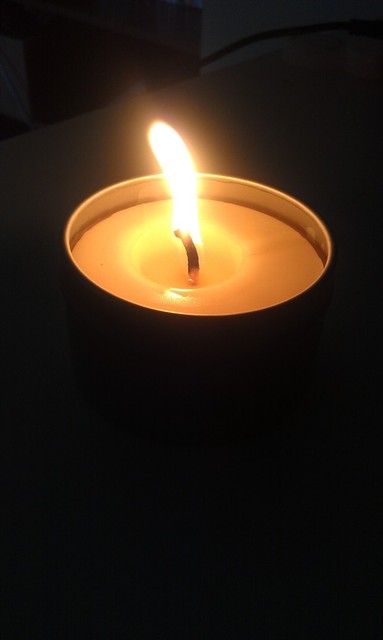 This is not a massage candle, so I haven't tried to pour any on my skin and see how it reacts, but if you're into wax that may be easy to do, since this creates a pool of wax within a few minutes. It also takes just as little time to let the candle waft throughout the house, and the scent is relaxing and (exactly as advertised) uplifting.
This content is the opinion of the submitting contributor and is not endorsed by EdenFantasys.com

Forum
| Discussion | Posts | Last Update |
| --- | --- | --- |
| Scent | 8 | |
Thank you for viewing
Beeswax aromatherapy candle in tin
review page!