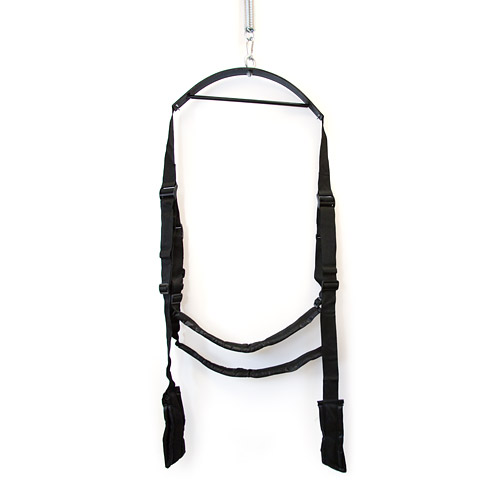 Velvet sex swing
Sex swing
by EdenFantasys
Where's The Velvet?
If you're ready for a fun, adventurous, pleasurable time, then you might be looking in the right direction with this swing. Featuring a comfortable and sturdy design, this swing holds up weight well and is easy to assemble and slip into whenever you and your partner are ready to go. Perfect for a playroom or dungeon, this swing is meant to be a permanent fixture of your place of choice.
Published:
Pros
Swing is comfortable
Holds weight well
Easy to hang
Cons
Chipping paint on the handlebar
Rough edges on the handlebar
No Velvet/Does not match the photo
The swing is meant for aiding in the positions during sexual intercourse and adds a little flair of adventure for those willing to brave it. The use of a sex swing adds suspension to play and gives a freeing feeling to sex that isn't restrained by a bed or other flat surface. Glide into thrusts with free-swinging ability, and make up your own rules while becoming a gymnast or acrobat in the privacy of your own home. Everyone and anyone may find a position that will work for them on this swing and will have fun doing so as long as they are practicing safely. This can be used by beginners or advanced users, however, there is a learning curve when playing on this swing, and balance is key.

This product can also be used for BDSM purposes if the user wishes and can be hung at a play party for an extra party favor for attendees to enjoy. While this is a fun and exciting addition to the bedroom, users should remain careful when playing, as wrongful use can result in injury. This swing is not travel-friendly, as it would not only weigh too much but is far too cumbersome to carry around.
This swing seems to be made up of three basic materials such as
metal
,
neoprene
, and
nylon
. There was not any velvet on the swing I received, but it was a comfortable material nonetheless when it was set up and sat on. The neoprene material was very soft against the skin, and plushy, feeling as though it were made up of some kind of foam material beneath the outer neoprene. While in addition to the feeling of the neoprene being soft and plushy, the nylon portion of the swing offered durability and support. Overall this is an extremely sturdy swing, and the design is a rather sound one.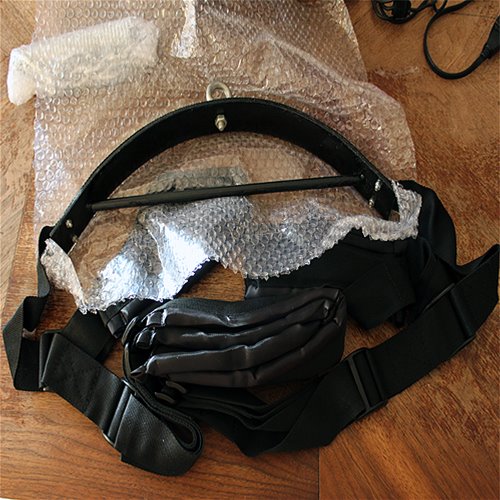 The swing was not the same as the product photo
The swing is designed with a top portion of metal, making up the handlebar and the arch of the swing, with a round eye bolt that stands atop of the arch to hang the swing. It comes with a heavy-duty spring-loaded chain that includes a carabiner on either end in order to hang the swing on and a heavy-duty eye bolt in order to screw it into a beam that can hold enough weight for the swing to be of any use. The nylon stretches over the top of the metal piece, and the cuffs and straps are adjustable via heavy-duty plastic buckles.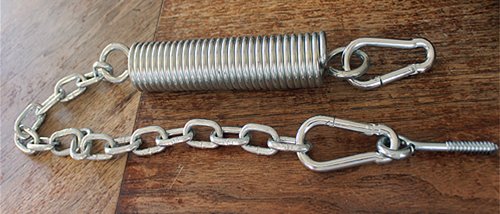 Included hardware.
Users will want to hang this swing at a strong center joist of a beam in their home if using the eye hook bolt that comes with it. If not, this swing could be attached to a beam via a chain or hooked onto a metal stand of some kind with the carabiner. Make sure that all methods will hold the weight you wish to put on this swing. Otherwise, things may end in injury and a trip to the hospital, as well as cause damage to your home. The maximum weight capacity on this swing is listed at 400lbs, and the weight we put on this swing didn't seem to hinder it in any possible way in use. My partner weighs in around 190lbs, and we had no issues whatsoever when using the swing roughly.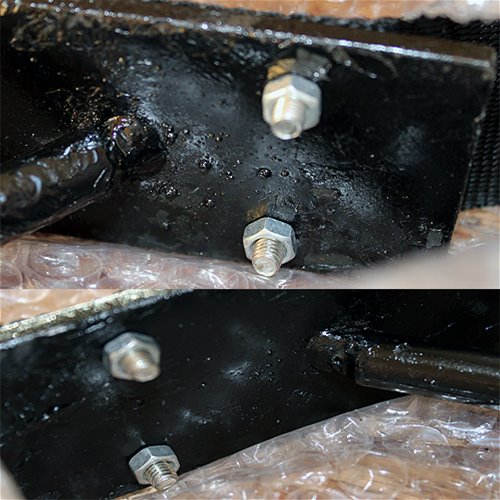 Bubbles in paint/poor paint of top hanging metal arch.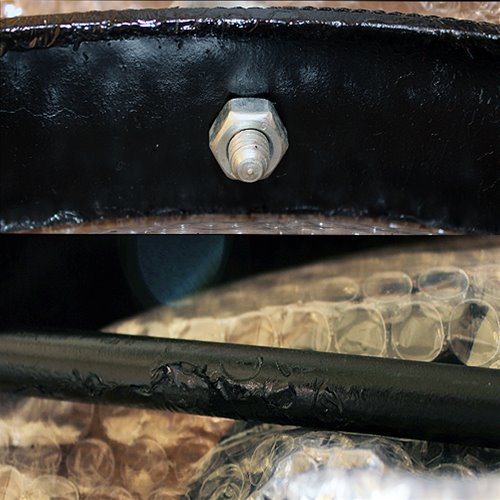 middle of the arch with rough edges, and the poorly painted handlebar with rough edges.
The handle bar was not used for the sole purpose of whenever touched; the black paint on the metal was peeling off and had multiple bubbled places where it was roughly painted. There were also some sharp edges that we didn't feel safe grabbing onto, in case one of us ripped our hands open. However, the nylon straps are durable and easy to grip onto, making this swing easy to handle in terms of helping the partner to position or move. We are a little concerned that the nylon straps securing the swing is just stretched over the metal bar beneath bolts and what that will entail over time; however, it seems to be durable enough as is, and we'll still be using our new swing in the future for some adventurous fun.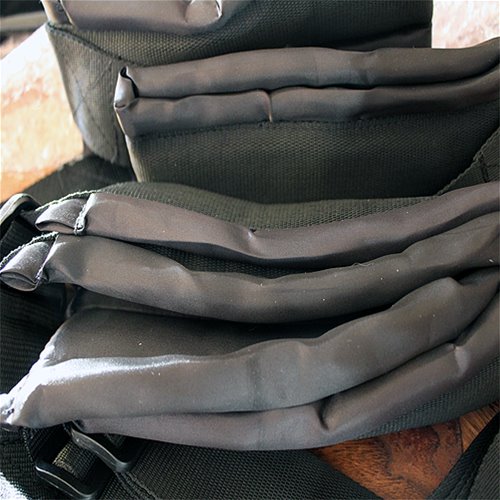 Soft neoprene cuffs and seating, with plastic adjustment buckles and nylon straps.
This product was provided free of charge to the reviewer. This review is in compliance with the FTC guidelines.
Thank you for viewing
Velvet sex swing
review page!