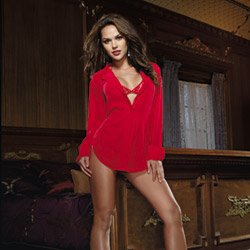 Robe, bra and thong set
Bed jacket by DreamGirl
Be Sexy in the Bedroom or Chic Outside
The robe looks like a chiffon shirt. It has great versatility inside and outside of the bedroom. Paired with the lacy bra (that does not provide support) and thong, this is sure to be a hit in the bedroom. Additionally, playing around with the robe allows you to come up with red hot, chic outfits for the public.
Published:
Pros:
Versatile, good price for three pieces, so sexy, comfortable lace
Cons:
Itchy tags (but can be cut off), robe wrinkles easily, uneven sewing
Product Information
Size
: Small
Material
: Robe (100% Polyester), Bra and Thong (100% Nylon). The robe feels silky smooth and the lace of the bra/thong is comfortable and not itchy.
Care Instructions
: Hand wash in cold water, line dry.
Robe Measurements
: Bust - 37"; Length (shoulders to bottom hem) - 27"; Waist - 32"; Bottom - 34"
Description
: This is a three piece outfit consisting of a non-stretchy, chiffon-type robe with two buttons (looks like a boyfriend shirt), a see-through, lace bra that looks like a bikini, and a lace thong. The bra and thong both have a bit of stretch in them. The thong also has a cotton liner.
Packaging
: Plastic garment bag with plush hanger (look at pictures of bra/thong) - I really liked the hanger.
Initial Impressions
I was so excited to receive this item because I have been looking to obtain a chiffon shirt to wear out for a while. The bra and thong both looked quite sexy (they are red, lacy, and see-through...all hallmarks of being sexy), but not practical to wear on a day-to-day basis. The robe, on the other hand, looked pretty hardy, and I was looking forward to trying it out with different outfits.
Bra
Fit:
I have a bra size of 32C and it fit me perfectly fine. Take note that this is not a real bra - it's more like two pieces of triangular cuts of lace that you put over your boobs. If you do not naturally have perky boobs, this bra might not do too much because it has no support at all. Additionally, the tag on the bra may be a bit itchy, but you can just cut this off.
Functionality:
I'll just go out on a limb here and say that it works well for seduction. I think any guy would like seeing boobs under this see-through, lace piece. Plus, like a bikini, you have a tie around the neck and back. However, the back is held together by a hook, similar to the ones used in bra straps. This may aid for quickly taking it off.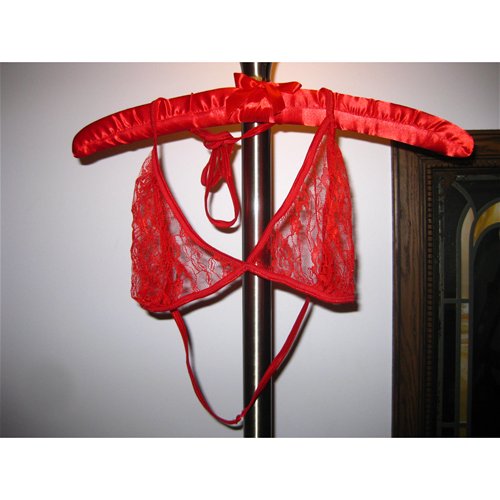 Thong
Fit:
It fits like a thong - it fits me perfectly fine. It doesn't ride up.
Functionality:
Standard sexiness. Enough said.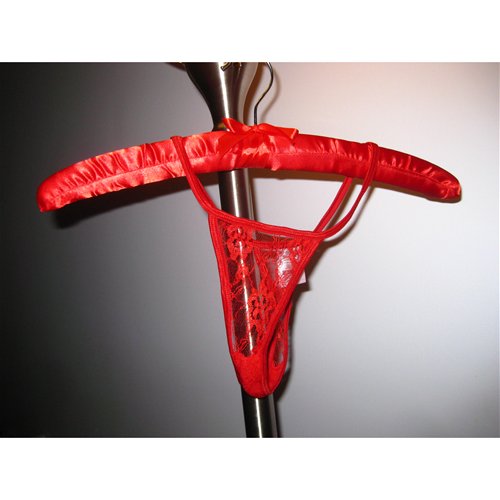 Robe
This is where the good stuff comes. You can totally treat this as any other shirt in your closet, so you can pair this with a ton of items to go outside. This is great for the summer months because it's pretty thin.
Fit:
This fits me pretty well. It's loose, which it's meant to be, so it doesn't really have a great figure shape. I think it's also a bit long on me (I'm 5'3" and it comes to almost my knees). It's chiffon, so you can see your body underneath, which that doesn't matter too much if you're wearing it in the bedroom. It's comfortable since it's so loose.
Functionality:
I love this robe because it definitely looks hot unbuttoned and with the bra and thong on (looks similar to the model, except it's much longer on me). It can also function as a shrug (tie the bottom edges together), a normal shirt tucked into jeans, or a shirt dress with leggings and a belt. Seriously, this is a versatile piece to wear outside of the bedroom as well as in it. Just look at the pictures below.
Craftsmanship:
Points are taken off here. It's pretty clear, if you look closely, that it's not sewn evenly, but people who are just looking at you wouldn't notice. It's red thread sewn on red cloth, so it's not noticeable if you aren't looking. Still, there are some odd twists because of the unevenness, but it shouldn't affect the clothing too much.
Other points of interest:
One other noticeable thing is that the material wrinkles easily. I don't know if you can iron this, since it's 100% polyester. If you don't want to take the chance, you can always hang this robe in your bathroom to let the steam in the bathroom take the wrinkles out (the steam from your shower/bath...not just spontaneous bathroom steam).
Conclusion
I'm giving this outfit 5 stars because it's so versatile - you can definitely use it for things other than its initial purpose. While the craftsmanship may not be the best, I'm sure the robe will hold up for years if you take care of it properly (i.e. do not throw into the dryer). The sewing seems to be pretty sound besides the unevenness, so the robe shouldn't fall apart on you. I also think the bra and thong will hold up pretty well, simply because it's not practical to wear them all the time, so it should hold up for the once in a while impress-your-special-someone fests.
Experience
Wear it like what it's supposed to be, wear it like a shrug, or wear it like a shirt!
Dress size:
XS/0/2 (for mainstream brands)
Height:
5'3"
Weight:
117lb - 120lb
Bust size:
32C/31"
Waist:
26"
Hip:
34"
Full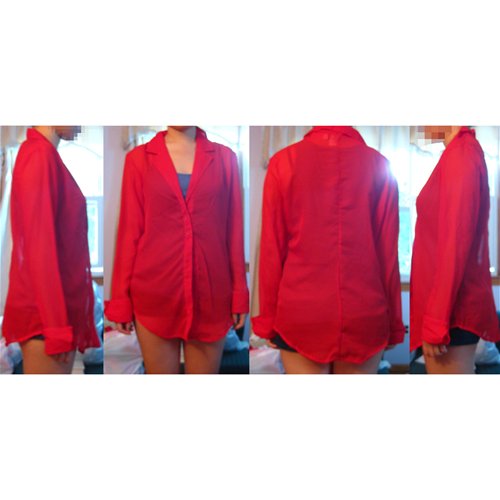 Shrug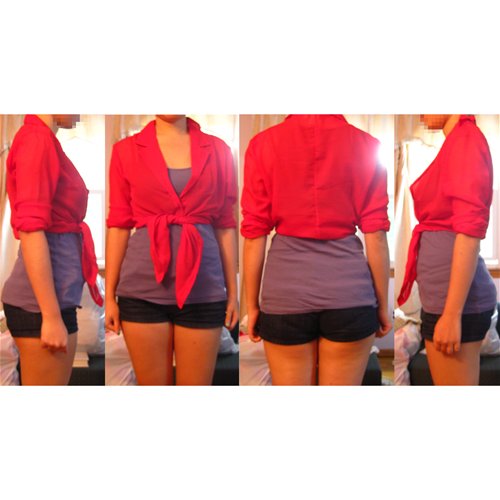 Shirt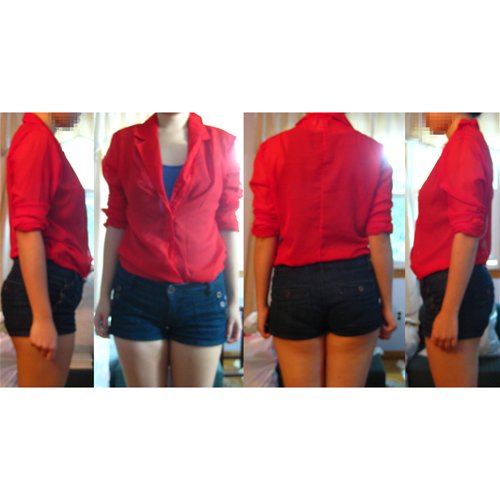 This product was provided free of charge to the reviewer. This review is in compliance with the FTC guidelines.

Thank you for viewing
Robe, bra and thong set
– bed jacket review page!