Big breasts stray away
If this cami set would have had larger cup sizes, this would have been an excellent set that would be top in my collection. As for now, it has to be laced in my box that I do not wear.
Published:
Pros:
Exceptional details
Cons:
Small cup size
I received the criss cross cami set and it was in a clear, thin plastic packaging. Once I took it out of the package, I measured the length for the 2X size which is more like an XL or 1X. This camisole set is the Escante brand and their sizing chart is as follows.
Escante
Cup Bust (in) Waist (in) Hip (in) Weight (lb)
Small 2 - 6 A - B 32 - 34 24 - 26 30 - 32 90 - 120
Medium 6 - 10 B - C 34 - 36 28 - 30 32 - 34 120 - 140
Large 10 - 14 C - D 36 - 38 32 - 34 34 - 36 140 - 160
XLarge 14 - 16 D - E 38 - 40 34 - 36 38 - 40 160 - 180
Sm/Med 2 - 8 A - B 32 - 36 24 - 28 34 - 36 90 - 130
Lg/XLg 8 - 16 C - D 38 - 42 30 - 34 38 - 40 130 - 170
1X 16 - 18 D 40 - 44 44 - 48 50 - 54 175 - 200
2X 18 - 20 DD 46 - 48 48 - 52 54 - 58 200 - 225
3X 20 - 24 D+ 48 - 52 52 - 56 58 - 62 225 - 250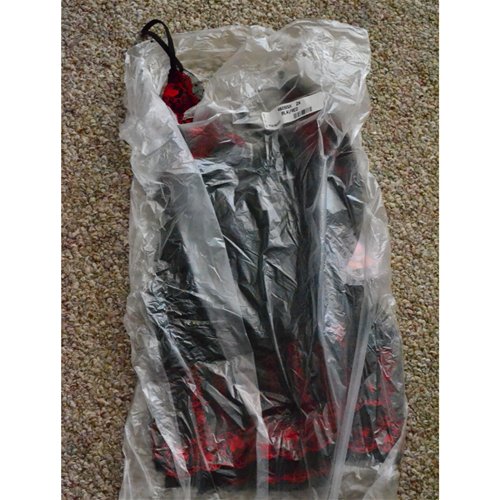 The length measured from the top without the straps is 23 inches and horizontally across the bust are unstretched, it is 19 inches. Totally stretched across measures 29 inches which in turn doubles to 58 inches. The elastic held up well while stretching and it did not itch me or rub my skin while walking around in the cami. It was not tight on me and it did provide minimal comfort, someone mentioned that it wa itchy on them so they returned it. I did not wear this for a very long period of time so this wasn't the case for me..
Once I opened it and gave it the initial look over, I noticed that the bow on the front had a little sign of glue or something like a piece of melted fabric on it.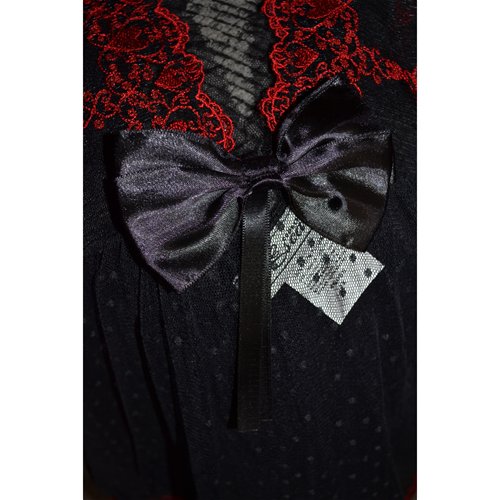 I then moved on to the next part and I always check out the breast area first, just because I have massive breasts on a smaller frame and I know that sizing can sometimes be difficult for me personally. I noticed right off the bat that the cups were very small for a size 2x. I placed a 20.00 bill next to the cup for size verification just in case someone wanted an idea.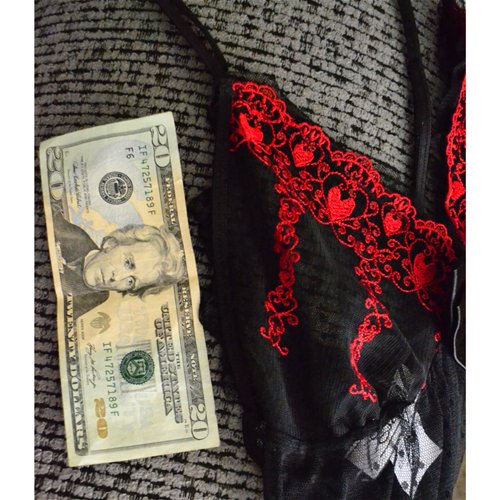 The detail on the red trim is exquisite, it has a heart pattern with swirls, almost resembling a damask pattern.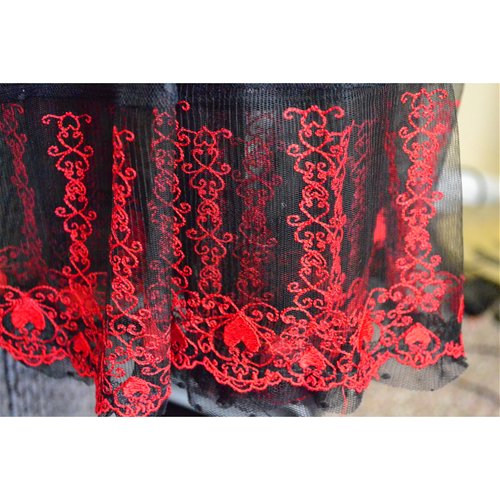 The detail is on the cup and the bottom trim area of the cami. This gives nice detail and this makes it a stand out piece on it's own. The red is bright and not dull.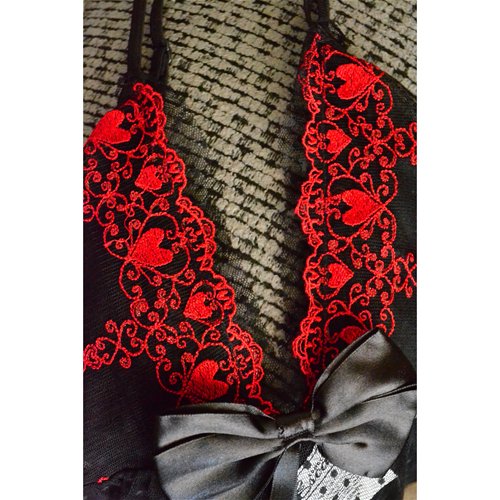 The material is 100 percent nylon and the camisole and thong were made in Mexico. The closure on the back is the hook closure and it is not uncomfortable or scratchy. The straps are adjustable and I could fit them perfectly to the length that I needed. They fit well and did not cause any problems with digging into my shoulders.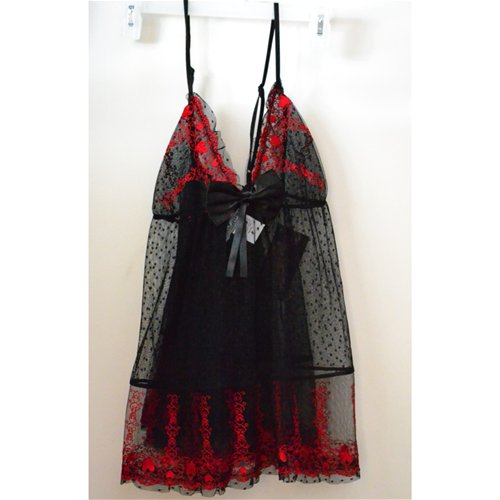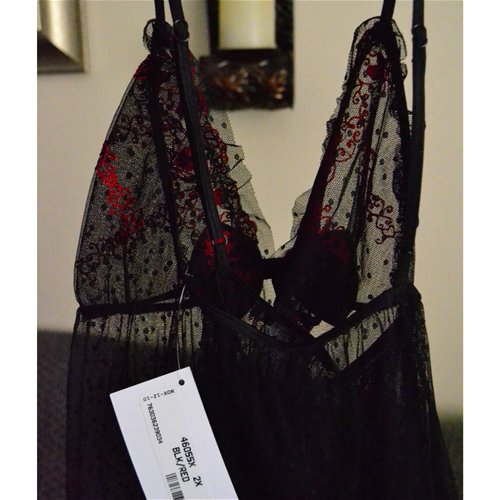 Most of the time, I do not like the thongs that come with these lingerie sets but this one really stood out. It was made out of the same black, nylon material that the cami is made from. It does not have the red detailing on it. It does have a crotchless opening which provides plenty of room. It is not a small opening and on top of the opening has a small satin bow on top to add more desire to it. I actually liked the thong better than the cami itself.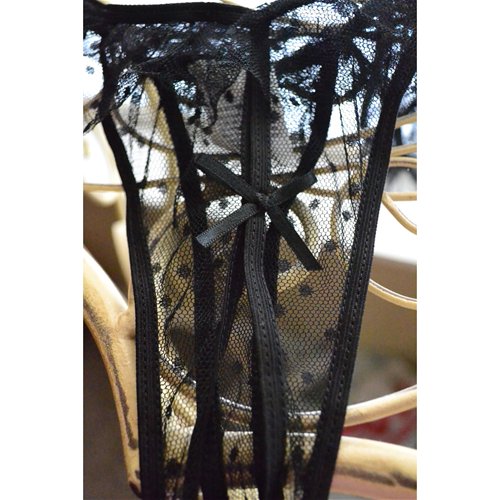 Now here comes the problem area. If you are a busty girl, this will most likely not work for you. By busty, I mean D and up. If you are DD, DDD, or an F size, You may need to search for another cami because this just barely covers the lower area around my nipple. There is absolutely no support provided in this garment and was not flattering in the breast area. If you do in fact have small breasts, this piece may definitely be a home run!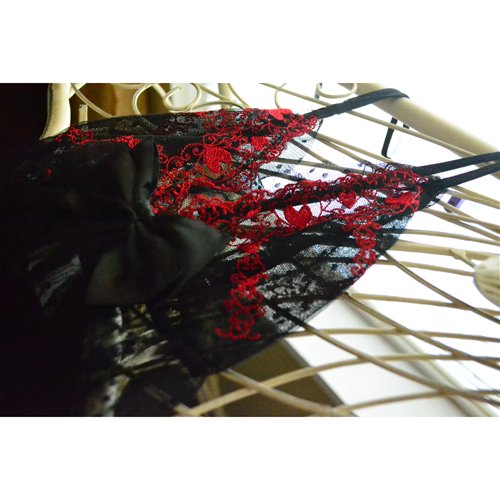 If you have a small bust, somewhat smaller waist and larger hips and bottom, this may be the piece that you have been looking for. If you are very busty, this may not be what you are looking for. Good luck!
Experience
The best use of this cami set for me will be to try the thong with another similar lingerie as the cami did not fit me because of the size issues in the breast area.
Follow-up commentary
1 day after original review
I have tried many things and this still is not my cup of tea. The fit will not work for me at all. This was so pretty, such a bummer.
This product was provided free of charge to the reviewer. This review is in compliance with the FTC guidelines.

Thank you for viewing
Cami set with criss cross back
– camisole set review page!