Boudoir Beauty
So this jacket looks like something from a 70's porn movie, but there's nothing wrong with bringing tacky back! It may not have a mass audience appeal, but it's still cute, lightweight, see through, and can dress up a variety of bedroom attire. It comes in multiple sizes so that there's a fit for most women.
Published:
Pros:
Multiple sizes available, stretchy, lightweight, split cuffs.
Cons:
Must be washed carefully, flying feathers, panties not included.
There's something very classic about this mini bolero jacket, reminiscent of the days of fuzzy heeled bedroom shoes. In fact, if you happen to own a pair, dig them out and you will have a complete ensemble! Yes, it's a bit tacky and animal lovers probably won't be flocking (no pun intended) to pick this one up, as it does have bird feathers on it; however, it's comfortable, flirty, and so very frou-frou-de-doo! Wear it with nothing other than a sexy pair of panties or be the diva you are, dress it up, and wear it wherever you please. You may attract more than just the birds with this one!
MATERIAL
This bedroom jacket comes from Fantasy Lingerie and is made in Mexico out of 100% Nylon, save for the decorative fur marabou trim and feathers. I did a little research on marabou, and it appears that most of these fine soft feathers are collected from turkeys nowadays and then dyed a various assortment of colors and sold in fabric and craft stores worldwide. I'm not sure what bird the black feathers on this are from, but the quills are long and thin, making the feather stick out farther than the marabou. There's no strange smell to the jacket when it's new, the feathers smell like...clean feathers! A few will shed off here and there, and probably a lot more if things get more passionate, lest the jacket be removed first. It's available in either hot pink or a sapphire blue.
DESIGN
This frilly bed jacket has the basic bolero or shrug design, which generally stops right below the bust line, at the top of the ribs. It's a bit shorter in the front than in the back and ties frontside with two black satin ties. The sleeves are not full-length, but stop about mid-forearm and are finished off with flowing bell cuffs that look very elegant. A thoughtful and much-appreciated added design element is that the cuffs are split on the top part of the forearm (see pics following review), so they don't end up getting in the way of things.
The satin ties do slip a bit if not pulled very tight or knotted in a bow. The marabou trim is tacked on every 3 inches or so, in other words, it's not continuously stitched to the piece. The other stitching is visible, but blends in with the jacket. There are no loose strings, just a few runaway feathers.
As far as matching pieces, the product tag does show that there are some, but finding them could result in an online hunt. There are many things though that will compliment it quite nicely, such as a black bra, black undies, hot pink thong, or even black pasties like in my pictures below.
The shoulders do pucker up a little bit, as you can see in one picture, but it's nothing major that takes away from this mass-marketed piece. The arms are not tight either near the armpit region, at least not on me.
SIZE
Sizing is always an uncertainty, but rest assured that this piece does stretch some, so the measurements given are pretty accurate. I have a 38DD bust, but my dress size ranges from a 12-14, so I ordered up just to be safe and chose the arge rather than the medium. There's still a little room to spare so I probably could have worn the medium also, which would have fit more snug.
Small.... 6 - 8 Dress Size/ 35 - 37 Bust
Medium.... 10 - 12/37 - 39
Large.... 14 - 16/39 - 41
X Large.. 16 - 18/41 - 44
CARE
The best way to clean this is either handwash in a mild detergent or in the machine on gentle cycle. A front load without an agitator will probably do the least damage. Do not wring dry, just hang or lay flat. It came packaged in a plastic bag, no hangar.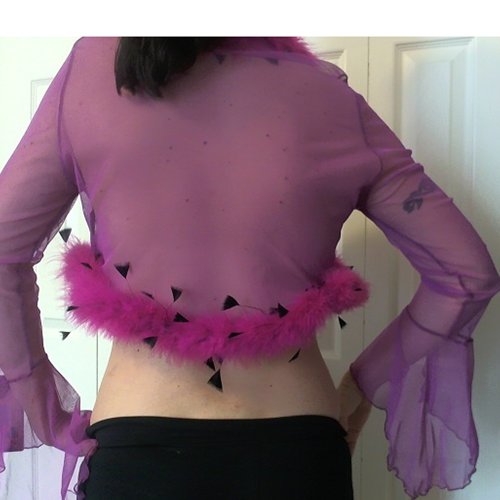 Experience
I wasn't think I was going to like this, but actually I do, as it's very different from many of the other pieces that I own which are mostly black and somber. I just wish that the site had the matching panties to go with it.
Follow-up commentary
8 months after original review
I liked the color and material, what I didn't like enough to hold on to this one much were the long sleeves and the feathers; it's just not my style. For those going for the classic boudoir look, something like this might be perfect for your collection.
This product was provided free of charge to the reviewer. This review is in compliance with the FTC guidelines.

Thank you for viewing
Hot pink flamingo mini jacket
– bed jacket review page!