Carried Away My Breasts to Nowhere!
I'm usually hesitant about buying white ("Isn't that just for brides?"), however, this time I'm glad I didn't pass this piece up. The black trim and detail on this piece makes for great contrast and moves it away from being strictly honeymoon lingerie. This is a beautiful and well-made set, but it's definitely not larger breast or curves friendly.
Published:
Pros:
~Well Made
~Underwire
~Available In Fuchsia
Cons:
~Limited Sizes
~Not Good For Large Breasts
~
Material/Design/Craftsmanship
The Carried Away Chemise and thong set by Dreamgirl is very girly, ultra feminine and has almost a bridal look to it. It's white with mostly black trim, minus the ruffles towards the bottom. The tags say that it is 100% polyester, however the Eden product page says it's a blend of polyester and spandex. This set was made in China and has no out of the box smell. The chemise is made up of a few distinct sections. First is the bust/bra area and panel, followed by the material that covers the rest of the chemise (your ribs, hips and back), and lastly there is a large portion of ruffles at the bottom. There are also bows and three separate types of trim used on this piece. A thin black lace, a black embroidery-like trim and two layers of white ruffles along the bottom. Overall, Dreamgirl has given us a complex and very well made chemise. The quality is great, so far I haven't been able to find any sewing flaws. The amount of detail and trim put into this is very nice for the price. However, it is a delicate piece so I would recommend being careful with it.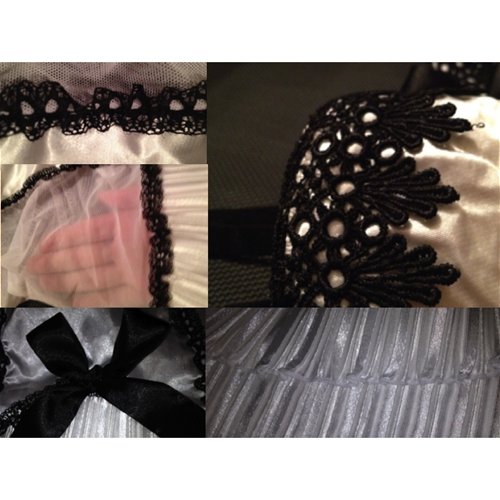 ~
The Chemise
The main material of the chemise is very sheer, soft and white. It's very stretchy, non-itchy and similar to a mesh/spandex material. It appears all the way around the chemise and is where your ribs, hips and back will fit.
The white satiny bust area is very similar to a bra. It has adjustable black straps, an underwire and an adjustable back closure. Around the top of the 'bra' is black embroidery-like trim and around the bottom (lining up with the underwire) is smaller black lace trim. Between the cups there is a large black ribbon bow that draws attention to your cleavage; it's sewn on and cannot be untied. The 'band' is made of the same stretchy main material with white elastic and has two hooks and three sets of matching eye closures. The soft satiny material then goes down in an approximately 4 inch wide panel down to ruffles on the bottom of the chemise, bordered by the thin black lace. This panel will help create the appearance of curves or accentuate the ones you already have. The second bow is down at the bottom of the front of the chemise, leading the eye to your panties. The lace then wraps around the front of the ruffled trim, not wrapping around the back.
One frustrating thing about this set was the way it made my D cup breasts look. From the front, they were there, but looked more like B or C cups because of the lack of material in the cup. There was also no major lift as there was in the stock picture. To even possibly achieve anything like this look, you need to hike up the shoulder straps. This not only leaves larger breasted women potentially spilling out from under the underwire (under boob), but it also makes the back-band ride up and look silly. The only way my chest looked nice was from the side. Because of this, I simply wouldn't recommend this chemise to women with large breasts.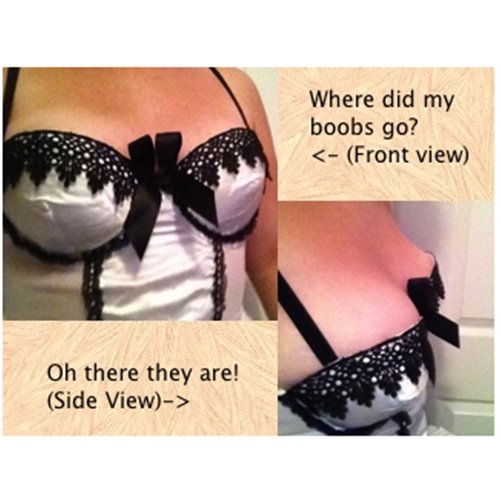 The back of this chemise features the back band of the bra, an opening similar to a keyhole and another sewn on black ribbon bow that leads the eye to your rear. At the end of the 'keyhole' there is a tiny bit of ruching, also known as gathering. This then leads down to the two layered white ruffled flare that then wraps around the front.
~
Thong
The thong I received with this set was black. Now I didn't get this from Eden so I'm not sure if I received the correct one, so I'll be reviewing the one I got with my set.
It's the typical Dreamgirl 'matching' panty, no frills or extras. Just a normal, stretchy black polyester thong with black elastic. I wouldn't say it's matching because it didn't really have any of the elements that the chemise did other than a similar material and black color like the trim. It does come with a small cotton panel in it. Like many lingerie sets, this thong has no hopes of fitting my large rear, but because it's more of an add on/throw in, that doesn't really bother me.
Experience
~
Sizing
Another reviewer said that they believed this chemise runs small, however I have to disagree. I'm on the larger side of the chart (usually going with an XL when available) and I was still able to fit into this. It is a bit snug and tends to ride up because of my larger hips though. Overall, I do believe that this is accurate for the brand's size chart, if not being able to fit tiny bit larger people due to the stretch. Dreamgirl's Large measurements are as follows in inches (mine in parentheses).
Clothing size:10-14 (16-18)
Cup:C-D (D)
Waist:28-32 (34)
Bust:36-38 (38)
Hip:38-40 (44-46)
I think I was able to fit into this piece because it's much more of a cami than a chemise. I have a smaller upper body than lower body, and this piece is not only stretchy on my hips but it doesn't really go down as far as most chemises do. If it weren't for the layered ruffles at the bottom adding length, I think this would be a cami.
~
Overall
I really wish this had come out with a XL option. Because of the way my breasts look and how it accentuates my already bountiful hips/curves, I don't think I'll be wearing this piece much. Also, because it's already a bit tight on me, I don't think I would wear it during intercourse unless I pulled it up to around my waist.
I'm giving this a 4 out of 5. Although it's really well made and beautiful, the lack of larger sizes and what it does to large breasts leaves me unable to give this a higher rating. I believe that this can look beautiful, but only on the right body. If you have a thinner build with average breasts (A's through smaller C's), I would strongly recommend this to you. It will give you the appearance of more curves and make your girls look great. If you have a more curvy or bulky build, bigger breasts (large C's and up), or rolls/stomach flaws you'd like to conceal, I don't think this set would work for you. Thankfully there are two other similar pieces with another color combo put out by Dreamgirl if you like the look but aren't sure this chemise would work for you.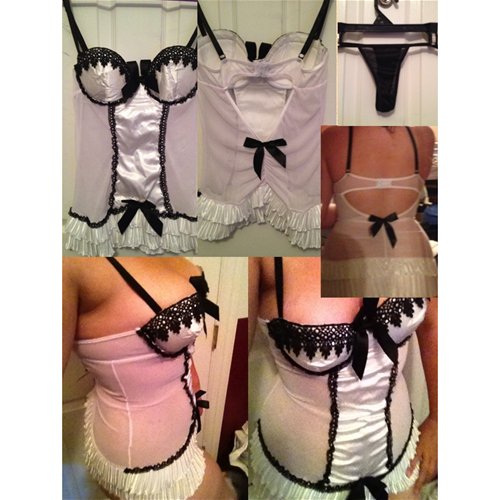 Follow-up commentary
4 months after original review
As nice as this product is, the more I wear it the more I realize it's not for me. I just don't feel that sexy in it, which is a pretty big factor for me with lingerie. As stated in the review, it really is a beautiful and well made product. This chemise will look great on the right girl, just not this one. If this came in a size that fit my body type a bit better I think I would like it much more

However I don't believe that my experience with the product makes it any less beautiful. It still has so much potential to look great on the right woman so I don't want to knock down it's rating. I believe that my initial rating of 4 out of 5 stars is fair for this piece.
This content is the opinion of the submitting contributor and is not endorsed by EdenFantasys.com

Thank you for viewing
Carried away chemise and thong
review page!