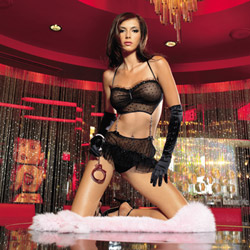 Body chain mini dress with g-string.
Mini dress by Leg Avenue
Ehh, Pass
This set really isn't much to jump at. It looks like a neat addition to any lingerie collection, but looking cool is about all it does well. It doesn't much flatter smaller breasts, won't really support larger breasts, and gets scratchy if you've been wearing it for a while. For this one, you're probably better off just drooling at the screen for a few minutes then moving on.
Published:
Pros:
Fits larger than sizing guidelines, Would look good over a tank top
Cons:
Scratchy, Cheap, Gems fell off
The packaging wasn't anything special. A cardboard fold inside a plastic bag, the front shows a model wearing this outfit, and has a description of the item. The back has another model picture, as well as materials, sizing, and care instructions. This set is maid in Taiwan and is 80% Nylon and 20% Spandex that should be hand washed and drip dried. Given how poorly the gems seem to be held on, I definitely recommend only hand washing it. There's also a tag in the back of the skirt that gives you the materials and some images for cleaning, but if you're not familiar with the symbols used for cleaning instructions, you'd still be a little lost. The tag can be easily removed with a pair of scissors.
This particular set is a SM, and according to Leg Avenue that means you should be between a size 5-8, with a cup size of A-B, a bust size of 32-36", a waist of 23-27", and hips of 34-38". Personally I'm about 5'2, I weigh about 120, around my bust measures 32" and underneath measures about 28 1/2". I've got about a 29" waist and measure about 34" around the top of my hips and about 37" around my butt, and wear a good solid B cup. There was definitely room for more, so even if you're above the listed measurements, you'll be fine.
You get two pieces here; the mini dress and the thong. The dress definitely has a unique design to it. The top is similar to a bandeau top, but not quite since there's really just the cups and a little bit of material that goes towards the back. Across the bottom of the cups is about 13" laid flat, but stretches up to about 19" or so. Underneath the cups you have some material that resembles the portion of material under the cups of a bra. These extend about 4" from the sides of the cups and end in a little loop. You'd feed the ribbon that attaches at the top of each cup through this loop on each side, and viola, you can now tie it in the back!
Underneath the cups you have two rows of gems that connect the top to the little skirt part. To be honest, these suck. On mine, I can't get them to lay straight like they do in the picture with the model, and to top it off the very first time I tried this on, one of them just fell off the strand of metal that they're all glued to. Those meet the skirt at little bows that feature a little rhinestone each in them, and the rhinestones match the decoration in the rouching between the cups.
The skirt itself isn't all that bad. It's about 7" tall where it meets the gems and about 6" tall in between the bows. Towards the bottom there are some ruffles, almost like the bottom layer is the whole length of the skirt and there was an extra layer sewn in. They lay very nicely either way. The whole set is a black mesh that's easily see through and features black flocked polka dots. Along the top of the skirt and the top of the cups are also some black sequins.
The thong isn't all that bad. There's no liner of any sort, it's all the same black polka dot mesh as the mini dress. The triangle is about 5" across and 5" tall, easily covering everything but also sitting fairly low. Laying flat it measures about 11 1/2" across the top, but also stretches up to about 18". The widest part of my butt is about at the upper end of the measurements for the hips, and it fit there pretty well.
The quality on this is a little, well, ehh. The material feels soft enough to the touch, but after a while everything got scratchy. The gems were a giant pain in the butt because they won't just sit where they're supposed to, so when I'm wearing it you're looking at the back of the gems, and an empty spot where one fell off. Larger breasts seeking support will probably be left feeling less than happy, but if you don't need extra support in your breasts, this won't be a huge setback. This is definitely not a long term set, although the thong might last longer than you'd expect. For storage, you can just keep this one in a drawer, or hang it up if you want to try and keep it from getting knocked around.
I have a few pictures of me in it with a bra, and also the gem strand that lost a gem:
Experience
It's not horrible but it definitely has room for improvement. It was definitely a little scratchy after a while and for me it'll be much better suited as something to wear over a tank top than as a piece of lingerie. I bought it because honestly, it looks cool. Even after owning it, wearing it, and disliking it, I still look at the picture on the model and think it looks cool. Unfortunately, this isn't a piece I'd really recommend to well, anybody. It was awesome that it would fit such a wide range of body styles, but that's really the only awesome thing about this set unfortunately.
This content is the opinion of the submitting contributor and is not endorsed by EdenFantasys.com

Thank you for viewing
Body chain mini dress with g-string.
review page!