Electric Blue Stripper?! I could do that!
Shake your money maker in this sexy and stylish "Stripper Girl" outfit. Sexy and Erotic, is what your partner will think as you seduce them. Add some shoes and you are ready rock your partners world. Make sure they have lots of $1's on hand. Your night is sure to sizzle.
Published:
Pros:
Metalic, Sexy, Striper Look, True to Sizing Chart, Quality
Cons:
Nothing we can find so far.
When I fantasize about erotic nights with Hubby, I am always wearing something sexy; something that matches my mood. When the time comes and I open my drawer, I find I don't really have anything sexy to wear. I want to wear something that has that pizzazz, that shocker effect of sexiness. The lingerie I have in my drawer were great before, but now that we have begun our journey "rediscovering sex", it just falls short.
I have been our local shops in town but they carry the basic pajamas, nothing really sexy. I am tired of wearing tank tops and shorts that have part of our normal routine for years. I wanted something that would make me feel sexy and would seduce Hubby just with one look.
What is a middle aged woman who lives in the boondocks suppose to do? Should I hope in the car and drive to the mall? I could do that, they have nice stuff there. I'm sure they do. The closest mall is over 2 hours away, which would be a bit impractical.
Thank goodness EdenFantasys carries every style, fashion, and brand imaginable. Equipped with sizing charts for each brand. EdenFantasys makes lingerie purchase simple, easy, and fun. Yes, fun. What could be more fun than shopping for that perfect outfit with you partner and not having to worry about those looks from the sales clerk? You know that look, the one that screams "I know what you are doing tonight". Totally embarrassing. Now that I can order on EdenFantasys, I don't have those moments anymore. The only moments I have are sensual delight.
On my quest to find an amazingly hot outfit, I was so excited to find the Shake Your Money maker outfit on EdenFantasys. It looked full of pizzazz, hot, and sexy. I could not wait to get it and surprise Hubby. And surprise him I did. When I received my order, I could not wait to try on all the new lingerie that came. It was like Hubby's own private fashion show. It felt like a lingerie shopping spree that I never wanted to end.
Piece by piece, I tried on the outfits. Saving the best of last, I put on the Shake Your Money Maker bootie shorts and halter top. As soon as I slipped on the bottoms, I knew this outfit was going to be one that I could rock. Did I rock it you ask? Well, see the attached photos and judge for yourself.
The each piece fit perfectly. I felt sexy in it. It took me back to my younger years of being a stripper. My mind drifted back to the old times. With a huge smile on my face, I just knew that if I had this outfit back in the day, boy Shake Your Money Maker would be right.
Here's the facts:
--Two piece set, Bootie Shorts and Halter Top.
-- 93%
Polyester
, 7%
Elastan
-- Wash Separately, by hand, very mild soap, drip dry, and no bleach. Can be spot cleaned with a damp cloth. Be sure outfit is completely dry before storing to prevent mildew.
-- It is available in two Metallic colors, Blue and Pink.
I bought the Metallic Blue in size Large. Here are the measurements.
Top
--Total around 27 inches. Can be stretched to 32 inches
--Total from top strap to front bottom 15 inches
--Strap 10 inches
--Front snap area 4 ½ inches long, between breasts
--Back panel strap 2 inches wide
Bottoms
--Waist 29 inches. Can be stretched to 34 inches.
--Front panel 6 ½ inches to crotch liner.
--Panty Liner 2 inches wide and 4 inches long
--Back panel - has elastic to bunch up the bottoms along your bumn line. 11 inches stretched.
Experience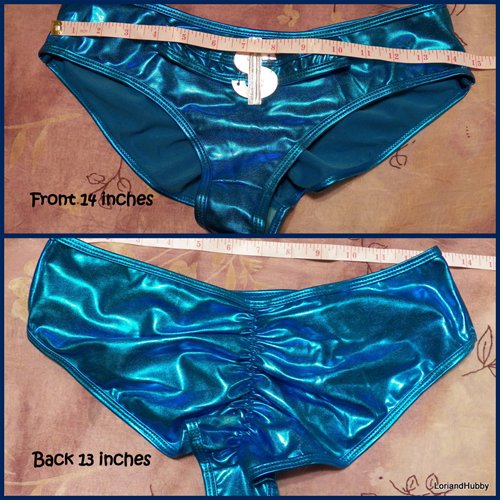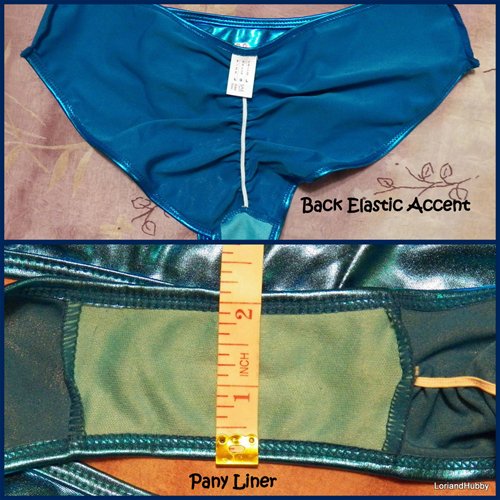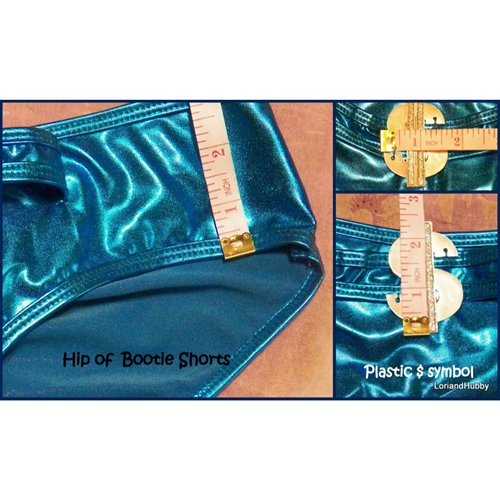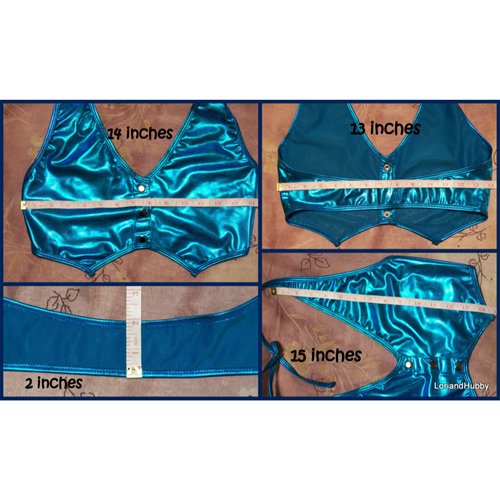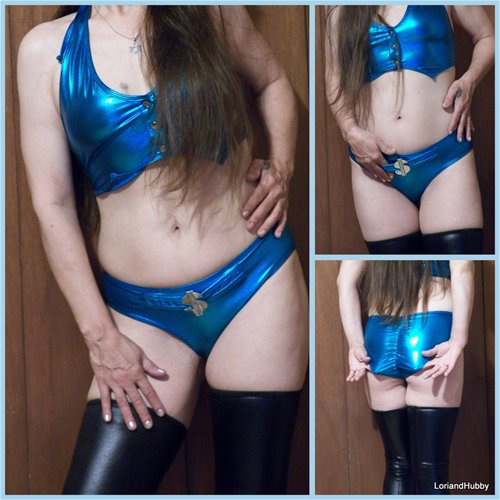 Ok, so I know I'm not all that anymore. *Smiles* I'm a 40 something mother of two; so cut me some slack. At lest, Hubby thinks I think I still have it!!
Follow-up commentary
2 months after original review
My crop top and booty shorts are still an adored outfit for our play time. I mostly wear it for a feminine look to dominatrix playtime and Hubby loves it. They are hip looking and leave just enough to the imagination.

I have worn this outfit many times hand washing it afterwards. Amazingly, the shinny fabric has held up well without dulling or wearing off over time.

I could not be happier.

This content is the opinion of the submitting contributor and is not endorsed by EdenFantasys.com

Thank you for viewing
Blue money maker crop top and booty short
– bra and panty set review page!