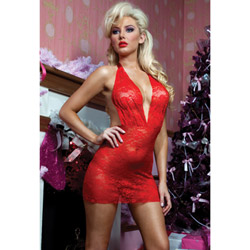 Some like it hot chemise
Chemise
by Seven 'til Midnight
Hotter than Hot
This outfit is super high quality. The sexy red chemise is matched with a little red thong, but I must warn you the "one size fits all" promise is a lie. I would suggest that medium size gals would love this entire outfit. It really does look like it does on the model!
-Brie
Published:
Pros:
Strechy, Not easily torn, Pretty Ribbon, Great color, Amazing thong.
Cons:
Runs small, no underwire/support.
This red chemise by
Seven 'til Midnight
is a one size fits all outfit that is hotter than hot.
The chemise ties as a halter with a silk ribbon and looks very much like the pictures. A matching red thong comes with the outfit. The back of the chemise is runched. I wear this outfit to bed or to walk around the house. My boyfriend, Mike, loves the material and always says he wishes I could wear a dress like this out. Becuase it is see through, I doubt anyone can go clubbing in it or anything.
The fabric
The fabric is sturdy and not easily ripped. It is lacy but weaved with elastic. The elastic gives stretch to the fabric although the "one size fits all" statement might be a lie. This outfit is most likely XS-Medium. It is very nice fabric and I don't see any of those little peices of elastic that so commonly pop out of elastic woven fabrics. This outfit fits me and here are my sizes:
Cup- C
Shirt Size- Medium
I wear a size 6 and this dress fit fairly well but I would say if you are over a size ten this "one size fits all" is kind of a lie. The halter top is tied with a lovely sikly red ribbon. The tie is about a food and a half long. This is nice if you have smaller breasts as it does emphasize them.
Unfortunatly this chemise does not have any underwire or breast support. This is annoying if you have largish breasts becuase they just hang there, unsupported. I don't mind it to much though becuase halter tops generally work better without support than normal spaghetti string tops.
The Thong
The thong is actually nice and super high quality. It runs a little small and I would say it a size medium or large. it streches but nowhere as much as the chemise. I love this thong and it is super cute. The front is made of lace. This lace is not combined with elastic like the chemise. I was surprised such a high quality thong came with this outfit.
This chemise runs to my mid thigh. I appreciate this becuase I hate things that allow everything to all hang out. This is see through so it doesn't leave much to the imagination but it still covers your skin so if you want to wear this as a bathing suit cover it wouldn't be massively innapropriate. I think this firery chemise is absolutly stunning and I am sure your lover will feel the same way! The color and fabric might make it a little difficult to wear under clothing, but it isn't itchy or uncomfortable so it might work out for you. The main problem I have with wearing this out is that it has very little breast support. I usually wear push-up bras under shirts so this chemise doesn't really work for a lingerie undergarment.
Care- This material is not easily snagged. I think the outfit would hold up well in a wash machine but it is always best to use a lingerie bag. For my own lingerie, I usually handwash. There are lingerie soaps available on Eden or you can find them at a grocery store. This material contains elastic so don't let it melt or break by streching it or leaving it out in extreme heat. The chemise cannot be hung up in a closet so I just keeped mine stuffed in my bra drawer.
Final opinion- This outfit is gorgeous, can be paired with stockings, gloves, shoes or other peices of lingerie. It can also be worn alone, to bed or just for hanging out causually. I highly recommend this to anyone and I think it is very well made.
Packaging- The package this came in is very simple. it looks like the same box that nice stockings come in. there is no hanger and this doesn't come with detailed care instructions.
Experience
The color, fit and material this chemise is made from is high quality. It feels soft against my skin and the ribbon that ties around my neck is long and pretty. I love this outfit and was happy to add it to my lingerie collection. My favorite things about it are how comfortable it is to lounge in and how very cheap it is! It is about the same price as a great pair of stockings. Personally, I think anyone who fits the size (breast and tummy) would love this chemise. Warning: ff you are extra tall, a little bit of booty may show!
Follow-up commentary
11 months after original review
Yes, it is still awesome and the fabric has stood the test of time- not stretched out in the slightest.
This product was provided free of charge to the reviewer. This review is in compliance with the FTC guidelines.
Thank you for viewing
Some like it hot chemise
review page!