I ain't nobody's property! Kidding. Sort of.
Well, I guess you could say this is one of those experiences when you have to look on the bright side. Make lemonade, whatever. I was pretty sad over this not coming with boyshorts, but my optimistic attitude and creative little brain has overcome the sadness! This is cute. The fit is great and if the print is the only thing stopping you, there are plenty of creative ways to make this camisole fit into your everyday wardrobe. Or screw it, wear it to bed and put a smile on your dingus' face!
Published:
Pros:
Excellent fit.
Comfortable.
Durable, stretchy material.
Cons:
Tacky print/words.
Does not come with underwear!
Price.
I want to make clear that this is a camisole. The cute matching pink boyshorts you see in the product page don't come with this. Strange, I was under the impression -- because it really looks like this would come with an underwear -- that the shorts were included. Unfortunately, that's the only thing that drew me to this, and because this was the
only
item I was able to get assigned to me!
Now that you know that, let me try and make the best out of the review for a camisole. The design is simple. You have a solid black camisole, just like any other camisole in the world, but this has a large pearlescent pink heart on the chest, and in white, cursive text it says "Property of the groom" across the chest. That makes it ideal for a soon-to-be-bride for a sleep top, but other than that, due to the text, this camisole's use is limited.
Like every other camisole, this one has spaghetti straps, adjustable via a gold slider like you see on bras or on any other cami. The straps are elastic and that same material makes up the trim around the chest and back. The straps measure 15" at the longest setting and 8 1/2" at the shortest.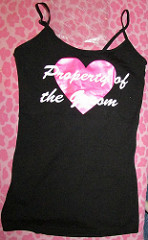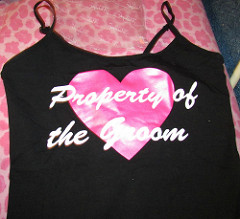 There's a slight dip in the chest, again like most camisoles have. There's no V-neck and this is stretchy, so won't show too much chest unless you work to make it. It's suitable for wearing around people or in public, if you were comfortable wearing something that says "Property of the groom" in public. Basically, I thought it was intended to be a little night-time set -- camisole and pink shorts that weren't even included.
Material
90% Cotton & 5% Spandex
I do love the durable, stretchy material. For the price of a solid black, printed camisole, I think the least Seven Til' Midnight could've done is make sure the fabric is nice and comfortable and durable, and thankfully, they did do that much. This OSFM is roomy and stretchy enough to fit up to a medium. I'm a size zero and the only part that was the least bit snug was the chest, and no more snug than your typical cami is supposed to fit. I find this very comfortable and despite the dislike of the print, I do feel nice in the fit itself. So much in fact, that I will wear this one way or another! It would even be okay as an excersise top, if anything else, but keep reading because I've got some more creative ideas for it, even if you ain't a bride!
It's not see through. There's no built-in bra. Stitching is just fine, nothing loose or unfinished. There's a double hem, if that means anything to you.
You have the two skinny pink and black tags that Seven Til' Midnight puts in all their clothing/lingerie. The pink one has care instructions and the black simply says the company's name. They can be cut out if bothersome, of course.
Camisole's Measurements
This is a one size fits most.
Length from chest to hem: 18".
Bust: 12"
Waist: 12"
Hem: 16 1/" wide.
Made in China.
I'm okay to wear this at home, but I so wish the text would've at least been on the back so I could actually get some use out of this such as by wearing it under button down tops or something. However, I did have a clever idea! I've had this beautiful iron-on transfer of an owl since last summer. I just haven't had a solid shirt that I could transfer it on. Well, I've been thinking about sewing a solid black square of fabric
over
this shirt's image, and then transferring the iron-on onto that block of fabric! Clever, right?
My Measurements
Bust: Right: between a B and C cup. Left: 34B
Jean/shorts/size: Zero
Weight: 93lbs
Height: 5 2"
Waist: 26" Lower waist. Where I'm a bit wider, the love handle area: 29"
Care & Maintenance
Hand-wash cold. Don't iron or bleach. I'm going to throw in my own instruction: wash separately! Even if you put this in the washing machine (oh, you rebel you!) at least wash it with only black colors for its first wash because most black items I've gotten from lingerie companies bleed like a mother! The water will turn black, so err on the side of caution. I do plan to toss this in the washing machine though. I feel fine to risk it here and it's likely the only thing to damage would be the print and well, what do I care?
Experience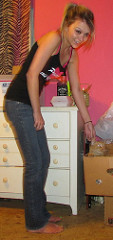 I've included a couple photos of this in-wear, but please be kind! The quality of these images aren't the best because 1. I'm using a brand new camera (yep, my very first photos taken with my Christmas present were these! So I'm still learning how to adjust it, and that means funny quality at first. And 2. In one photo I was busy petting the kitty to lure her out of the clutter box during a cleaning madness rage thingy.
Packaging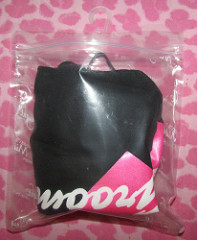 The camisole came packaged in a resealable sturdy plastic bag. It had a hanger loop, like a thick zip-loc bag. It had a paper insert showing a person wearing this (with cute pink boyshorts on!). The back of the bag had "Seven Til' Midnight" all over it in gold text. I liked that the bag was resealable because had I gotten this for gifting, I'd want to take that trashy paper insert out, but still leave the camisole in its package. Since you can reseal the bag, you'd be able to take out the paper and reseal it for gifting. I just threw the bag away as I don't need it and I certainly would not give this tacky camisole as a gift to anybody. I'd get a bride-to-be something a lot nicer for the price of this.
Experience
You can see in my photo that the camisole is a pretty nice length. It hits an inch or two below where my jean's waist is. It's cute and really comfortable, but the words are just not that cute to me. I think it's cute to wear it maybe at home and make my partner all smiley over me wearing something that says I'm his property, but I guess the whole "I'm someone's property" bugs me a bit. Had it said "bride" or "bride-to-be," I'd have taken that much better, but I did like the pink and black colors. I just don't feel like there was any creativity put into this. Even "I love my groom" or something would've been cuter to me. Another thing is that the print/image just looks so generic and cheap. Sure the pearlescent heart is really pretty, but this looks very much cheap-o to me. Still. I don't hate it by no means. Maybe I just need time to get used to it and a lot of time to get used to the fact that no freaking cute shorts were included! However, clever me had another grand idea, and for those of you who like this camisole, you may like this.
To be continued...
Follow-up commentary
1 day after original review
...Continued...
I had also bought a few things for my twin sister in the same order as this assignment. I bought her the Coquette boy shorts with rhinestones (I put a photo for you above) and it just so happens that they looked adorable and are totally comfortable to wear with this camisole as an around the house outfit or for sleeping! Yes, I tried on her boyshorts with this camisole. I also used her bath suds (shh!) A girl's gotta test her twin sister's gift out
before
giving it, right?
I don't know that I'll go buy myself a pair of those boyshorts just to go with this cami, but I had already had a neon pink stretchy pair of boyshorts I got for $3 at Rue21 last summer, so they do really nicely with this camisole as well. Those of you who really want a set -- grab a pair of boyshorts like the Coquette pair I showed you or add a different matching pair and there you go! Give it that way as a gift or put it together as an outfit for yourself.
My final thoughts: I like it. I can deal with the text and will wear it a couple more times to make my partner feel all special because he actually loved that I have a camisole that says this. He's all "you love me so much! It's not like you to wear something that says
that.
" But then, I'll likely go ahead and put my owl iron-on tranfer over the saying so that I can get more wear out of this, and so it'll be way cuter. I guess I'm just in-between with my feelings on it. I do think it's over priced since my last solid black (almost identical) cami was only $7 and has a built-in bra, but still. If you really do like the saying, it's going to be a fantastic little cami for you. If not and you just want to get creative on a very flattering, fitting, comfortable camisole, then here you are. I do love how it looks on, for some strange reason.
This product was provided free of charge to the reviewer. This review is in compliance with the FTC guidelines.

Thank you for viewing
Property of the groom cami
– camisole review page!