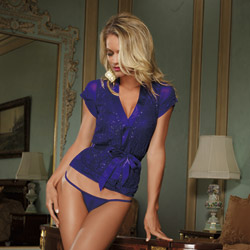 Tie front shirt and thong
Bed jacket
by DreamGirl
I've Got the Sparkly Blues
This is a unique piece, quite different from any other lingerie in my collection. I just can't quite figure out if that is a good or bad thing!
Published:
Pros:
Beautiful color, adjustable fit, can be worn in public.
Cons:
Some of the trim doesn't sit right, hard to keep in place.
This is a really interesting top, I just can't quite decide if I like it or not! It is a bit hard to describe, so bear with me! I'm going to break this down as a pro/con list after we cover the basics.
Basic Info:
The top is made (in China) of 90% Polyester, 10% Spandex exclusive of the trim, and should be hand washed in cold water and hung to dry.
The back half of the top is soft see-through mesh with a lot of stretch to it, while the front is made up of a layer of the same mesh covered with a second layer of a stretchy mesh lace embellished with sequins. The short sleeves are mostly mesh as well, except for some odd embellishments. (see below) There are two sets of ties to close this, very similar to a robe: a smaller set of strings that secures the first half of the wrap and the large, crisp ribbon that circles the waist.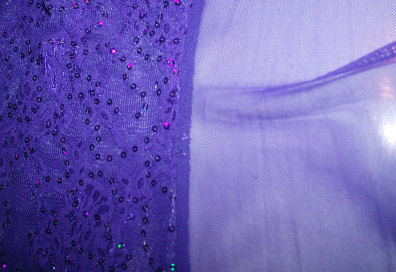 A tale of two fabrics.
The top on the model in the product info photo must be taped or pinned closed, since there is nothing to hold the upper part of the top closed over your bust. The only thing keeping it closed is the ribbon tie at the waist, so worn naturally it wouldn't be covering her bust like that. I had to retake one of my photos several times because the shirt kept exposing way more than I wanted it to.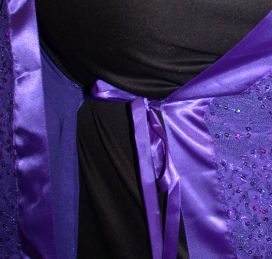 The smaller, interior tie
What I loved:
*The color! The gorgeous cobalt color is what first drew me to this piece. It's just as pretty in person!
*Since this is similar in style to a wrap top, there is quite a bit of room to play with the fit, depending on how tightly you tie the smaller set of strings.
*Even though the care tag on the thong says to hand wash and line dry, I accidentally tossed it in with my regular laundry and it came out just fine. I would definitely stick with careful hand washing for the top, though.
What I didn't love:
*The fabric is pretty delicate and the sequins like to catch on it, even though they are small. They're easy to unhook when they get stuck, but I can see how that might cause some wear and tear over time.
*The ruffled the trim around the sleeve feels a little awkward. The same ruffled trim and lace decorates the bottom hem of the shirt. The ruffle texture kind of reminds me of crepe paper streamers that you use to decorate for a party. The ruffled trim has unfinished edges, and doesn't appear to have been cut completely evenly. The asymetry doesn't stand out thanks to the ruffled texture, but the edges are definitely a little jagged.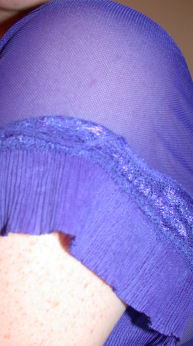 Sleeve close-up
*The lace on the arms and along the bottom hem doesn't quite sit on the fabric right, it is only sewn down on one side so it likes to flip over backwards. It generally looks a little out of place.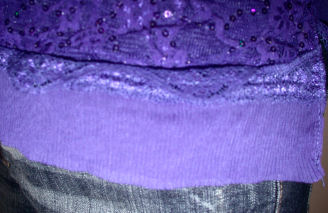 Bottom hem lace flopped over
Other Technical Stuff:
I ordered size Large, since this only comes in S-M-L. I tend to alternate between L and XL in DreamGirl items, but this one fits pretty well. According to the DreamGirl size chart, the Large should fit sizes 10-14, C-D cup, 36-38" bust, 28-32" waist, 140-150 lbs. I'm size 10/12, 38 D/DD, 33" waist, 155 lbs, 5'11". I'd say this runs pretty true to the chart, although I'd maybe drop the sizes to 10-12 if you want this to be able to comfortably overlap.
Laid out flat, the waist area of the top is 35" long. It does have some stretch to it, so it will fit a larger circumference, but you'll probably have trouble keeping it closed. The two ribbons that tie around the waist each start in the center of the back and measure 34" long each, so most people who fit the Large should have no problem having plenty of ribbon to tie a bow with.
Experience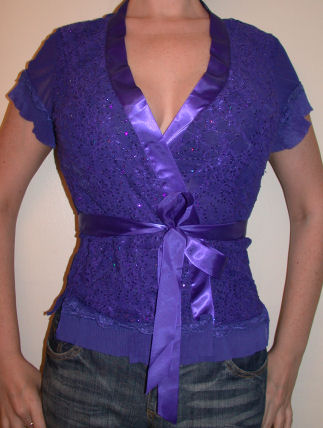 I like that this top works both in the bedroom and out in public, although because of the see-through back I wouldn't wear it out without something underneath.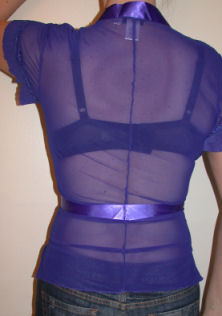 I'm not a big fan of the obvious seam down the back, nor of the care tag being white, and thus pretty visible. (Where the heck did my hips go in this pic, btw? Yikes, weird camera angle!)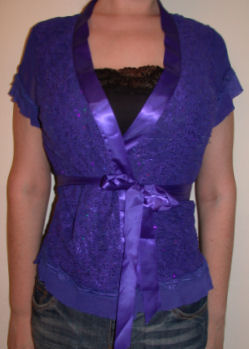 I paired this with a really simple black cami, but you could easily do white, nude, or a complimentary shade of blue. I think it would be interesting to see this paired with
this
chemise, too!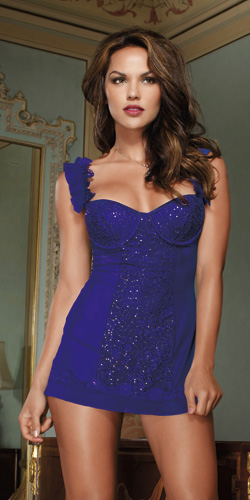 I had trouble picking a rating for this set. I probably would have gone with 3.5 stars if we were allowed halves, but I decided to bump it up to 4. It's really different from my other lingerie, but it's almost a little too quirky for me. I love the color and adjustable fit, but I wish it tied a little higher up (directly under the bust) for a more flattering waistline, and I wish it was easier to keep in place.
This content is the opinion of the submitting contributor and is not endorsed by EdenFantasys.com

Thank you for viewing
Tie front shirt and thong
– bed jacket review page!