Masumi Max Potential
I'm a bit torn on this one. I'm so in love with the retro pattern that I was willing to overlook to odd design. However, for the purpose I wanted this for, it doesn't fit the bill how I want it to. The cups are a bit snug and the torso is short. If you are short or have a short torso, this one might work better for you. It sure is a lot cuter on a person than it is on a mannequin!
Published:
Pros:
Cute pattern, Unique, Mesh sides make it more wearable in public, Thong, Retro pattern
Cons:
Cheap and annoying cherries, More like tank length on me, Mesh sides make it less sexy
I was drawn to the retro cherry print design of this interesting piece of lingerie. I wasn't too sold on the design, however. I'd prefer it to be a bikini set, babydoll mini dress, or even a skirt and crop top combo, but I decided to take the gamble after looking at pictures of real people, not lifeless mannequins, wearing it. It's actually really cute! BUT, you have to have the right body type and height. There is not much room for error with this piece. It fits me, but I'm still not feeling like I can rock it with a huge amount of confidence like I wanted to. I intended to wear it in a photo shoot for my friend who just opened up a pin up style portrait studio, but I sadly don't think I'll wear this. We'll see!

*Contents/overview: Two pieces

~ Camigarter
~ Thong

You do not get the stockings with this piece, so you will need to buy your own. The Cami has attached garters, a halter like top, and lace up back. The thong matches perfectly. It comes in one pattern option and two size options: SM and ML. It fits fairly true to size. It is made in Taiwan.

*Material: Average

This set is made of 80% nylon and 20% spandex, exclusive of the trim. The trim is the satin ribbon, acrylic cherries, and the metal and plastic garters. The nylon portion that makes up the cute retro cherry pattern, is not very soft. It also does not stretch much at all. The thinner, light pink, mesh part does, though. Everything feels well enough made except for the cherries. They are made of a cheap and LOUD plastic or acrylic material. They are really hard and have visible seams.

*Design/craftsmanship: Complicated

The design is complicated, to say the least. It looks like this has a center panel with the sides cut out, but I was surprised to find out that this is not bare skin. It is a light colored mesh that shows the skin beneath it. Where to begin? I'll start with the bust. It is technically a bandeau type style with a ruched center and sides, and a key hole cut out in the middle of the breasts. This is where the large cherries hang. They are attached by a thin piece of green ribbon, right where a green ribbon bow is secured between the breasts. there is no padding or additional support in the form of underwire in the cups. Connected at an odd spot on the sides of the cups, almost underneath the arms. The ribbon has 3/4" width and is very long.

The torso has a center panel that is almost 5 1/2" wide. On the sides are the mesh pieces that then turn into the pattern again in the back. The bottom has three layers of ruffles. They alternate pattern, mesh, and pattern again. If you are the optimal height, these should lie around your hip bones or lower.

The back is completely split. There is a small section of mesh at the top on each side. Honestly, I think this looks a little odd and I don't understand why this was done. Perhaps to give some stretch to the very top if you wear a larger band size? On both sides there are five loops made out of spandex. This has a cheap quality to it, but it seems secure enough. A long thin piece of spandex is what gets laced through and ties at the bottom.

White garter straps are secured underneath the ruffles. They are adjustable and have plastic and metal securements.

The thong is pretty basic, but it has a sexy y-style g-string backing. This is the kind of panty that will curve over the top of your ass cheeks (especially if you have a bubbly butt). It has the same cherry pattern and has no panty liner. It is a pretty standard size.

*Cleaning/care/storage: Hand wash, cardboard box

The tag doesn't say what to do, but it's a good bet that this should just be hand washed, especially if you keep the annoying cherries attached. It comes in a slim cardboard box with pictures of a model wearing the lingerie on it.

*Sizing/fit: Runs small and short

Leg Avenue tends to run small, so I went with the M/L. This piece also runs small according to their sizing chart. However, it doesn't run small for what I'd expect as a M/L. I don't expect a ML to fit a size 14 (not this style anyways) which is what the size chart says. The thong is great, though!
Experience
A M/L is supposed to fit a 10-14 dress, B-C cup, 34-38" band, 25-29" waist, and 36-40" hip. I weigh ~142 pounds (size ~8); curvy but fit, with size 34/36 D breasts. My waist is about 30" and hips 38". The breast area was a little bit of a problem. After seeing a picture of a girl with large breasts in this, I thought I'd be fine. I wish the cups were a little bigger.
The middle doesn't come together at the bottom like it does on the skinny mannequin, but it works. Cute too, but it's not the type of look I was wanting. For one, I think the mesh looks cheesy in person. However, it makes this more wearable in public.
The thong is GREAT! I love the fit and it looks super cute even without the rest of the set. What I hate is the damn cherries! God they are gaudy and LOUD! They clang together and just look tacky. Those have got to go!
Overall, it runs small. There is not much lacing left for me to tie in the back. It does stretch, but then it starts to bunch. It also runs a little short. I'm 5'6". This would be better on someone with a short torso or who is less than 5'4". If the cups were larger, I'd be able to pull this down a little. When I do, my breasts peak a bit. I also don't like the ribbon ties. They don't look right and are in an odd spot.
Here I have it pulled down and it is still not long enough on me. With jeans it looks a lot cuter and less of an odd length.
My Re-done chart:
For the ML - runs small
Dress: 6-8
Cup: C (best)
Band: 32-36"
Waist: 25-30"
Hips: 34-38"
*Possible accessories: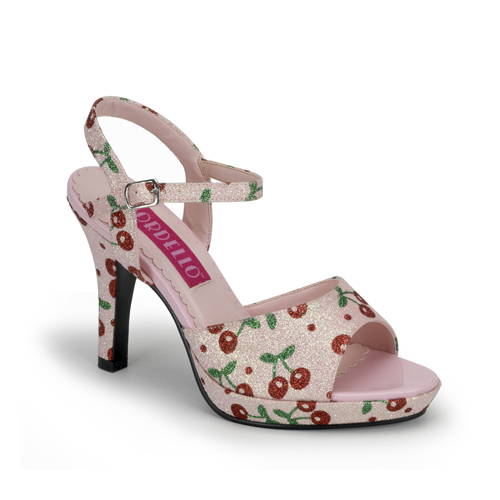 If it were not for the glitter, these
Bordello Cherry Heels
would be perfect! If you can't find a cherry print that matches perfectly, it's best to go simply with a red vintage style heel. baby pink would work too, but you want to accent the colors that are used least since the pattern is so flashy. Even green would be cool!
The garters are good quality for the price and will work with many different stockings. I'd go with red, again for the same reason I mentioned above. Although, you could go with a baby pink. It is harder to match a shade of pink than it is for red, though. Here are some choices...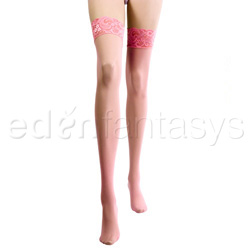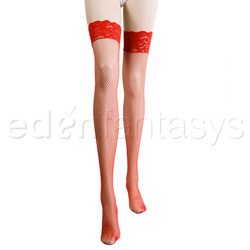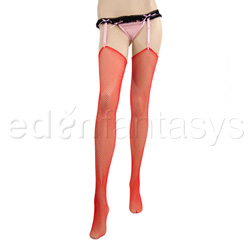 Lace top thigh high
~Stay up backseam fishnet stockings
~Fishnet stockings
*Putting it on:
Putting this on is a bit annoying. I have to step into it and then thread it through once it is on. I then tie it. It tried to tie it and then put it on, but that didn't work so well.
*Conclusion:
★★★
Because of the cheap and loud cherries, and slighty odd construction this one gets a three since the sizing is small too. I am undecided on this one right now. It might be returnable.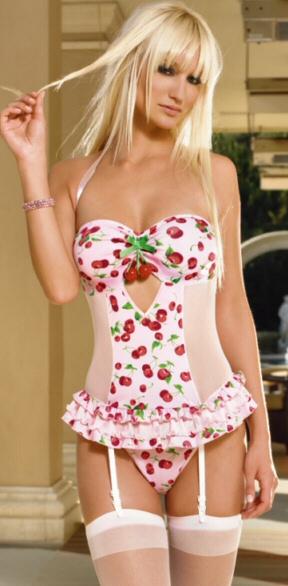 Follow-up commentary
2 months after original review
I have no desire to wear this, so it is getting returned. I'm not apposed to trying another similar style in the future, though.
This content is the opinion of the submitting contributor and is not endorsed by EdenFantasys.com

Thank you for viewing
Cherry print cami garter
– camisole set review page!