Not a dress or a slip, but dang sexy!
This sexy, neon pink and purple camisole--not dress--is a fun piece of lingerie for the young at heart. It's playful, sexy and see through. The soft, stretchy mesh material is comfortable enough that I've even "lounged" in it. Unlike what I'd thought, this is a flattering camisole that flows over curves instead of clinging to me.
Published:
Pros:
Neon color.
Feminine.
Sexy.
Cons:
Seams.
Labeled dress.
Let's go ahead and get one thing cleared up -- this is not a dress. Not a dress! Not a dress! Many of us have come to realize that when lingerie companies title their items "dress" it's hardly ever true. The only times any of my "dresses" have ever truly been dresses, that's only due to my being short -- and they're still usually very mini-dress. This is a camisole fully and completely. There's no dress about it. It's 100% cami. Thankfully, I already knew it would be a cami only because Baci forgot to edit their product photos to make this look longer than what it truly is, so that they could fool me into thinking it would be a dress. At least they showed the true length in the photo. It does bug me when they label an item this off. It makes the manufacturer appear as if they don't know the difference between different clothing types.
Now that you know not to expect a dress or a slip or anything other than a camisole, I'll move on.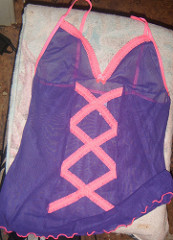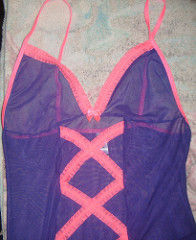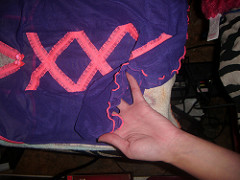 MEASUREMENTS (ONE SIZE FITS MOST) LAID FLAT:
17" wide at bottom
14" lower waist
13" mid-waist
12 1/2" across entire bust
4 1/2" wide middle lace up panel
Each triangular cup 5" wide
From top of cup to hem: 21" long
From back to hem: 14" long
MY MEASUREMENTS:
Bust: Right: between a B and C cup. Left: 34B
Jean/shorts/size: Zero
Weight: 93lbs
Height: 5 2"
Waist: 26" Lower waist. Where I'm a bit wider, the love handle area: 29"
The most appealing thing about this camisole is the lace-up design and neon color. The lace-up design is for looks, you don't actually have to adjust or tie anything. It's simply a neon pink ruffle trim-like material that has been sewed in a criss-cross fashion to resemble the laces in a corset. For me personally, I was happy that the strips are sewed on and not anything adjustable. I've had another "dress" item that I reviewed and the top in general, had the same design/style only the lace-up was ribbon that was not adjustable. It looked funny and bunchy. I didn't like it. This "lace-up" just lies flat on the garment. The neon pink "lace-up" trim begins under the bust and stops, leaving 6" length of the plain mesh. See photos for better explanation.
As with any camisole, this also reveals the upper back, hence why my measurements say "from back to hem: 14" long." You don't have breasts on your back, so there's no need for it to have as much coverage as the front will.
The chest area clearly doesn't offer a bit of support. No underwire, nothing. It's simple triangular shaped cups like you see in most mesh lingerie tops. There is a seam running under the bust. There's also two more seams running up either side of the lace-up panel in the middle as well as up sides. Remember me mentioning that blank 6" of material near the bottom, the part where the lace-up design stops? If you look at the photos, you can see these two seams in that area. These seams are visible through the mesh material. It almost looks as if the garment is loose and dangling right there. I'll talk more about that in my experience. Other than those seams, there's no more that are visible through the mesh material. *See photo below for close-up of seams*
The entire camisole is mesh and very transparent. Since the purple color is darker than say white, your naked skin doesn't show through as much as a light color would. The purple kind of shadows your actual skin. It still shows everything though. My nipples, belly button and tattoo are totally visible when wearing. This bold, playfully sexy camisole has minor details, but they are what takes this from simple cami to sex-kitten. These details include: well, the lace-up of course, a neon pink ruffled hem, neon pink ruffle trimmed cups and a neon pink bow between the breasts with the most perfect little rhinestone on the bow. This so fits my style & personality, which is what made me love it. Otherwise, it'd be a simple camisole to me. The straps are neon pink and the same neon pink trim material runs around the back. The ruffle trim that lined the cups is the same material used on the lace-up. It's unique, not quite like the ruffle you see on corsets, but more like a fun trim you can buy at a craft store. The ruffle-like trim has a neon pink strip of elastic running through the middle of it.
Experience
CONTINUED...

The straps are your average, super narrow, adjustable camisole straps. The adjusting slider -- like what you see on bras/other camisoles -- slides the entire length of the straps, front to back. I say this because if you think about it, some straps --especially on bras-- only allow you to silde the adjuster half way.

While this does have fully adjustable straps, the triangular cups are small, at only 5" wide each. The stretchy mesh material allows the cups to form to your breasts perfectly. If you're smaller than a B cup, you will probably notice the material not lying flat, being slightly loose. If you're larger than a small C, you'll probably fall out. My right breast causes the right cup to stretch, but the material will accomodate well without ripping -- provided you're within the size range. I can't say this will fit a large, but it will snugly accomodate a medium sized woman. I'm sure it would stretch to fit larger than a medium, but it would probably do so very uncomfortably. I wouldn't recommend the one-size for anyone who doesn't normally fit a medium size well.


HOW TO CARE FOR THIS CAMISOLE: Don't get your hopes up. This is a handwash only item. Hand wash in cold water and air dry. Do not dry clean or iron. The tag also says to wash colors seperately, so it might be wise to. However, this is the one thing I never listened to Moma about. I never bother to seperate colors. I'm bad. I can't say this will be safe to risk putting in the washer, but on delicate, I can't help but think it'll be fine. I'm too scared to go there though. On delicate and with a lingerie bag would probably be just fine.

MATERIAL: 90% Polyester, 10% Spandex
MADE IN CHINA

EXPERIENCE:
When I first seen this colorful mesh line from Escante, I was intrigued, but I'm the kind of girl who likes frilly, lacy and smokin' sexy lingerie. I like to really bring out my inner sex-kitten and simple camisoles don't do it for me. Since this is kind of summer cami top meets lingerie, I didn't jump to buy it. I like to wear bright, cute things in public, but this is see through, so it wasn't exactly working for me for lingerie and just too revealing for public wear. I liked the purple and pink colors as well as most of the items from this line, but had I known that they were so neon in person, I'd have snatched this up months ago!

The purple is a bit bolder in person and the pink is my absolute favorite color -- neon pink! I had no idea judging from the product photos.

I personally was totally relieved that it flows over my curves rather than gluing to my body as I expected it to.
Follow-up commentary
1 day after original review
CONTINUED...

When I ordered this, I wasn't getting my hopes up. All of these mesh items looked so unflattering in the product photos, and uncomfortably tight. That turned me off. I did not want to wear something that tight. After getting it on, I felt great. It's sexy and the neon color is playful, so it really fit my everyday style.

From my lovie's view: he loved it before I did! I was still looking in the mirror making a decision when he said "I love it. I really, really love it!" It surprised me because I didn't think this piece would be so exciting to him. The see-through was a big hit.

PACKAGING:
This comes packaged in a clear cellophane type wrap with a thin cardboard insert showing a person wearing it -- bummer. It's tacky and trashy. However, since it's only a thin cardboard and cellophane--similar to what bodystockings and panty hose come in, it's something you'll discard, not keep for storage.

Panties are not included. I usually don't care about the panties, but once I got this on and was still in my own undies, searching to see if panties were in the pack, I felt a little naked. It just didn't feel right wearing a camisole with no bottoms. I usually skip the panties, but this kind of would come off as a better item had it came with a cute, comfy panty. Thankfully, I had plenty of neon pink panties to match it.

COMFORT:
It's just a thin, mesh piece of material, so it's a tiny bit pricey, but the comfort, fit & color makes it a 4 star piece. While wearing it, I said I wished it wasn't see-through in the chest because it'd be perfect for sleeping in. The seams really bug me. They give the look that it's baggy down there.

I'm really happy with this. It's stretchy, soft and the colors are perfect.

COMFORT:
It's just a thin, mesh piece of material, so it's a tiny bit pricey, but the comfort, fit & color makes it a 4 star piece. While wearing it, I said I wished it wasn't see-through in the chest because it'd be perfect for sleeping in. The seams really bug me. They give the look that it's baggy down there.

*Material can snag on jewelry or hang nails*


This product was provided free of charge to the reviewer. This review is in compliance with the FTC guidelines.

Thank you for viewing
Ruffle mesh slip dress
– chemise review page!