Not "Flawless," but Pretty Close
There's nothing especially exciting or innovative about this cami/short set, but that's one reason why I like it; it's something that I can both feel sexy in and wear for actual sleeping. Although I wish the top were just a tad longer, I think that this is a great item to have on hand, and an excellent value for the price.
Published:
Pros:
Cute, inexpensive, comfortable, versatile, good quality
Cons:
Top better suited to shorter frames
I normally like warm weather, but a recent heat wave had me longing for something more comfortable to sleep in than my usual cotton pajama pants and tank top, and the instant I saw this babydoll cami/tap shorts set, I was won over. With the satiny fabric, lace detailing, and tiny bow, this set is simple enough to sleep in, but still pretty for times when I want to feel sexy.
I'm on the tall side (just over 5'9") and sizing is almost always a problem for me, so I knew when I ordered the set that the fit might be iffy. Thinking that Medium might be too baggy for my size-A breasts, I went ahead and ordered a Small despite knowing it might be shorter on me than on the model—and in fact it was. Nevertheless, the fit was good enough that I'm happy with the purchase.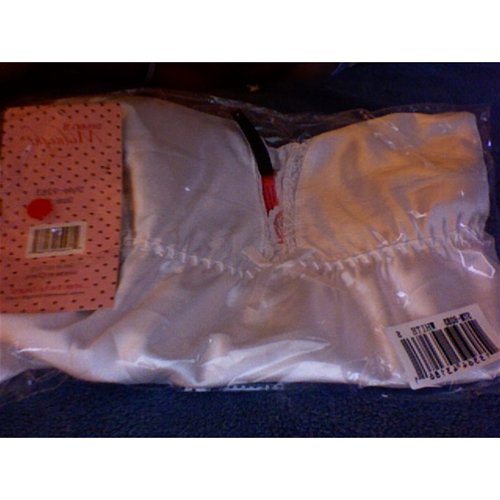 The packaging for this set is basic, basic, basic—just crinkly plastic wrapping and a tag. I was, however, favorably impressed by the quality of the garments; the fabric is smooth and comfortable, the cut is symmetrical, there are no loose threads, etc—pretty good considering it sells for $18. Plus, Seven 'til Midnight has put some thought into the little details; the thin elastic band stitched beneath the top's cups functions a bit like an underwire by providing lift (at least for smaller breasts), but is much more comfortable for sleeping—again, the perfect blend of sexiness and practicality. The rest of the set is similarly simplistic (in a good way); the cami has adjustable straps and a deep V-neckline that's trimmed with lace, there's a tiny bow at the bottom of this V that lies just between the breasts, and the tap shorts are, well, tap shorts—short, and even shorter on the sides, but extremely flattering if you have long legs.
Neckline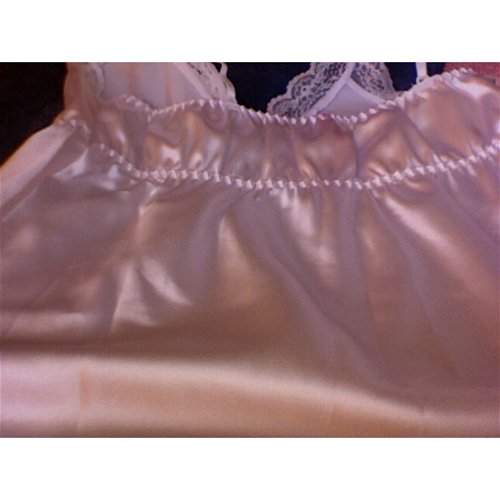 From the back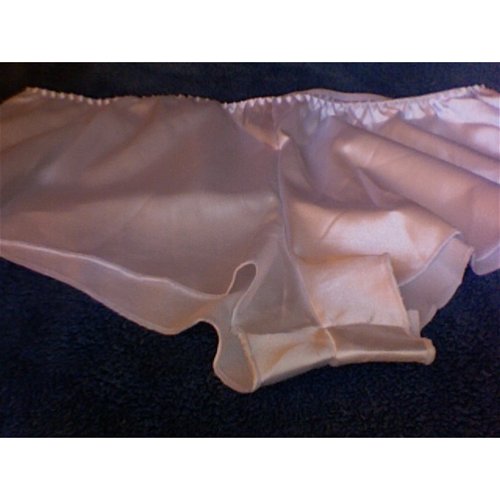 Shorts
Both the cami and shorts are relatively easy to clean. Personally, I pay very little attention to labels advising me to "hand wash" garments unless the fabric looks particularly flimsy, so I run this through the wash on delicate. I would, however, recommend washing it in a lingerie bag, since the straps are thin and could snap if they caught on anything; I've had this happen with one too many tank-tops to take any chances. Air-drying is also a good idea, as is avoiding using an iron, which can do funny things to synthetic fabrics (the set is 97% polyester and 3% spandex).
Experience
I was initially a little alarmed by the cut of the shorts—laid flat on my bed, they looked more like panties than tap shorts, and maybe a little too skimpy to give me plausible deniability if anyone found them, since my nightclothes tend to be on the conservative side ("What are you talking about? I just sleep in them. Alone. I swear!"). Fortunately, when I actually put them on, they somehow transformed into actual shorts—short shorts, definitely, but they covered everything I would want covered if I were just hanging around the house. I do wonder, though, how the shorts would fit curvier women; I wouldn't say I'm stick-straight around the hips/butt, but I'm not sure that the shorts would provide enough coverage for women with a more hourglass figure—again, not a problem if you plan on wearing the set for naughty purposes only, but potentially annoying if you want the option of using them as loungewear.

As I had feared, the size of the top presented more of a problem. While it fit perfectly in terms of width, it was considerably shorter on me than it was on the model. It didn't even reach the hem of the shorts, and while I'm not opposed to flashing an inch or two of midriff, there was just something about the babydoll cut that made the shortness of the top look awkward. I was able to solve this problem by lengthening the straps, but doing so unfortunately eliminated the slight lift (and cleavage) provided by the elastic under the cups. So for me, wearing this set is a bit of a trade-off; I can have nice-looking breasts or a top that looks like it actually fits me, but not both.

I'm willing to overlook this, though, because there are so many other things about the set that I love. First of all, it's comfortable. The smooth, lightweight material, the restrained use of embellishments, and the relatively loose cut mean that this set is absolutely suited for sleeping—especially during the warm summer months. Second, it's effortlessly cute and sexy, so it's a good intermediate step if you're intimidated by the idea of bustiers and G-strings; I tried snapping some pictures of myself wearing the set—something I had never done in the past—to send to my newly long-distance, sort-of boyfriend, and he was suitably appreciative.

My measurements, for reference:

Dress Size: 4 to 6
Cup Size: A
Bust: 34"
Waist: 27"
Hips: 37"
Height: 5'9" and a bit
Weight: 130-ish lbs

Seven 'til Midnight's definition of a Small

Dress Size: 2 to 6
Cup Size: A-B
Bust: 32-34"
Waist: 24-26"
Hips: 34-36"

As you can see, my measurements are a mishmash of Small and Medium, which could account for some of my issues with the set. I should note, however, that except for the length of the top, the size was not a problem; neither the cami nor the shorts look or feel tight.
Follow-up commentary
2 months after original review
I really love this cami/short set; it's cute, comfortable, and affordable - I just wish it were a little more durable. My set has held up fairly well overall, but the lace is starting to get a little ratty, and one of the side seams in the shorts is splitting a bit - although the latter could be easily fixed with a needle and thread. Then again, what do you expect for the price? I should also point out that my set has seen some very heavy use; I've slept in it practically every night for close to three months, and I've been told that I'm an energetic (i.e. restless) sleeper. All this in addition to lounging around in it during evenings in. In any case, if you really want something that will last you a long time, you'd probably be better off with a basic cotton tank and shorts, but this is a great little set otherwise.
This content is the opinion of the submitting contributor and is not endorsed by EdenFantasys.com

Thank you for viewing
Flawless cami and short set
– camisole set review page!