Not perfect, but it will do.
I love the deep purple of this halter dress. It's a very comfortable piece with great stitching, but I just didn't have the right body for this piece to work perfectly. However, that's not stopping me from wearing it in an alternate way.
Published:
Pros:
Comfortable
Comes in S-XL
Cons:
Didn't work exactly as I wished
What it is
It is a non-padded, no support, halter style dress from Espiral Lingerie. If you need support, underwires, or padding then this dress is not for you because you are not able to wear a strapless bra with this. It has two rows of 12 silver squares that are attached underneath the bust area. The bra area has triangle cups. The material is gathered at the back at the butt. The back is mostly open at the upper half of the dress and has a tie at the waist and at the neck.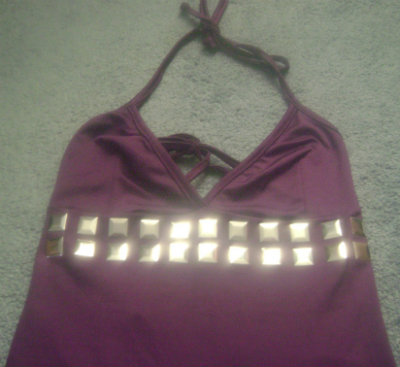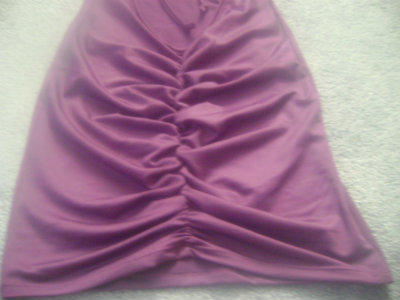 Sizes Eden Carries
Eden currently carries this in sizes small, medium, large, and extra large in the colors black and dark orchid. I have the small and dark orchid and my review will be based on that.
Esperial Size Chart
Small: 34" bust, 25" waist, 34" hips
Medium: 36" bust, 27" waist, 36" hips
Large: 38" bust, 29" waist, 38" hips
Extra Large 40" bust, 31" waist, 40" hips
My current Sizes
Size 4-6
AA Cup
32" bust
27" waist
32" hips
125 pounds
Given the following information, I should have room up top, be a little snug in the middle, and loose around my hips. This was very accurate in the breast area because I do not have any cleavage to fill the outfit out. It is not loose at all in the middle because the material is stretchy, but it is a very body hugging dress that shows each and every flaw on my body. The sides had a gap in it that no matter what I did, I could not get it to go away. The best results I had to remedy this problem was when I lowered the dress significantly, but that's just not this mama's style. Plus, I don't exactly have the cleavage to do so.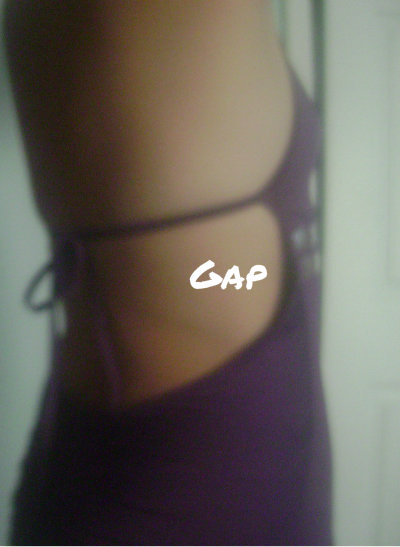 Measurements taken laid flat
The dress measures 26" long excluding the halter ties and is 13" wide. THe halter ties are 16" long. The ties around the waist are 22" long. The triangular bust area is 5 1/2" by 5 1/2". There is a 2 3/4" vertical seam at the bust area. The squares are a little over 1/4" long and wide.
Front of the piece laid flat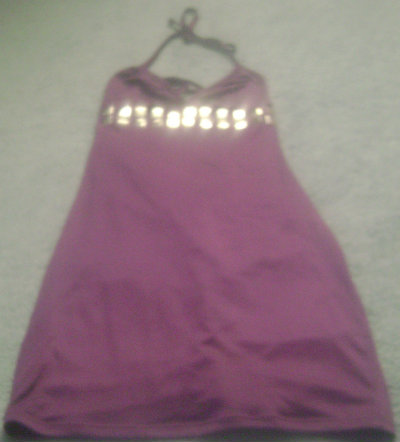 Back of the piece laid flat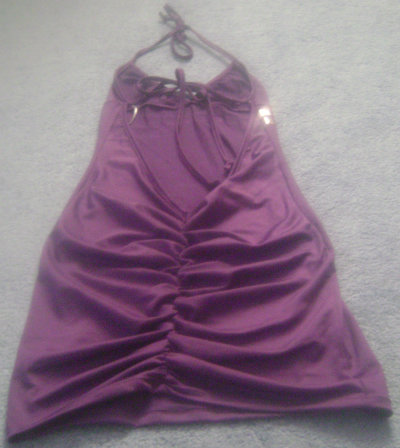 Material and Care
According to the tag and the back of the box this came in, it is 93% polyester and 7% Elastano. It is best to hand wash this separately, drip dry, do not bleach do not iron, and do not dry clean.
Craftsmanship
The material is very soft, my youngest son felt it when I received it and commented that this felt really nice. It is also see through; the more you stretch it the more see through it becomes. There are no loose strings and no unfinished edges. Unlike other Espiral shirts I've had, this dress when I pull on the stitching I do not hear any tearing at all. There is a single row of visible stitching throughout the entire outside of the dress. The sides of the dress are sewn together but you are not able to see that seam. The bra area also has a vertical seam in the triangular cups, but the stitching is not apparent as well as underneath the cups and above the decorative silver squares. The silver squares are not sewn into the material. I'm not quite sure what they use to keep the squares on, but they feel sturdy and not loose at all. Here's a picture of the stitching at the bra area and the underside of the dress where the bunching is. The little white elastic band is very stretchy, but no matter how many times I play with it, it always goes back to the original shape.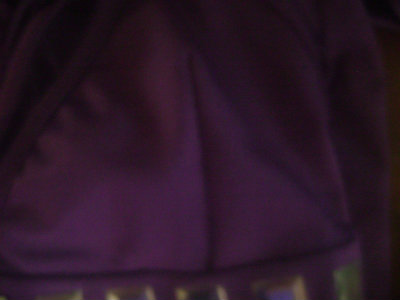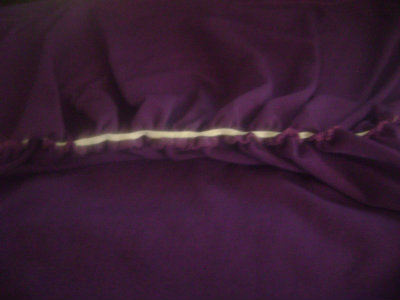 Front of the piece while worn.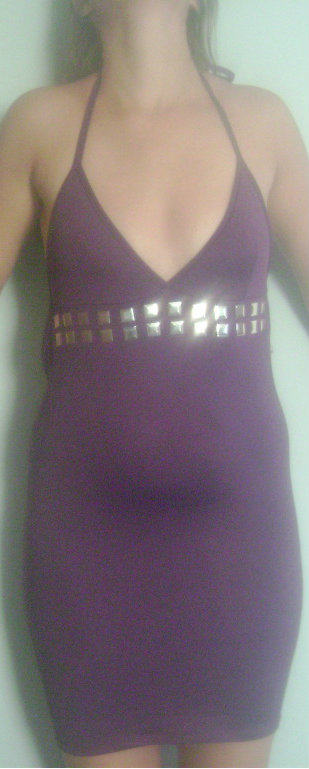 Back of the piece while worn.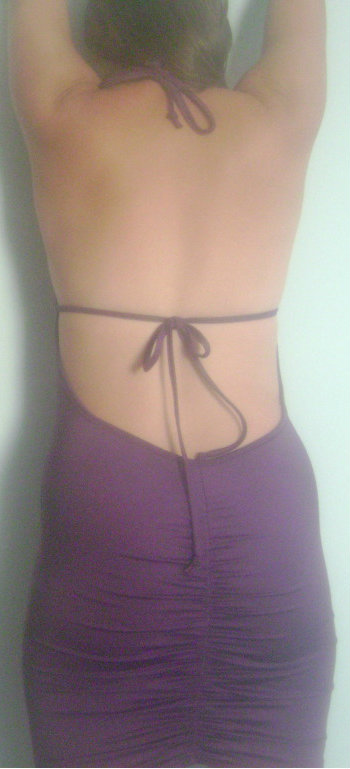 Packaging
It is packaged in a black box with a picture of a model wearing the black version of this dress on the front and a picture of two models on the back one in the black dress and one in the purple dress. It also gives very limited material and care information as well as the UPC code. The dress has an Espiral Lingerie tag on it but it just had the size, dress color, and UPC information on it.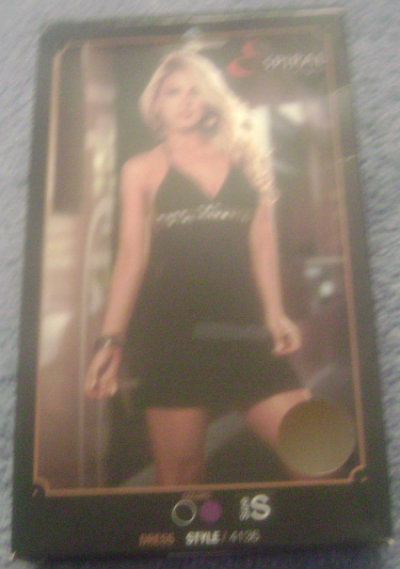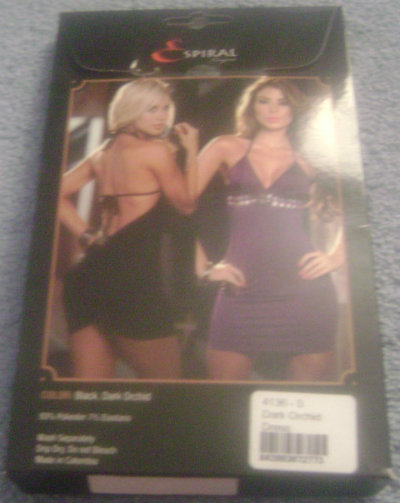 Experience
My family knows me by my limited selection of color choices when it comes to clothing. I have a closet full of red, blue, and purple shirts and hardly any other color that is available. That is because those are my three favorite colors and I just gravitate toward those colors when making clothing choices. With that being said, when I saw this become available on here I had to have it because of course it's one of my favorite colors.

As far as comfort is concerned, I really like this dress. It's very soft and the material is stretchy. The material is highly crafted and I feel that the stitching should hold up for a long time. However, I do not like that it accents my post baby pooch that I haven't been able to get rid of. I prefer clothing items that don't show off this area. Also, I don't like that this dress had that gap in the side that I couldn't make go away no matter what I tried. But all is not lost here, I won't be wearing this as a dress because of the above reasons, but I do plan on wearing it as a swimsuit cover up because who really cares about low cut dresses and gaps in the side when you're swimming.

Considering everything, I'm going to give this piece a 4 star rating out of 5. It doesn't work for me as a dress, but I'm going to make it work for something else and I think the dress deserves the 4 stars.
This product was provided free of charge to the reviewer. This review is in compliance with the FTC guidelines.

Thank you for viewing
Dark orchid studded halter dress
– mini dress review page!