Not Very Wild, but Comfortable & Sexy For Sure!
This leopard print mesh chemise is simple, but the lacy trim and flattering fit make it a wonderful piece of lingerie that will flatter every size. The flowy fit and quality material makes this one of the most comfortable pieces of lingerie to wear for long periods of time. This is a perfect first piece of lingerie since it has sex appeal, but isn't over the top.
Published:
Pros:
Flattering.
Great Quality.
Stylish.
Loose fit.
Cons:
Crappy thong.
Leopard print looks a little cheap.
This Leopard Wild Kitty set is not my idea of "wild," but it's sexy alright and where it lacks in wildness, comfortability makes up for it.
This Leopard chemise comes with a thong, both made in China.
The fanciest piece of lingerie, but the comfort & simplicity is appreciated and makes this perfect for a first lingerie piece.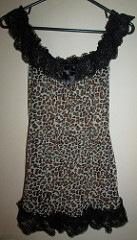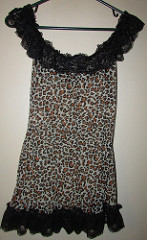 The chemise is made of a fine mesh material with somewhat cheap-looking leopard print all over. The product photo & description calls it "off the shoulder," but the straps naturally stay put on top of my shoulders, which I was happy about. I actually love the look of the chest & straps. You'll have to pull the straps down in order to obtain the "off the shoulder" look, and that means simple movement like lifting your arms will cause them to pop back up on your shoulders.
The chest is trimmed in 3" long black lace that has elastic running through it, giving it the ruched effect, and that really works on this because it gives some body to it so that it doesn't just dangle on your body like a nightgown. This the same piece of lace that makes up the straps. The bottom is also trimmed in this. In the front is a satiny black bow. Black elastic trims under the arm. The lace that makes up the straps is 11" long. None of this is adjustable & there is zero support.
There are seams up either side and one up the back, all hardly noticeable. The neck & back are what you call "boat neck" style, meaning they dip down in a half-circle like shape. I love the back & chest of this.
Material & Care
90% Nylon, 10% Spandex.
Hand wash in cold water, line dry.
The material is very great quality! It's durable, not itchy & soft. It isn't easily snagged. I really love how moveable & flowy this on. It's lightweight, breathable & some of the most comfortable material you can find lingerie in. Below, I've included some up-close photos of the nice lace & material.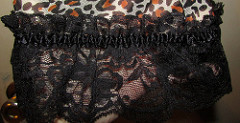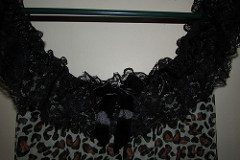 Chemise's Measurements
Size 0/S.
Hem 18" across.
Waist: 12"
Hip: 16"
Bust: 13"
Entire length: 23" long, including lace trims.
My Measurements
Bust: Right: between a B and C cup. Left: 34B
Jean/shorts/size: Zero
Weight: 93lbs
Height: 5 2"
Waist: 26" Lower waist. Where I'm a bit wider, the love handle area: 29"
Fit
This is flowy & non form-fitting on me. I have quite a bit of room in there -- except for in the bust, where it's not tight, but not as loose as everywhere else -- but that's how it's meant to fit. It isn't meant to be really form-fitting or tight. It's slightly more form-fitting in right under my bust as well, and gets looser down the body. From hip to hem, it's the flowiest. The hem hits about halfway down my butt.
This will fit several sizes larger than me and comfortably fit a sizes medium & small nicely. It's a very flattering piece and the fit will flatter all sizes, but a size large may not fit the 0/S comfortably. It's so comfortable that I can do anything with it on. These features make this the perfect first piece of lingerie. It's easy to put on, comfortable and I like that it isn't a piece that's so fancy or overdone (or tough to even put on like corsets) that it works for those who may feel a little shy about wearing lingerie at first. It's a piece that will make most feel nice and sexy.
Thong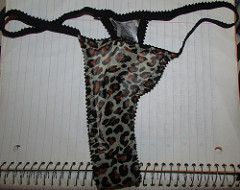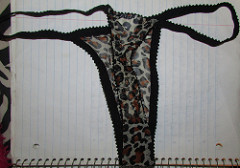 The thong is the typical "I came with lingerie & I'm crappy" thong. It's long and saggy, so it's not flattering on me. The waist is made of thin elastic, which is famous for causing a roll & the thong itself is made of the same material as the chemise. There's a crotch liner.
It so happened that I'd bought the Coquette Leopard thong (pictured below) a couple weeks ago, so since this thong is ugly and ill-fitting, I paired it with those Coquette Crotchless panties instead & they match almost perfectly! The only thing that doesn't match is the panties aren't mesh & see-through like this chemise, but it still makes one sexy set!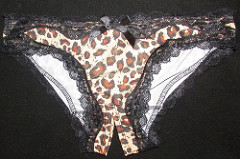 Packaging
This comes in the same exact paper box that the Leopard Babydoll came in, only the photo has someone wearing this outfit on it. There tacky are photos on front & back, but inside, this is in a sealed cellophane bag, so it can be removed from the box for gifting.
Experience In my photos I've worn a bra underneath for some privacy, but you get the idea of how see-through this will be. It's actually not so transparent that you can see everything, but if looking closely, skin is shown through. The leopard print conceals a lot though, even nipples. I notice in my photos you really can't see a lot of my skin, but the pink bra underneath sticks out. Wearing a black bra or black camisole underneath will just cause the print to look less transparent & more sheer as well as cause the print to look bolder.
I'm really happy with this chemise, and with Dream Girl's quality! I was not that excited over this because it's just more simple than the style I usually choose for lingerie. I got this because I didn't have many choices for an assignment, and a couple of months ago, I had the same problem and ended up getting Dream Girl's Leopard Babydoll & thong assigned to me (shown in the "similar products" below.) I wasn't excited about it either, but when I put it on, although it was really baggy on, I actually liked it and was beside myself with the good quality. This is the second time I've had that same situation! When I tried this Leopard Kitty Chemise on today, I became a lot more excited! So I'm very impressed with Dream Girl at the moment.
This is similar to the Leopard Babydoll I got. The material is the same and they're both mostly just mesh leopard print, lace & a bow. The thongs are almost identical except instead of black elastic, the other one has pink.
I got this on & ended up wearing it around the house with a pair of jeans all day long. You know me enough by now to know that I've considered wearing this with a black camisole underneath it so that I can wear it out of the house. I almost did that tonight, (although I've yet to leave for the night) but changed my mind because the stormy weather. I'm still slightly unsure about it for public wear, even with the cami underneath because I worry it looks a little too much like lingerie. However, I'll probably try it once at least.
As for lingerie, I do like this more than I thought. It's not the sexiest piece I own, and despite its name, it does not bring out my inner sex kitten like my other pieces do. On the other hand, it's definitely a piece I like enough that I'll wear it as lingerie on the days where I feel like wearing something sexy, but don't want all the laces & time consuming crap that comes with wearing more fancier lingerie.
Besides those two uses, it's definitely a perfect chemise for sleeping in, as long as the transparent material is appropriate, which is usually the case for my house.
This product was provided free of charge to the reviewer. This review is in compliance with the FTC guidelines.

Thank you for viewing
Leopard wild kitty set
– chemise review page!