Now You See Me.. Now You Don't!
This is a cute one, and I really like the print on it. The camo is fun, and I like wearing this out on our porch in the hot weather, or in the house when we're lounging. I see this as more of a pajama set, but my husband loves the easy access to my breasts and this finds its way into the bedroom more often than I thought it would.
Published:
Pros:
Easy access breasts, Comfortable to wear to bed, Camo print is fun.
Cons:
Trim doesn't match, panties don't fit.
I don't really own any camo print anything, and when I saw this, I thought it would be perfectly sexy to sleep in, and wonderful to wear on lazy Sundays playing video games with my partner. I was really excited to get this one, and when it came in the mail I was thrilled to try it on.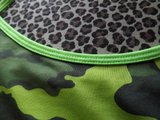 The outfit comes in a small box, similar to the kind that pantyhose sometimes comes in. The two pieces (crop top, and panties) were nicely packaged and fit inside the box well. If you like you can store this one in the box, but I find that it is more space efficient to store this in an underwear drawer, or hung up. (You can always drape the panties over the hanger, and then use the straps on the crop top on the same hanger). The size I chose was an XL, and the top fits great, but the bottoms just don't work for me. More on that in a bit.
One thing I noticed right away when I got this out of the box was the color. The green trim around the crop top and the top of the panties looks like a nice mellow green in the pictures online and on the box. However, the shade is actually very bright and doesn't even really match the camo print all that well. For me, that's not a huge deal, because I don't plan to wear this out of the house or anything and it's just pajamas, but you may want to be aware of it if you like all your things to match.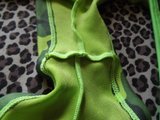 The top is really cute. It is a crop top, so it is going to show off your tummy. If you don't like that, then this isn't the right outfit for you. The top is short at 10 inches from the center to the bottom of the trim, and comes down just a little bit past my bust and leaves my tummy largely untouched. I find that the top covers more if I wear a bra (which keeps the girls lifted and in place), but it doesn't give you that much more coverage, and my D cup breasts didn't fall out of the bottom of the top even without a bra. The top is slightly loose, and it does have some stretch to it, so you could probably fit as large as a DD in it comfortably. The top measures 36" across at the fullest part of the bust, but can comfortably stretch to fit to 40".
As for the panties, these are intended to be low rise, and they didn't work for me at all. I have a 40" hip, and a 33" waist, but this won't go waist height anyway. Measuring straight across the top of these, they are 15" unstretched, and will comfortably stretch to 18". So, if you're a 38" hip, you'll be really comfortably in these, but my 40" hip was just a little bit too big for these.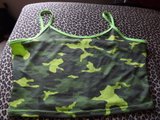 The panties are cute enough, but I dislike how they have a seam running along the front, and around to the back. They look fine, but they will leave a dent in your tummy if you wear them for too long, because there is a big bulgey seam on the inside. There are four big seams running right on the crotch of the panties, which may be potentially uncomfortable to wear for extended use, but as I couldn't really wear these, I can't be sure. It is something to watch out for though.
Washing this is pretty simple, at least. The box recommends to drip dry and not use bleach. I think those are great recommendations, so I used a lingerie bag, and neither the top nor the panties had any issues. They both came out just fine. The garment is made from 93% polyester, and 7% elastano, and is completely opaque.
Experience
I think that this piece is really cute, but I don't feel super sexy in it. It's not that it isn't made well (though, I do wish the panties fit!), but it's just cute more like pajamas than lingerie to me. I love wearing the top around the house or on the porch in the hot weather we've been having, but it isn't my first choice to wear in the bedroom.

On the other hand, if you ask my husband what he thinks, you will hear something different. He has a spandex fetish, so he often asks me to wear this one when we play, even though there are tons of other outfits I'd personally choose first. He also really loves the easy accessability it has. I have to say, I agree with him there.
This product was provided free of charge to the reviewer. This review is in compliance with the FTC guidelines.

Thank you for viewing
Camouflage short and cami set
– camisole set review page!