Peek a Boo Silk Pants!
These pants are softer and sexier than wearing sweat pants to bed, but will be impossible to flaunt outside the home due to the thin, see-through, snagging fabric. They are comfortable and smooth, and nice to rub up against. They work for both men and women - but BEWARE - sizing is a little screwy!
Published:
Pros:
Stretchy
Many sizes offered
Comfortable
Cons:
Price $$$
Snags Easily
See Through
Sizing is Off
My husband loves the feel of silk, and I don't blame him... it's soft and sexy! He first came to realize he loves wearing silk, after we reviewed the Shorts by Magic Silk. It was then I knew, that as soon as Magic Silk came out with some long pajama-style pants, that he would be thrilled. And he was! He was so excited to get these, and try them on for bed and after work evening wear!

We ordered the Red Pants in a size EXTRA LARGE (XL) and this is the review...

Packaging: Great for gifting!
The Red Knit Silk Pants – Lounge Pants by Magic Silk came stuffed into a small cardboard box. Inside they were securely wrapped in a plastic bag, folded neatly with a tissue paper lining. The box is about as big as your average novel book. On the front there is the pants displayed on a very hunky, 6-pack- man body. The nice thing is, that the pants look just like what you see on the box. On the bottom of the box, there are sizes, which are helpful, since EdenFantasys doesn't have sizes posted for this brand yet. The box is not discreet, but isn't crass either. Since the box is a square package, it would be easy to wrap, and I think would make a nice gift for a close lover or friend.

From the box: [italics| "This collection of 100% silk underwear and loungewear offers the ultimate in comfort. These brightly colored garments feature contour styling and breathability, and are ever so soft to the touch."]

Made in China

Design/Shape: Well made, Bright Red
Colors offered: Red and Black

The pants are lounge pants type, loose fitting and stretchy. The pants have a waist band that is black, with a red stripe and white lettering. The lettering says "Magic Silk" five times across the entire length of the band. The waist band is one inch in height and is very stretchy. There are two seams on the side of the legs, two on the inside legs, one down the front crotch and one down the back butt area.

The seams feel secure and look finished. There was only one loose string. Even where the seams meet at a cross section in the lower crotch, they are not uncomfortable or bothersome. The pant hem is well done. The craftsmanship of the pants are well done, but the fabric is thin and see-through.

The color of the pants are very Christmas-y, Santa Claus-like. They are VERY bright red. The entire lounge pants are red, except the band. If you get these, I hope you like red!

Sizing: Sizing is NOT CORRECT
Sizing Offered: S, M, L, XL
EdenFantasys does not have a sizing information chart for Magic Silk yet. So, I am here to help! On the box there is the sizing chart...

Magic Silk USA sizing is as follows:
OS (One Size) = 28-40
S/M = 28-34
L/XL = 36-42
Sm = 28-30
Med = 32-34
Lg = 36-38
Xl = 40-42

How did the sizing chart size up? Well, I don't think the sizing could be MORE off!! Maybe the sizing was done by a monkey. Maybe they had a short measuring tape. Maybe the monkey was on drugs! The sizing for Magic Silk is WAYYYYYYY off! We ordered the size XL, which is supposed to be 40-42, but is more like 34-38.

My husband wears a 34-36 comfortably. He wears this in his jeans and shorts. He is about 180lbs and 5'11". While I would typically have ordered a Large for him, I knew I would be safe ordering the Extra Large (XL) because in the past, Magic Silk has been tight, tight, tight! (We reviewed the Shorts awhile back). Also, I should mention he has a bubbly butt, and these were the perfect fit. We could not have been happy in a smaller size.

The Measurements I took:
Length: 45"
Waist Band: 34" (Unstretched) 42" (Stretched)
Top to Crotch: 13"

Recommendation: If you (or your man) likes the pants a bit loose and comfortable, worn on his hips- not his waist – then order up! I felt the XL is actually a L.
Experience
Material/Texture:
Silk, or is it?
Material: 100% Silk
Although the box, tag and product page says it is silk, the fabric material feels different to me. It is not your typical silk material you would think of. It is less smooth and slippery than silk. It is still soft, but a little more rough, if you can call it that. It is more like a silk mix, like silk/knit or silk/cotton.
The material is very stretchy and comfortable. The waist band is accommodating, and not tight fitting. The material is so thin that my husband's butt is very defined and his penis is showing right through them. If he is limp or hard, I can see it! The material is very fragile, and snags easily.
Personal Experience :
Okay - with some flaws.
Overall, these pants are ok. I know from the shorts I reviewed, that they take extra special care to keep nice. I will be hand washing only. I will never put these in the dryer. They do get a little balled up, and will snag easily.
The hubby thinks that they are a comfortable and nice, loose fit. He likes that they are a little long, they are typical lounge pants in that way. He likes the material and the stretch. Although, the material is comfortable, they don't feel like true 100% silk. They are more like a mix of silk and cotton, or jersey knit. They are super thin and see-through, so he doesn't plan on wearing these around anyone but me. They won't be pants to take on a guys camping trip – that's for sure!
Beyond being guys pants, these could work for a woman too, just be aware they are see-through and the sizing might be a bit tricky because they are so long!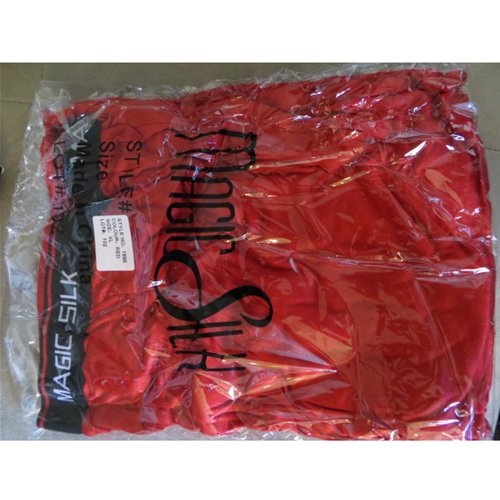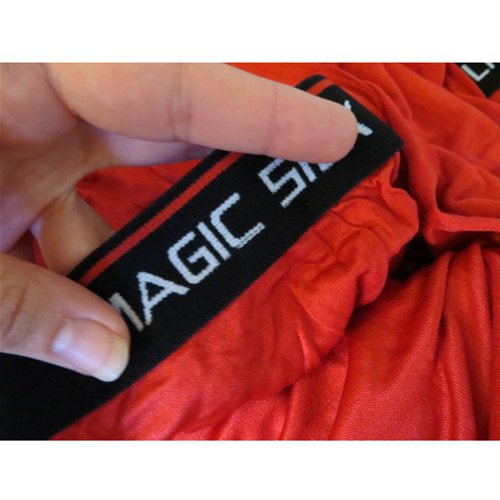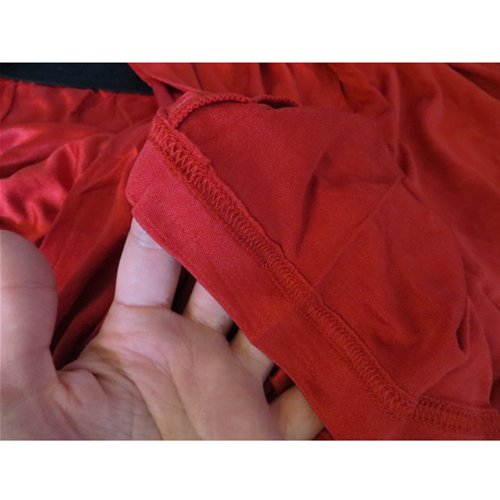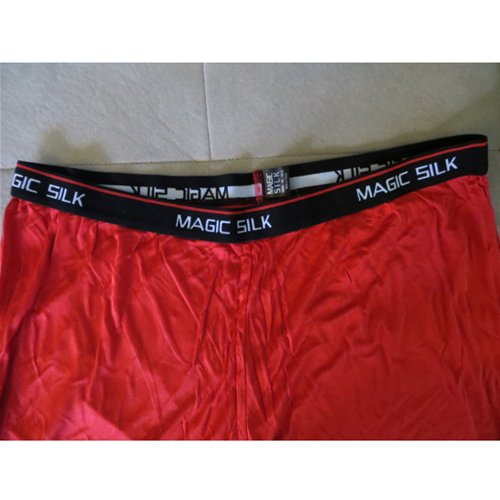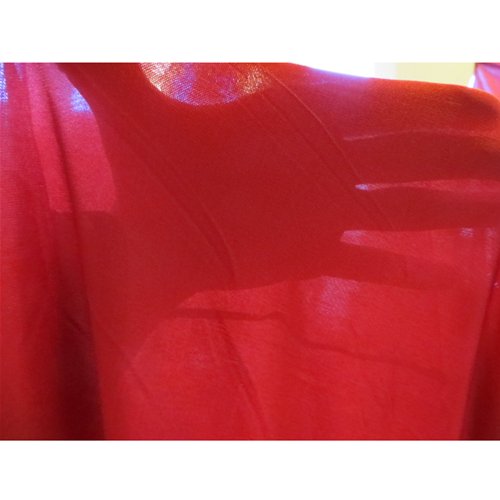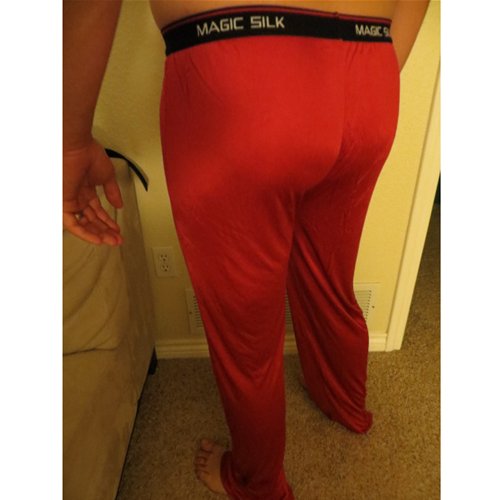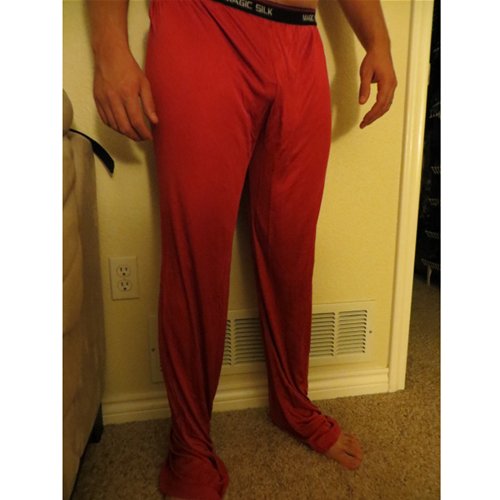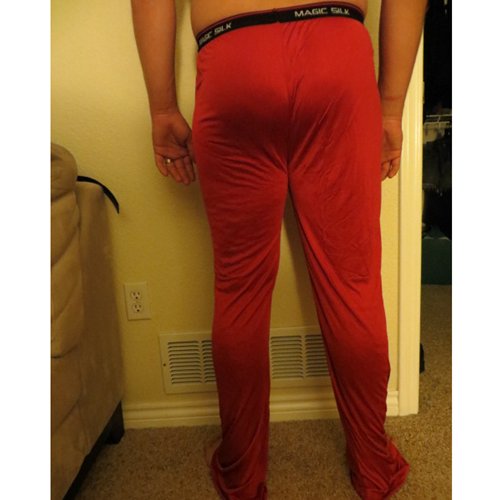 This product was provided free of charge to the reviewer. This review is in compliance with the FTC guidelines.

Thank you for viewing
Knit silk pants
– lounge pants review page!