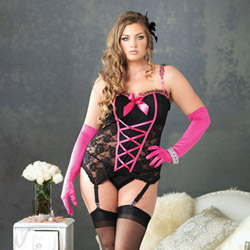 Padded underwire lace cami set
Camisole set
by Leg Avenue
Pink, Lacey, Girly as well as SEXY
With this piece being $32.00 you can't beat that, especially for the quality of the item. I was NOT disappointed in my choice to get this as a review item. I am ALWAYS scared to get lingerie because of my measurements being way different in most places. I try my best to get things that only rely on bust sizing and just hang. I love, love, love this piece and love the reaction I got out of it when I sent some pics to a male friend.
Published:
Pros:
Under Wire, Garters, Matching G-string
Cons:
None for me but others may find the polyester itchy
I was upgraded to an Advanced Reviewer and chose the
Sexy Camisole/Padded Under Wire Lace Cami Set
, which when I found it I fell in love with it, not to mention it only comes in PLUS SIZES! The quality of this piece is really good so far; I have only worn it for photo purposes and to try it on. This piece worked wonders for its intended purpose, I bought it to help myself feel better since I have dropped a good amount of weight and am recently single. I am talking to someone now and he was WOWED by the photos I took and sent to him :) I must say "Thanks" to whoever made camera settings with a timer.
Material- The
Sexy Camisole/Padded Under Wire Lace Cami Set
is made out of polyester fabric, which to some can be hot or itchy but neither of those were my problem. Parts of this piece are sheer and you can see through it which wasn't too big of a problem to me as the sheer parts are on the sides and in the back. As for the middle panel, it is solid black with crisscross ribbon down the front. This piece is very girly if you ask me so if ribbon, lace and bows aren't your thing I would say pass this up. There is a bow in the center between your breasts which I think give a cute touch to my already amazing cleavage. Lace lines the top of the breast area as well as the straps and the straps also have these very cute metal embellishments that connect to another small strap which is where it attaches to the front part. Padded cups are an awesome asset for this as well as the support of the under wire. I have had many pieces that didn't have under wire and my breasts just hung. The
Sexy Camisole/Padded Under Wire Lace Cami Set
kind of pushed my breasts up as if I was in a push-up bra which was wonderful as well.
Underwear Material- G-String was cotton and lace. I thought these were going to be way too big but they fit pretty well and weren't too big nor too small. These are black with lace around the top band.
Garters- Were silky and stretchy (didn't measure them), with metal clasps that would connect to stockings. As far as I know the garters are not removable.
Packaging for this was simple, it came folded up in a plastic bag without a hanger which is fine because I have a million hangers I can use to hang this piece up with.
Taste/Smell- I didn't taste this as I don't taste non-edible items but as for the smell, there really wasn't a smell present other than the normal "new clothes" smell that most clothing items have.
As I said in the first paragraph I had no irritation from this product or the material it was made of which is good cause most people say lace and polyester are very itchy, rough or scratchy for them. That wasn't my case and I really love this piece.
Taking care of this item should be pretty easy. I would recommend hand washing this piece especially if your washer has an agitator in it that can ruin the material.
Sizing
The
Sexy Camisole/Padded Under Wire Lace Cami Set
comes in TWO sizes right now, both being PLUS SIZE: 1X/2X and 3X/4X
This is from the Leg Avenue Sizing Chart on EF
1X / 2X Size:16 - 24 Bust:39 - 48 Waist:31 - 40 Hip:41 - 50
From the Leg Avenue Website
Bust, Waist and Hip sizes are all in inches.
Bust Waist Hips Dress Size Cup Size
1X/2X 40-44 31-35 42-46 16-20 C
3X/4X 46-50 35-39 46-50 22-26 C-D
My measurements I don't have the exact but I went with the 3X/4X which was a little snug around my bust depending on the bra I can be a 42DDD or a 44DD. My hips are a 40-42. Again, my measurements of my body are here and there on both charts so I always try to go with the bigger sizes unless the breast size is WAY bigger. I took a chance on this one but glad I did because as you see my bust is a 42/44DD/DDD depending on the measurement of my bust, which varies from item to item. According to the sizing chart my breasts shouldn't even fit in this as it's designed for C-D size breasts. I am not near the cup sizes it suggests, my breasts really did NOT spill out of the top, I just had AMAZING cleavage.
Experience
I am 5'4 and I thought that this was going to be a little short on me and I was worried my garters wouldn't work out but to my surprise I had to shorten my garters a lot.
Overall this piece is AMAZING especially with added features. I tossed on some black fishnet thigh highs that have black bows on them and you can find those
here
. I was really hoping that this piece would have come with the pink gloves shown in the picture, however they do NOT which I was sad about because to me that completes the outfit. Since I couldn't find pink gloves on EF I took a
poll
to see what other EF Contributors thought about Black/White. I went with black but really hope to find hot pink ones soon.
Overall I love this piece and I am glad that I was able to get this as a review item and to grow my lingerie collection.
Follow-up commentary
3 months after original review
This is still at the top of my list on my lingerie chart! I have only worn this maybe twice since I only get to see my partner every so often due to his job. I can't wait to wear this for him in person!! I wore it around my bedroom when I first got it to see how well it fit and how the material would react to my body with flying colors it past. I have washed this in the washing machine even though it is hand wash only and it held up. I didn't run it through the dryer though, I hung the cami and the thong up on a clothes hanger to air dry. I will not that I have a front load washer without the agitator so that could also be why it has held up through machine washes! I also only washed it with my other lingerie pieces. This is easily worn during masturbation as well, you can either take the thong completely off or pull it to the side. I chose to pull it to the side when I wore this while masturbating made for a great experience and wonderful pics for my partner. This piece is very sturdy and comfortable, I absolutely love it!!! My avatar on here is me in the Cami to give you an idea of the actual coloring of the item. Once I get time I will load photos to the product page. I still haven't found any cons to this what so ever.
This product was provided free of charge to the reviewer. This review is in compliance with the FTC guidelines.

Thank you for viewing
Padded underwire lace cami set
– camisole set review page!