Sexy and Comfortable!
Keep in mind that this set runs a little bit large. Other than that, I honestly have no real issues. Sure, the peignoir looked weird on me, but a lot of women could easily pull it off. All that matters to me is that cute little babydoll style gown and those super comfortable panties. I would give this 6 stars if I could, gals, believe me. It's so sexy, and perfect for any woman!
Published:
Pros:
Comfortable, High quality, Makes any body shape look good, Not itchy, Adjustable straps
Cons:
Peignoir looked awkward on me, Didn't come with G-String (some may want one, I didn't mind)
The Peignoir Set in Black has that sexy, vintage look that I've been looking for in my lingerie. It's sophisticated, yet simple, and is a piece made of high quality and I know will be around for a long time. It has no actual "breast cups", but it's one of those sets where you don't need a lift in your breasts to look sexy. It brings out the good aspects, and leaves the rest behind.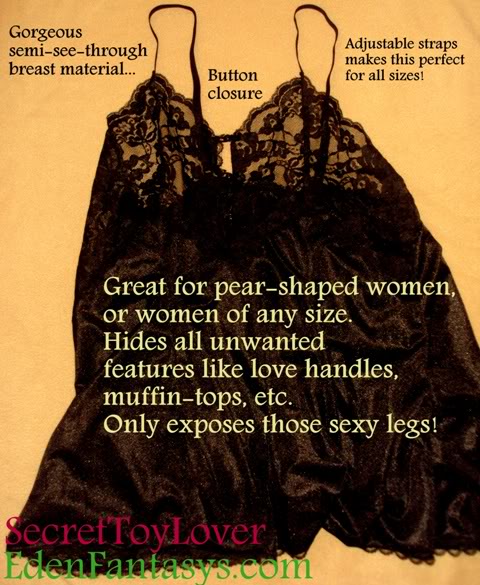 Size:
I purchased the 1X because I expected this piece to run small, just like many pieces do. I am actually glad to say that this particular piece runs a tad bit large. I should have gotten the L. However, it still looks beautiful, and with a little adjusting of the straps and sewing of the needle to tighten the breast area, it fit me perfectly. The L would have been a better choice, but I was scared so I did the normal thing that any women would do when shopping online!
The breast "cups" are not really cups, but rather just a see-through section made of lace. You could have a flat chest, and this gown/babydoll would make you look like a million bucks! It hid all the things I wanted it to hide - my love handles, my slight muffin top, etc. I am not personally a pear-shaped woman myself, but I can tell you right off the bat that this piece is perfect if you are a delicious pear! Or any shape for that matter! It really enhances your natural beauty, and that's something I have to applaud Fantasy Lingerie for doing. I have C-cups and these really brought out the shape in my breasts that I never knew I had.
Material:
This set is composed of Mesh and Nylon... Not the BEST materials out there, but I can tell you that it's one heck of a comfortable set! You do want to be careful when washing, and I say that the dry cleaners is your best bet. Either that, or cold wash with lingerie detergent (or some sort of very soft detergent that is safe with colors and delicates). No drying or ironing! Hang dry over the edge of the tub, or on a hanger in your closet. Be gentle with this entire set, just as you would with very expensive lingerie. It is a great material in the sense that it does not really wrinkle. You can crunch it up for an hour and you wont find a single crease.
Features/ Accessories: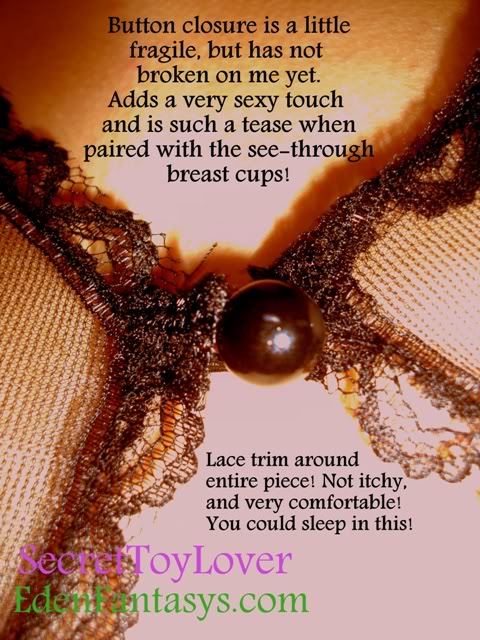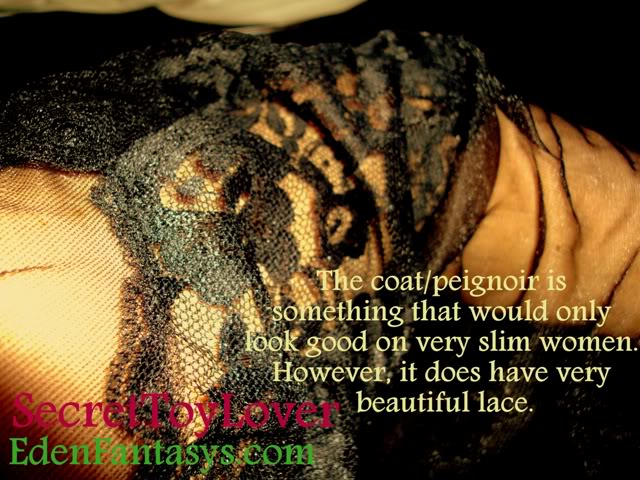 Peignoir - See-through, very thin, with gorgeous lace running along the arms. Closes with button and loops. Did not fit me well in the sense that it did not look good on me. It could fit many women just fine - size is not the issue. The tight wrist area is what made it look so weird. That's what makes this piece look so vintage. A lot of lingerie from way back when had the wrist-cuff type style. Reminds me of what I used to find in my mother's closet! I did wear it, but I wore it unbuttoned and took it off almost 5 minutes after putting it on. I think it would look better on a thinner woman.... a size M or SM.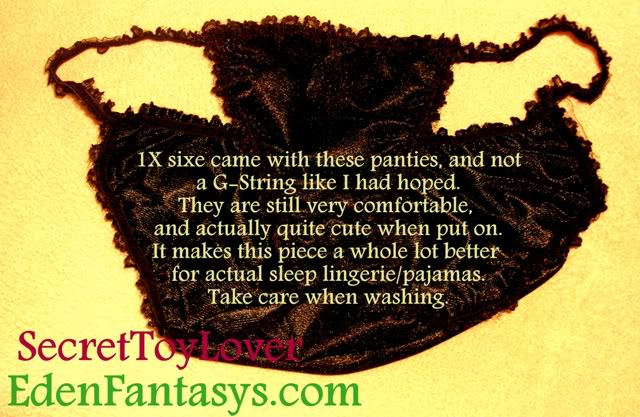 Panties - This set was supposed to come with a G-String. It may just be because I ordered, the 1X, but it came with the panties above rather than a G-String. This isn't a big deal, because the underwear are very comfortable and makes the set even more of a tease for my husband because he can't see all the things he wants to see... Like my ass! He's more frustrated with this than I am!
The panties makes this set even better if you are looking to buy actual sleep lingerie. From time to time I'll buy lingerie simply to wear to bed, rather than for sex. This is one of those pieces I have a feeling I might be sleeping in at one point or another. The panties are just so comfortable.
Performance:
This piece performed very well. It didn't rip, tear, snag, etc. during play and lasted through a wash at home in my laundry machine. I washed it cold, on my "delicate" setting, and dried it on a hanger in my closet. It took about 4 hours to dry completely, but I think that's because it was bunched up for an hour or two on the washer machine. I starched it lightly, because I do that with all of my lingerie. It gives it a more firm feeling, but it still felt silky which is great!
Experience
Overall I can say that I've totally enjoyed this set. Even thought the peignoir didn't look totally dashing on me, the rest of the set did. The panties are comfortable, and the babydoll/gown is so comfortable that I could sleep in it! I may buy another specifically as pajamas! No itchiness with the lace, or any of the material for that matter, which is always great.


It looks so sophisticated when you put it on, and you'd think I spent $200 on this set! It really looks THAT good! I'm not kidding you! So believe you me, gals... This is a set you do not want to miss out on! My husband is next to me as I'm writing this and he's agreeing with me "more than a thousand percent" (his own words, of course).
Follow-up commentary
2 months after original review
Very comfortable... even to sleep in! It's become my pajamas, and less of lingerie. Well, "sexy" lingerie, that is. My hubby knows that when this comes on, he isn't getting laid... I'm going to bed! lol!
This product was provided at a discounted price in exchange for an unbiased review. This review is in compliance with the FTC guidelines.

Thank you for viewing
Peignoir set black
review page!