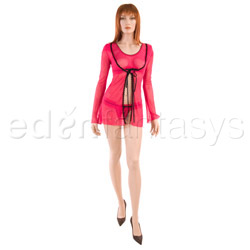 Sheer peignoir
Peignoir
by DreamGirl
Sheerly Awesome
This is one versatile piece of lingerie. It can be worn with pretty much anything else, from other lingerie to regular clothing, or even by itself. It won't really keep you warm, but it will definitely add a nice pop of color to any outfit you're wearing.
Published:
Pros:
Color is awesome, Should last a long time
Cons:
Arms could be bigger
This adorably bright peignoir can be used for a variety of things. If you happen to have the matching set that is sold separately, you can wear it over that for some added coverage. Don't have the matching set? Don't worry! You can wear it over pretty much anything you want; another lingerie set, a cute T-shirt or tank top, or heck, even nothing at all!

It came wrapped up in a plastic bag with nothing but the tag that was attached to it. You can get it in a small to a 1X/2X. I got the small, which means that I should be between a size 2-6, with a cup size of A-B, bust of 32-34, 24-26" waist, 34-36" hips, and weigh between 90 and 120. I'm about 5'2, I weigh about 105, around my bust measures 31" and underneath measures about 28 1/2". I've got about a 25" waist with 33" hips and I wear a solid B cup. I was able to wear this very comfortably without feeling like anything was too loose or too tight. It didn't fit me "like a glove," but it definitely wasn't falling off of me either.

What you're getting here is literally, just the peignoir. For those of us who are less up to date on our "proper" lingerie terms, it's like an adorable sexy robe. It's a really awesome shade of fuchsia that will definitely catch the eye of anybody you happen to be wearing it around. All up the front edge on each side and around the top of the neck area is a dainty black lace trim. It's not only eye catching, but also lets you easily and quickly figure out which end is which, because it is pretty easy to have this become visually lost in itself.

From armpit to armpit, you've got about 15 1/2", and then an additional couple of inches beyond that to wrap back around your front. This wasn't designed to cover the breasts, but instead to meet underneath them, so because of this, when it's all tied up you get the illusion of a scoop neck shirt. Just one that, you know, scoops really low down. It's secured in the front by tying together each of the 21" long ribbons located on either side of the front opening. Because of how much wiggle room you'll get with everything else, I think the only real determining factor for size is going to end up being the sleeves. They're a nice 21" long, and on my approximately 19" arms, they hang down in a nice bell right about where my fingers start to come out of the body of my hand. My upper arms are only about 10" around, and I had a little bit of wiggle room, but not much. If your arms are much bigger, you'll probably want to get the next size up.

There is one tag in it, and it's located on one of the side seams. It's not terribly obtrusive, but if you've got this against your bare skin and you're a little more on the sensitive side, you might want to cut it out. It really just tells you that it's a size small, 85% Nylon and 15% Spandex mis, and that you should hand wash cold and line dry. You could also machine wash low on cold in a pillow case or lingerie bag, but I would still let it line dry. You can store it anywhere you keep the rest of your delicates.

Provided you take care of it and don't purposely try to break it, it should last you a long time. All the seams are held together nicely and there were no frayed strands of thread anywhere. The little lace trim is sewn on really well as well. I can see the ribbons coming off one day, but not being difficult in the least bit to reattach if you so chose.
Experience
I had bought this initially to surprise my husband with on our honeymoon. Well, he loved it. It looks fantastic over anything black as well, from a black bra and panty set to a black tank top, it makes an awesome dainty accent. Since it's mesh, it's not going to do anything really as far as keeping you warm goes, but it does provide a nice little barrier that can help mentally, if nothing else. I used it more as a really light sweater than anything else really.

I was sad to see that it had been discontinued here, but I have seen it for sale a few other places, and if you can find it, snap it up before DreamGirl gets rid of it forever.
This content is the opinion of the submitting contributor and is not endorsed by EdenFantasys.com
Thank you for viewing
Sheer peignoir
review page!