Short N' Silky Lace Robe and Chemise
This robe set reminds me fondly of the teal robe my mother used to wear to be when I was a child. Of course, her ass wasn't hanging out the bottom hem but... still. The fabric is soft and beautiful and feels luxurious against my skin. Small breasts are flattered, and large breasts will want for support. Still, a lovely lace set.
Published:
Pros:
Soft material, sexy cut, flatters small boobs, beautiful set
Cons:
No breast support, short hem on chemise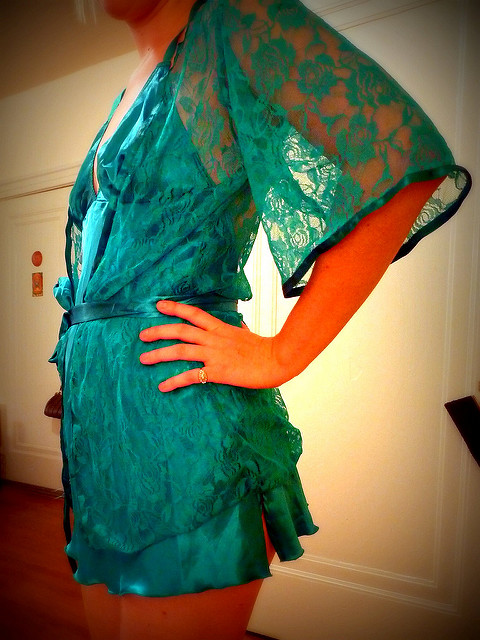 Sexy and comfy.
The gorgeous lace, sexy hem, and included chemise aside, the uber-unique color of this Lace Robe and Chemise set by DreamGirl really caught my eye. An emerald gem shining out of all the whites, reds, and blacks; this deep silky green-blue was delicious! And I was searching for something sexy to romp around the house in, when the boy is over. Honestly, one look and this set didn't stand a chance on the shelves.
Upon excitedly receiving the set, I was surprised to find it loose in the box, rolled up only in pink tissue paper. A cute presentation and I appreciate EF's effort, but DreamGirl would've done well to include a sweet padded satin hanger. Then again, Coquette kind of spoiled me with those. Insert winky emoticon here.
I hopped downstairs to try the set on, stoked to see what my boyfriend thought of it, and nervous to see if it was actually comfy enough to sleep in. Lingerie for the sake of lingerie seems to be lost in my lifestyle. If I were more of a club-goer or my boyfriend more of a foreplayer, maybe lingerie for sexytime only would get more use. Alas. We're old.
I slipped on the silky satin chemise, being careful to put my head in the right spot, between the straps. The criss-cross back on the halter-top-style chemise can be tricky to get into. As soon as I figured it out, I put on a pouty face. This chemise was poking me! The culprit was the tail-end of each elastic strap, sewn on the inside at the armpit of the piece. I frowned, and snipped them off. Problem solved! Resume happy face.
The chemise felt good and smooth against my skin. I could definitely sleep in it. The straps were adjustable like bra-straps, which was good. One downside was that they tended to cross kind of high in the back, as you can see if you look closely in the back-view photo below. This made it a little tighter than I would've preferred, and felt a bit restrained when I moved. However, as I'm not someone who wears bras even, due to the fact that I hate feeling restrained, take this observance with a grain of salt. Someone who wears a bra on the regular would probably not even notice it.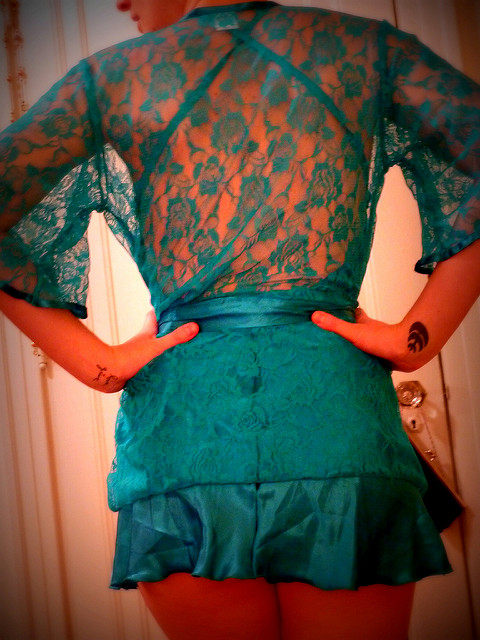 The hem of the chemise hit just at the bottom of my ass, leaving me sexily vulnerable! I would've liked for the bottom to be longer, so I wouldn't feel so exposed if company were to pop in when I was flouncing about in this. However, from my experience with lingerie, I can say that this ass-cheek-length hem is the norm.
A 3" slit up each side of the chemise created an even
more
revealing look, and the piece was hemmed at the bottom with a slightly ruffled effect, with stitching exposed.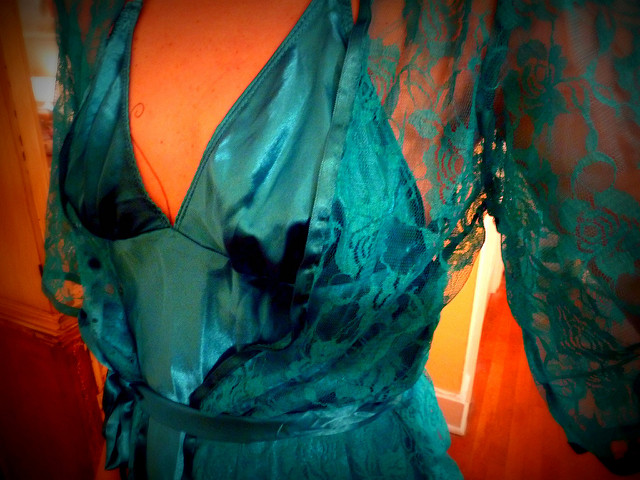 The chemise top is a deep V-neck and I feel it flatters my tiny boobs just fine. The cups are gathered at the base and taper to a triangle top. This creates the illusion of, well, boobs. And voila! Thanks, DreamGirl. For ladies with larger chests, you may want to skip this piece if you're looking for support. No underwire or padding will be found here.
A band of elastic just under the breasts will allow for wider chest measurements to fit into the chemise with no hassle.
The back is a scoop-style, with the halter straps criss-crossing at the top and the skirt part of the chemise starting at the hip line. The cut combined with the material of the chemise make it a very lightweight, breezy summertime outfit. But if you turn up the heat this winter, you can still strut about in this.
Experience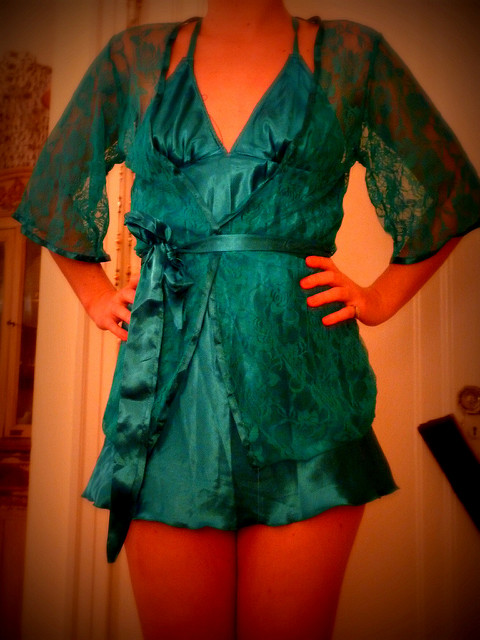 The 100% nylon robe was comfy enough to wear to bed by itself, and I love that! It felt so soft and smooth against my skin. Wearing this set in itself is a sensual experience. The lace used throughout the robe was large-patterned floral, and delicious to run across my skin.
The hem fell significantly higher on my body. My hips were the lowest body part to feel this light material grazing their sexily-clad shores. The floral lace robe is trimmed in 1/2" wide satiny polyester, and features billowing sleeves that fell just below my elbow. The same silky polyester material creates a double-lined sash, sewn into the robe at the center of the back. The sash is about 60" long. It can be tied on the front or side, as you choose. As the satin is slick, it won't tie very tightly or securely, and can sexily be unleashed with the flick of a wrist. Handy, eh?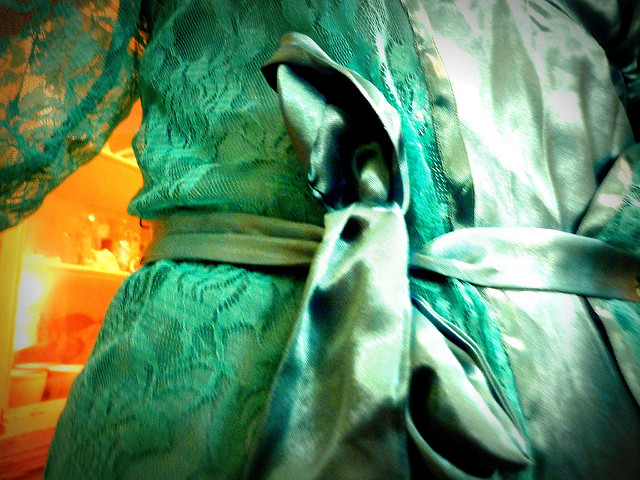 I ordered the small, and this set comes in small - 3x\4x. What a marvelous range of sizes! Per the DreamGirl chart, a size 5 lady such as myself should fit into the small just fine. This was the case. I'm 5'6", 125lbs, with A cup breasts. My chest is 32", waist 30" and hips 35". I found a bit of room in the chemise, and the robe would easily fit someone up to a size 10, no problem. The only issue with the chemise's fit was how short it was in the back due to accommodating for my curvy ass. If you're worried about the length, go ahead and order a size up. The set is meant to be flowing and breezy, and not skin-tight. A size up would not hurt, in my opinion.
Each piece features a tag with cleaning instructions. I cut them out for comfort's sake. DreamGirl recommends hand-washing and line-drying the set. In my opinion, the chemise should be fine on a gentle cycle, but still hang it to dry. Also, don't iron the piece. If you must, be sure to do a small test-patch on a discreet area first. The iron may damage the piece. You never know. But it's better to be safe than sorry!
Overall, the set kind of reminded me of the sort of thing my mother wore to be when I was a child. Silky, flowing and feminine. Of course, she was a lady, and we were just kids, so her ass was never sticking out the bottom of her chemise's hem. Still, I like reminiscing in this teal, soft negligee. It's just beautiful and is my most cherished lingerie set to date.
This product was provided at a discounted price in exchange for an unbiased review. This review is in compliance with the FTC guidelines.

Thank you for viewing
Lace robe and chemise
review page!