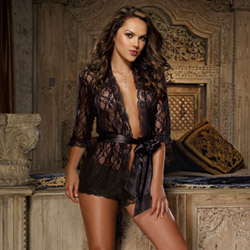 All wrapped up wrap and short
Bed jacket
by DreamGirl
Simply Sexy....
Simply sexy and short, this robe makes being sexy effortless. The gorgeous black, lace robe is made in such a way that it compliments any body type and skin color. The robe set is also complete with a matching pair of lace and mesh boy-shorts that leave more to the imagination. Your partner is sure to love this piece on you.
Published:
Pros
-Sexy
-Boy shorts instead of thong
-Lace
Cons
-Boyshorts are bad quality
-Only one color
The All Wrapped Up wrap and short set is manufactured by Dreamgirl. Included in this set is the robe and mesh boy-shorts. The set is so simple and sexy. I don't care who you are or your body type is, I guarantee that you will love the way this set fits and looks on you. You can go from ordinary to drop dead sexy in a matter of 15 seconds.
Robe
As you can see, the robe is made of a beautiful, black lace. Thankfully the lace is not scratchy at all. The robe is made with high standards and is good quality. I found no loose strings or rips in the lace.
The robe falls about 3 to 4 inches below your private area. A great feature about this robe is that it has 3/4 length sleeves. The sleeves are not tight, but flare out as they work their way down your arms.
The sash is a satin like material that easily ties into a bow. Do not expect the sash to keep the robe closed, because it doesn't. As you wear the robe it begins to open. It doesn't open up completely, but opens up enough to show off your belly button.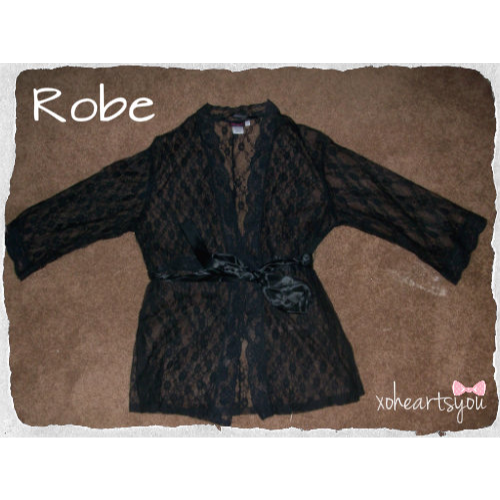 Boyshorts
Thank the heavens that this set came with boy-shorts and not a tacky g-string. The quality of the boy-shorts is not very good. I wore them to bed one night and woke up the next morning to find the mesh removed from the lining. It was a little hole and can be fixed, but it was just a tad bit irritating.
Attached to the boy-shorts are two long strings that are placed so that you are able to hang then on the hanger with the robe. If the strings are irritating to you they are easily cut off, and the boy-shorts can then be placed into your delicates drawer.
Looking at the back seam you can see that the material is bunched up to create the illusion of a larger butt. The material does not give you wedgies. There is no fabric square placed in the crotch area, so you could get a camel toe. If all else fails with the boy-shorts, they can easily be replaced with simple, black, lace boy-shorts.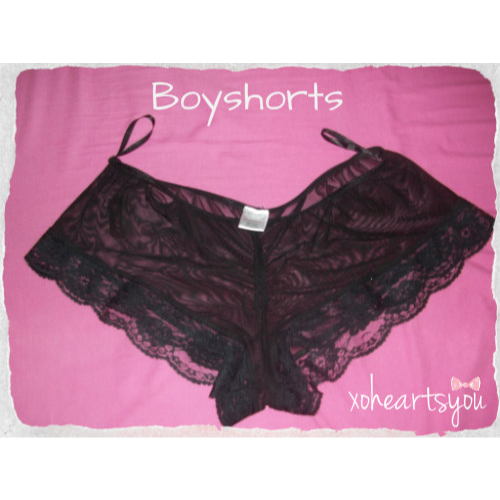 Measurements
MY MEASUREMENTS
Large
BUST: 36
WAIST: 27
HIPS: 38
DRESS: 11
CUP: D
WEIGHT:170
DREAM GIRL MEASUREMENTS
Large
DRESS 10-14
CUP C-D
BUST 36-38
WAIST 28-32
HIPS 38-40
WEIGHT 140-150
As you can see the measurements are pretty much pin point. When it comes to figuring out what size to get I wouldn't really go by the weight because I was 20 pounds over the large limit according to the Dreamgirl measurements. Amazingly, it fits like a dream.
Care and Material
The robe is 100%
nylon
. The boy-shorts are 92%
nylon
and 8%
spandex
. To clean your robe I recommend that you hand wash it and air-dry the robe. As for the boy-shorts, just throw them into the wash with your delicates.
Never place these pieces in a dryer, as you don't want to shrink them or destroy the nylon or the spandex. Even though you could get away with drying them in a dryer, they probably would have a shorter life.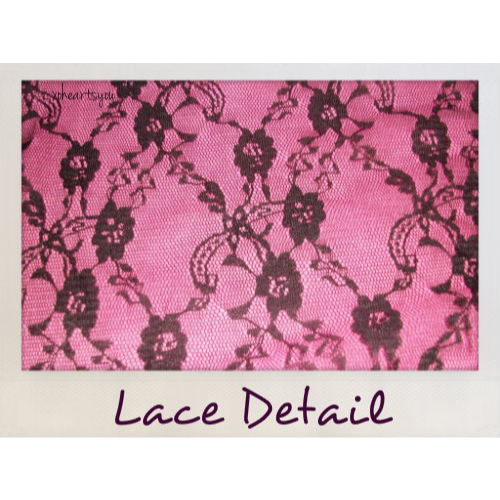 Storing
When it comes to storing your robe, just place it on the hanger it came with. As for the boyshorts, you can store them with your delicates or you can store by hanging them on the hanger with your robe. The boy-shorts have strings attached, so they can easily be placed on the hanger.
Packaging
I received the robe on a hanger that was covered by plastic for protection. There was no writing or images on the plastic, it was completely clear showing the robe. The robe and boy-shorts were both placed on the hanger with their own areas to hang. Attached to the robe was a tag that had the models image on it with the size. There are no instructions with set.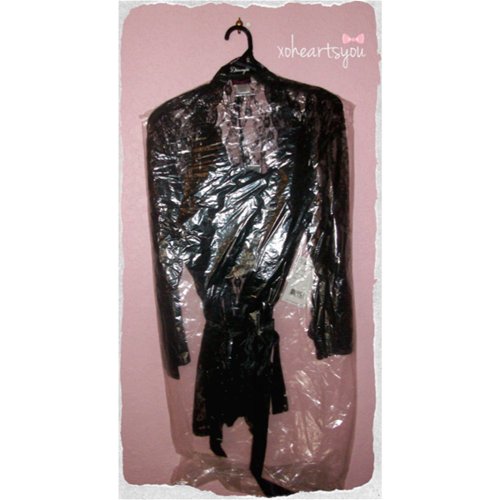 Experience
This robe caught my eye and never lost my interest. It fits amazing, and made me feel instantly sexy. I have honestly never seen my boyfriend smile so big. He loves the robe almost more then me. I only have one problem with this set, and that would be the boy-shorts. I am happy to actually find a set that has boy-shorts and not a tacky piece of string, but the boy-shorts ripped just after one sleep session. I wasn't really happy, but they were easily replaced with a sexy pair of black, lace boy-shorts.

Even with the boy-shorts issue, I still rate this product 5 stars because the robe is just so gorgeous and one of a kind.
This product was provided at a discounted price in exchange for an unbiased review. This review is in compliance with the FTC guidelines.
Thank you for viewing
All wrapped up wrap and short
– bed jacket review page!