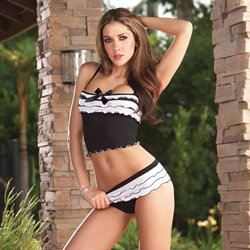 Pardon my French cami set
Camisole set by DreamGirl
Soft and Sensual
This 2-piece cami set combines a flirty look, with a comfortable feel. It's easy to wash and flattering to the figure, but be aware that the sizing runs small.
Published:
Pros:
Comfortable to wear. Maintains its look after multiple washings.
Cons:
Sizing runs small.
The Pardon My French cami set by DreamGirl features a form-fitting camisole top, with a satin bow d cor, and thin shoulder straps that adjust with standard bra slides, making it useful for women of varying torso lengths. The low-rise panties are sleek and comfortable, and have an adorable keyhole opening in the back, to play up the decorative bow found there.

Both garments are put together well, with the inner seams serger-sewn, and there are no frays or loose seams anywhere. Likewise, the decorative satin bows are permanently tied, and firmly attached with multiple passes of black thread, so this is not an outfit that you need to be overly careful with when wearing.

The fabric is a 90% polyester, 10% Spandex blend microfiber, that feels wonderful to the touch. It's soft and sensual, with a tendency to conform to your body while at the same time being stretchy enough not to feel restrictive. The white ruffles are made of the same material, and they maintain their ruffled shape even after you've lain on them for awhile. Even better, this material never seems to wrinkle, no matter how you set it out to dry or where you store it.

Neither the top nor bottom is lined, but the fabric is of a durable weight. The inner seams are comfortable, so a lining would only serve to hamper the delicious feel of the material. There is a small cotton lining in the crotch, to promote good health in that area though, so there are no worries if you wear this cami set for an extended amount of time.

The sizing runs small for this cami set, but the fabric is stretchy enough that it is a bit forgiving. Still, for maximum comfort it will be best to order a size up, particularly if you are at the high end of a size range. Additionally, the top has no support for the breasts, so this is something that ladies with a larger cup size will want to consider.

When worn, the panties ride quite low on the hips, and the design emphasizes the shape of the buttocks. The top is form-fitting, and its lower hem stops just above the navel so it shows off a bit of the belly and lower back (a plus for those who have tattoos in these areas). As a matter of fact, the whole outfit seems to indulge the game of hint-and-peek, being sexy without showing lots of skin, so it doesn't take an incredible amount of self confidence to feel good wearing it.

The manufacturer suggests hand washing only for the Pardon My French cami set, but pleasingly enough it turned out to be much more forgiving than that. Even after three vigorous wearings, and subsequent trips through a cold water machine washing (using delicate cycle), both pieces still look and feel just as nice as they did before. The bows and ruffles maintained their shape, and there is no pilling or fraying anywhere. However, anything with a Spandex content, should never be put in the dryer, so no matter how you wash it you will want to lay it out somewhere to dry.

As for other uses, you could probably get away with wearing the top around the house since it isn't too terribly sheer, but neither the top nor bottom does well when worn as undergarments because the ruffled areas to tend to make bulges in your clothes.
Experience
Michele says: I love lingerie in general, but a lot of it doesn't love me. I wasn't blessed with huge breasts, so quite frankly it's hard for a gal like me to fill out all those items that are designed with more gifted ladies in mind. This cami set actually made me feel good about myself, because it was flattering to my figure. Not only did the top's ruffles seem to give the illusion of having a bit more "up top", it also form-fitted to me so it showed off what curves I do have. This is definitely great lingerie for anyone who wants to play up a small waist and a round behind.

The one issue I did have, was with the sizing. I am at the low end of DreamGirl's size small, but I found that the top was a bit too tight for my liking. The very upper edge of it cut into the skin a bit, though not enough to be terribly uncomfortable. The panties, on the other hand, fit perfectly.

Alan says: Now this is what I call "cuddle wear", because it's so soft when she's laying against me that it's a real turn-on. And it looks great on her. Of course I'm partial to anything like this that shows off her belly, and the shape of her ass, but this one really suits her; flirty with just a hint of naughty. Another thing I like about it is how easy it was to get off. There weren't any complicated lacings or stubborn hooks to deal with, and that's something a guy appreciates when he's had all the teasing he can handle.
This product was provided free of charge to the reviewer. This review is in compliance with the FTC guidelines.

Thank you for viewing
Pardon my French cami set
– camisole set review page!