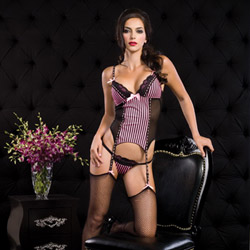 Striped cami garter set
Camisole set
by Leg Avenue
Striped Short
This set was not a hit for me. It's too short which is something I overlooked on the model. It is really well made, but the fit was off for me. The thong is too small, the middle too stretchy, and the cami too short. I'd recommend this to someone who is less than 5'4".
Published:
Pros:
Great bust area for the price, Slight padding, REALLY well made and sewn,
Cons:
Too short, Thong too small
I didn't get this until the recent lingerie blow-out sale because there was something holding me back. I thought something looked odd about the picture. It wasn't until I received this and put it on that I realized it is too short! Without the model standing straight up, I overlooked it. This set looked cute with the pin-striping. I especially loved the look of the butt area. When on, I'm not so thrilled. It's a bit too stretchy in the waist area, too short in the torso, and the panties are sized smaller. I do, however, like the bust. It's not bad for not having under-wire and only a little padding. But ultimately, this one is returnable. A shame since I was drawn to it from the moment I saw it.

*Contents/overview: Two pieces

~Padded camisole
~Matching thong

This set has a padded cupped cami with attached garters. It has eye and hook closure in the back with various size options. It comes with a matching panty, but does not include the thigh highs shown. It is currently only offered in one color combination: hot pink, light pink, and black. It is available in sizes S, M, and L. The sizing is fairly true, but the fit is odd regardless.

*Material: Excellent, high quality

The set is made of 92% polyester and 8% spandex exclusive of the trim. The polyester is the pink and black striped part. Other parts include the black stretchy mesh, satin ribbons, elastic trim, lace, and padding. The polyester only stretches sideways. If it does, it distorts the color, so make sure you get the right size. The mesh stretches very well. It is soft and breaths very well. The padding in the bra portion is soft as well and is about 1/4" thick. The rest of the trimmings are made with high quality materials.

*Design/craftsmanship: Great, REALLY well put together, slightly off fit

This cami is shaped like a tank but it has attached garters so the bottom has a different shape. The cups are very nice for this price. They are well padded, although not contoured to create cleavage. They do, however, help mold a good rounded shape instead of a tear drop. I'm kind of a snob when it comes to the shape of my breasts in my clothing. This top passes the test, although not perfectly, it'll do. They are demi cups with a deep plunge. The sewing is EXCELLENT! You can tug at the various aspects and they won't budge. The inner part of the cups that envelop the cleavage have a line of pink elastic threaded through lace. Then there is a thicker piece of lace over a light pink polyester. These cups are fancy! At the very top, where the straps are attached, is a small pink bow. In between the cups is a much larger matching bow. It is securely attached, but could probably be removed with minimal effort using a seam ripper. The only thing I would wish to change about the cups is their flat across bottom.

The straps are thin. They are the same as the trim on the cups. They stretch a lot and are therefore more comfortable, but won't help those with large, heavy chests. They adjust in the back like a bra does. The same trim as the straps connects almost where it ends on the cups and lines each side of the middle panel of the torso. This is where the garters attach. They have metal fasteners and plastic plugs. They also adjust like the straps. In between where they both attach to the bottom of the cami is a slightly curved up area. When the garters are attached to stockings, this creates a nicely presented area for your crotch and ass! The back has eye and hook closure with three different sizes. It goes down the entire back. Honestly, I can keep it hooked up and just slide it over my head.

The thong matches the top perfectly. It's not just an afterthought in one color, thrown in at the last moment. It has just as much detail as the fancy cups do. It's a g-string with no panty liner. It has a small accent bow right above the connection in the back.

*Cleaning/care/storage: Hand wash, cardboard box

The tag says to hand wash and drip dry. Since I'm not liking this, it will likely get returned and therefor I can't tell you how it has held up to washing. It came in a small cardboard box with pictures of a model wearing the outfit on it. It's hard to get this to fold nicely to fit back in there, but it can be done.
Experience
*Sizing/fit:
too short, runs fairly true to size, but not for the thong
Due to my chest size, I usually order a L or ML in Leg Avenue apparel. I have found that they tend to run small. I would say that this piece actually runs true to size and I may have been able to get a medium if it weren't for the length. The thong also runs small. A large is supposed to fit a 12-14 dress size, C cup, 36-38" band, 27-29" waist, and 38-40" hip. I weigh ~142 pounds (size ~8); curvy but fit, with size 34/36 D breasts. My waist is about 30" and hips 38".
The cami fit me well except for the bottom. It is too short! It's very unflattering at this length. It truncates the torso. The top is great, though! For the price, I was not expecting padding, and the cups work well for me. I wear it on the smallest hooks and there is still plenty of room, so if it were not for the length, a medium would be fine. I like wearing really low hip huggers and prefer to then wear tunic style tees, so anything that is short bothers the flying fuck out of me. In addition to this, the panties are not sized as a large. They are more like a medium, S/M.
My Re-done chart:
For the large - fairly true to size
Dress: 10-14
Cup: C-D
Band: 36-38"
Waist: 28-32"
Hips: 34-38"
*Possible accessories: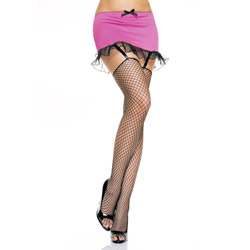 Black fishnets
For these garters, I'd get a pair of black (or light pink I suppose) fencenet stockings with NO top band. It will create the look I discussed earlier and is what the model is wearing in the picture. A plain black heel is appropriate.
*Putting it on:
Easy as pie. You can either put it on backwards, hook it up and turn it around. Or, if it is big enough like it is on me, hook it up and slip it over your head like a tank. It's super easy to get on and off.
*Conclusion:
★★★
Because of the shortness and too small thong, I'm giving this 3 stars. It is REALLY well made, but the fit is off. It is a bit too stretchy in the middle area, but the bust is good for the price. I'm just not thrilled about it. I'd need a medium, but at that size, it'd be like a crop top!
P.S. I found a picture of how this would look on a gal who wears a larger size than me. She is wearing the plus size.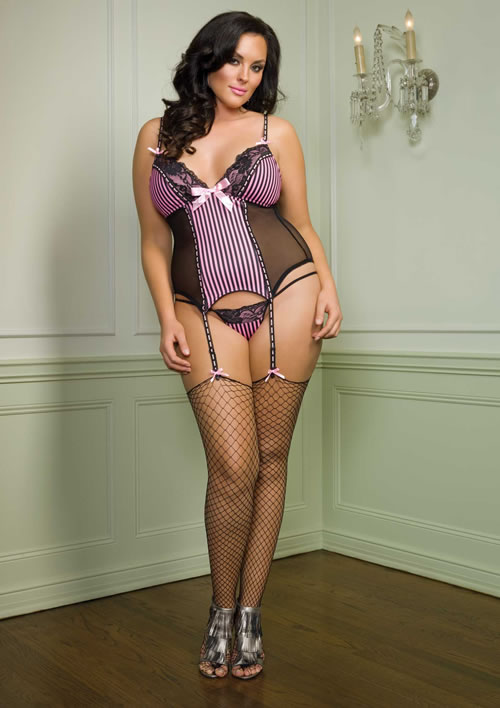 Plus Size
Follow-up commentary
2 months after original review
I still don't like this set and have not worn it since. I waited too long to put in for a return shipping label, so you'll probably end up seeing it on Eden's Classified Ads page before too long.
This content is the opinion of the submitting contributor and is not endorsed by EdenFantasys.com

Thank you for viewing
Striped cami garter set
– camisole set review page!