Super awesome PJs
These are my new favorite PJs, not only because they're comfy, but they're cute, too! I just love how they look, though they're a little busy for my frame, and they're conservative enough to wear to the laundry room. If these look like they come in your size I highly recommend them.
Published:
Pros:
Cute, comfortable, easy to clean, great to sleep in or lounge in, conservative, cute pocket
Cons:
Unfinished buttonholes, pattern is a bit busy
Sometimes you just want to wear something cute and adorable to bed without being sexy, especially if you have a roommate. I was looking to get a cute PJ set that wouldn't show too much skin, and that's exactly what I got. This set has quickly become my new favorite!

Packaging

Other than the box from Eden, these PJs just came in a large, plastic bag. The bag is transparent and has no markings on it at all, and it's really just meant to be thrown away when you take these out of it. I would really recommend taking these out and just folding them nicely if they're meant as a gift because the packaging doesn't make them look quality.

These also came with a little tag attached. The tag just has the image shown on the product page, and on the back is just states the product number. The tag is attached with one of those plastic-y barbelly-y things, so you do have to snip it off with a scissors. It's classy enough that you could totally leave it on as a gift. Other than that there was no additional packaging.

Fit

These PJs fit GREAT! I got the side medium even though I was a tad bit big in the hips, and they fit like a dream. When I first put them on they are a little snug around my thighs, but after a few minutes the fabric stretches out a tiny bit. The sizes are as follows:

Small
Dress size: 2 - 6
Cup Size: A - B
Bust: 32 - 34
Waist: 24 - 26
Hips: 34 - 36

Medium
Dress size: 6 - 10
Cup Size: B - C
Bust: 34 - 36
Waist: 26 - 28
Hips: 36 - 38

Large
Dress size: 10 - 14
Cup size: C - D
Bust: 36 - 38
Waist: 28 - 30
Hips: 38 - 40

I personally wear a size 6 in pants, a C-D cup, and my hips measure about 40 inches at the widest point. I figured that since the other measurements seemed good, the medium was the best choice. I feel like the bust and waist measurement aren't nearly as important as the hip and dress size measurements, so I would go more off of those.

I also want to address the length of these real fast. Being 5'1" I am used to things being way long on me, and often have to pin up at least 3 inches of my jeans so that they don't get all grimy on the floor. What I found is that if I wear these around my hips they are way too long, but if I pull them up to my waist they are a good length and maybe just an inch too long.

Overall, I would say that these run large because they're supposed to be loose and comfortable. I think that the bottoms wouldn't be good for those with over a 40 inch hip, but otherwise the top and waist have a lot of wiggle room.

Material and Care

This silky sleep set is made of polyester and spandex. Because of the material the fabric itself has almost no give to it at all. There is a large elastic band around the waist along with a tie ribbon, so it for sure will fit a lot of people if that's where you need a bit of adjustment.

I have washed and dried this set and haven't had any problems with it getting damaged or even wrinkled. It seems like this is going to hold up to the test of time wonderfully, which is good because I like it so darned much!

There was a large clump of string loose from the pocket area that I had to snip off, and the button holes are a teeny but 'unfinished' meaning that sometimes the buttons catch on spare threads, but otherwise there is no part of this that is coming apart.
Experience
Overall
Overall, I am going to totally buy the black version of these, too! They're so cute, and they're conservative to wear to the laundry room. They're also a bit warmer than my normal PJs, which is awesome because I always get chilly at night time.
Though they don't come in plus sizes, if you seem to fall into one of the size chart indicated measurements I totally say go for these. If you like feeling feminine and silky these are awesome! I do wish that the pattern was a bit less 'busy' because on my smaller frame it does look silly, but that's a small price to pay for this awesome set.
Here's a picture of the front: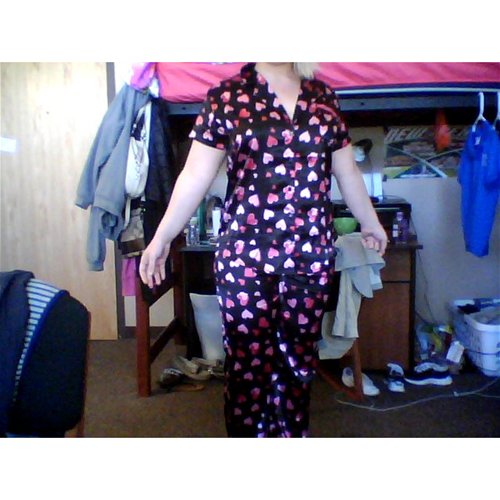 And the back: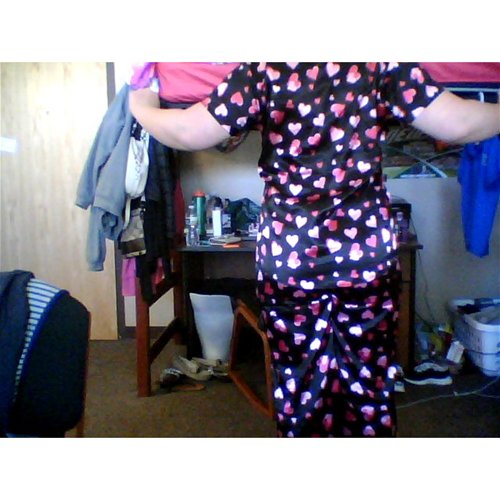 And the side: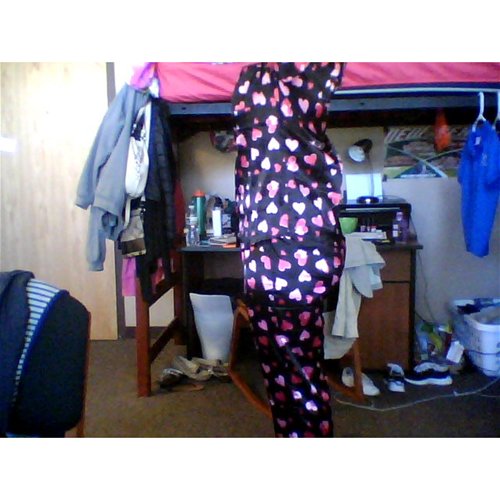 And the neckline: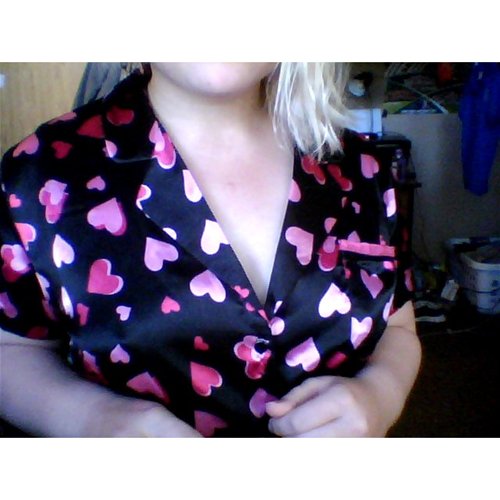 And the pocket: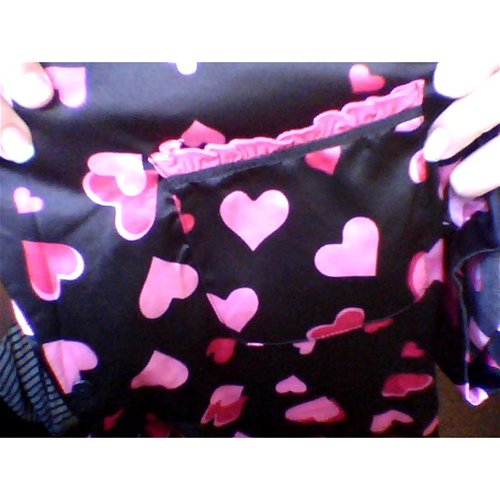 And the tag: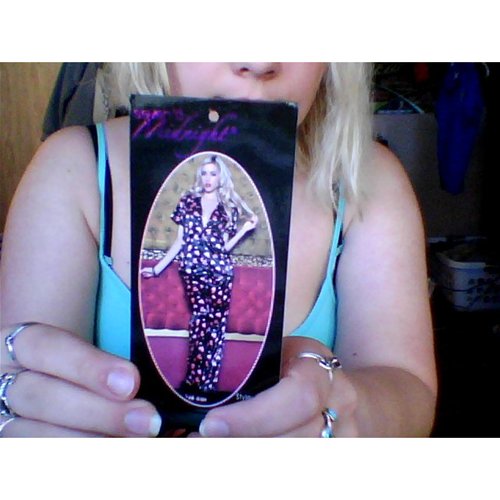 This content is the opinion of the submitting contributor and is not endorsed by EdenFantasys.com

Thank you for viewing
Heart sleep set
– bed jacket review page!