What else can be wrong in one top? (S)
This top was unflattering on me, was sized improperly, and I just did not find it attractive. I don't recommend it to anyone. If you think you can make it work, that's great but this top is just not for me.
Published:
Pros:
color
Cons:
too big, looked wrinkled
What it is
This is the strangest shirt I've ever had. The shape is all over the place and I just don't like it. It is a non-padded, no support, halter style, blue top by Espiral from their Am:PM collection. It has a tear drop shaped decorative metal holder where the halter straps go through and has a keyhole area cut-out at the breast. The material is gathered at the top half of the shirt making it appear to be wrinkled. The bottom half of the top is solid and has an elastic band where the two pieces meet.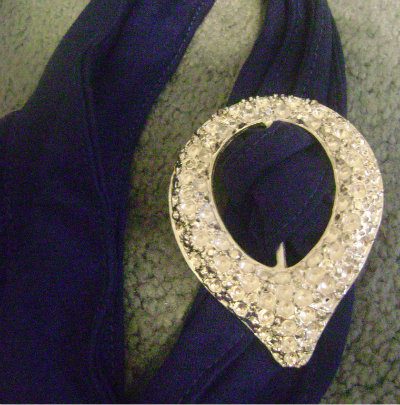 Sizes Eden Carries
Eden currently carries this in sizes small, medium, large, and extra large. I have the small and my review will be based on that.
Espiral Size Chart
Small: 34" bust, 25" waist, 34" hips
Medium: 36" bust, 27" waist, 36" hips
Large: 38" bust, 29" waist, 38" hips
Extra Large 40" bust, 31" waist, 40" hips
My current Sizes
Size 4-6
AA Cup
32" bust
27" waist
32" hips
121 pounds
Given the following information, I should have room up top, be a little snug in the middle, and loose around my hips. Unlike two other tops I reviewed from this collection this top is just too baggy and flowing for my taste. I had a good 4"-5" on the sides that woulod need to be taken away for this top to fit me properly. I don't know what it is about this company, but their measurements are completely off. My first experience with them the top was too tight, the next just right, and now this one is too big. This is not a company that I plan on ordering from anymore in the future because I just don't know how anything will fit.
Measurements taken laid flat
Laying flat, the two halter straps each measure 25" long. The underbust is 16" wide. The triangle bust area is 7 1/2" BY 6 1/2". The top is 22" long from the beginning of hte top to the bottom excluding the halter straps. It has a horizontal seam where the flat area of the top begins about 5 1/2" from the bottom that is 14" wide.
Front of the piece laid flat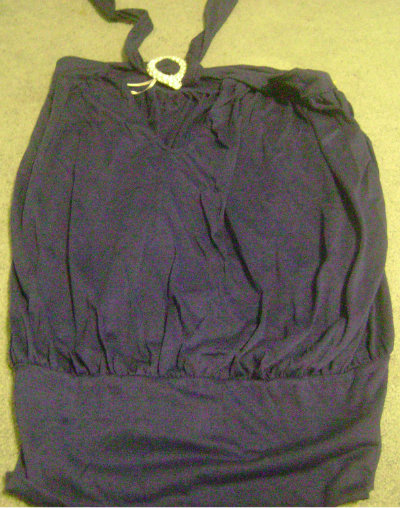 Back of the piece laid flat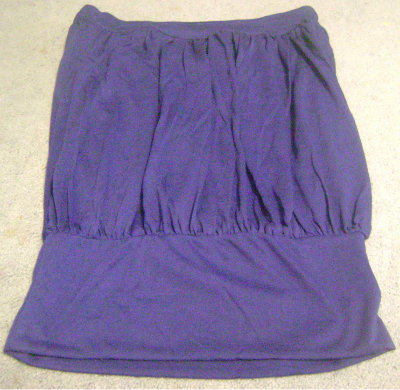 Material and Care
According to the tag, it is 65% polyester and 35% viscose. According to the tags symbols, this is best to hand wash, to not use chlorine bleach, do not iron, and do not dry clean.
Craftsmanship
The material is very soft and see through. The more you stretch it the more see through it becomes. There are no loose strings and no unfinished edges. There is a single row of stitching at the neckline. If I pull hard on the stitching, you can hear little tears. I do not recommend pulliing on it or being too rough.
Front of the piece while worn.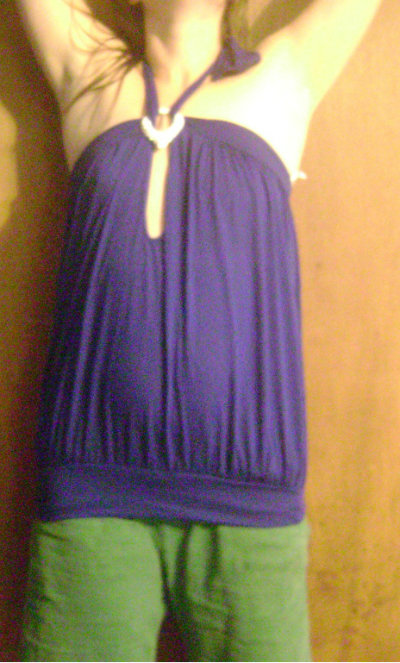 Back of the piece while worn.
I usually try to get a picture of the back with me wearing it. This time I was not able to get a good picture no matter what I tried. However, there's really nothing at the back. The upper part is exposed revealing your shoulders. The bottom continues the wrinkled look of the front.
Packaging
It was packaged in see through plastic with a little hanger on it. Inside the plastic the top was enclosed and had a cardboard picture of a model wearing the outfit, and giving the sizing, style, and UPC information.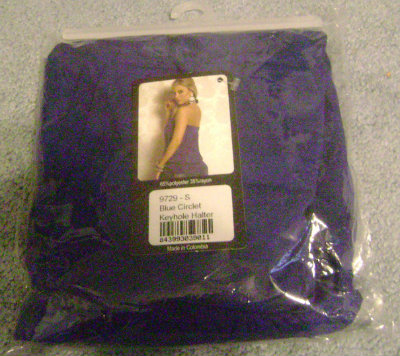 Experience
I really do not like this top and do not have any good things to say about it. There were so many details wrong with this, that this is just not going to be my favorite top. If Espiral would get their sizing accurate and sew a top properly instead of having several inches too much on the sides for a size small then this top could have some potential. The only thing I liked about it was the decorative metal piece.
Follow-up commentary
42 months after original review
This was the worst shirt I have ever purchased in my life. The only good quality about it was the decorative piece. Other than that, the shirt was horribly made, and not worth getting.
This content is the opinion of the submitting contributor and is not endorsed by EdenFantasys.com
Thank you for viewing
Circlet keyhole halter
– tee review page!