Worn Close To My Heart
With some modifications, I found this to be an attractive and comfortable cami-and-thong set. It has a sexy lace-up back and cute red heart buttons on the bust and thong. Sadly, the buttons seem flimsy and they don't stay closed. I sewed this garment so that it no longer opens, and I enjoy it wearing it now. The red and black satin have great contrast, and the heart buttons are a sweet touch.
Published:
Pros:
Satin fabric, Comes with thong, Medium fit me perfectly, Inexpensive set
Cons:
Snaps are flimsy and don't stay closed, Lack of packaging
USE
The Red Heart Satin Camisole set by Dreamgirl is meant to be worn as lingerie. No way are you going to want to wear the camisole in public as a shirt. With the fabric's satiny finish, it is very clearly lingerie. The top unsnaps to allow easy access to the wearer's breasts. The thong has snaps that allow for easy clit access (depending on your anatomy) but not vaginal. This is very much a bedroom piece of lingerie. The camisole has no underwire for bust support, so it's not really meant for all-day wear, but it can be comfortably worn under clothes.
DESIGN/FIT
My measurements, for reference:
Bust:35" Waist:29" Hips: 35" Bra size:B cup
Edenfantasys carries this product in two sizes, Medium and Large. I chose the medium.
The thong fit perfectly, and barely even had to stretch to fit my hips. It would fit someone much larger than me. Despite the fact that the elastic barely had to stretch to fit my hips and didn't cut into me at all, the top button in the front did not want to stay closed while I wore it. This would be a serious problem for regular wear, but not in the bedroom, where you might want these panties unsnapped to allow easy access to your clit. There are two red heart-shaped buttons, and when they are unsnapped, the front splits right down to where the average clit would be located. The thong has a patch of cotton right where it would rest against your vagina for breathability, which I thought was a nice touch. The part that circles your hips is a simple elastic band. This thong isn't quite a g-string, since the strip of fabric that rests between your cheeks never gets to be less than 1/2 inch in width.
The camisole fit my torso perfectly, but I have to wonder how they got the bust to stay put on the model. The top has two red heart-shaped buttons on either side that unsnap triangle of fabric that would otherwise cover the wearer's breasts. My nipples kept wanting to poke out of the bust. I wasn't too fond of the unsnapping feature anyways, so I had a friend sew up the bust so that it no longer opened. It fits my B-cup breasts perfectly. It doesn't have any underwire for support, but it's tight enough that if your breasts are small, like mine, then you won't need any additional support. The top is held up by spaghetti straps that are adjustable but not removable. The straps have kind of a satiny finish to the outside also. It also has straps for hanging the garment. I find that they just get in the way, and since I store this garment in a drawer, I cut them off. Aside from the buttons and two red stripes on the front, this garment is without trim. The most attractive feature in my opinion is the lace-up back. While the medium wasn't tight enough on me to really showcase the lacing, it's pretty nonetheless and it would really stand out on someone with a thicker torso than me.
Both pieces have tags. The top has a tag that says "Dreamgirl" in pink, and both pieces have a tag with care instructions. They don't seem to rub in any uncomfortable way, and I tend to be sensitive to tags.
MATERIAL
This set is made of 98% polyester, 2% spandex. It has a satiny finish and a little bit of stretch. The inside is not satiny, but it still feels soft against the skin. The material is rather thin. It looks and feels cheap.
PACKAGING
I was very disappointed by the packaging for this toy. It came in the usual discreet cardboard box typical of any edenfantasys purchase, wrapped in hot pink tissue paper. No other packaging or nice presentation. The camisole had a tag that pictured a model wearing the garment with the style number, color, and size on the back under the Dreamgirl logo. For this reason, I don't think this set is suitable for gifting, unless you pay the extra $5 to get it gift-wrapped before shipping. This is how it looked when I opened it: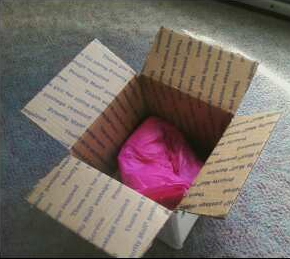 CARE INSTRUCTIONS
For
satin
garments, edenfantasys recommends hand-washing in cold water and air-drying. The tag has the same instructions. This product could probably survive the washing machine with cold water and a gentle cycle in a lingerie bag, but it should always be air/line-dried, not put in a dryer. It should not be exposed to high temperatures or bleach. Once dried, this garment can be stored in a drawer or hung in a closet.
Experience
When I was shopping around, I loved the look of this piece because of the edgy contrast between the bright red and black satin, and the sweetness that the hearts added to it. It's perfect for wearing on nights when I feel like playing at being a nice sweet girl who's going to be forced to do some very bad things.

When I first got this set in the mail, I opened it up, pawed through the disappointing packaging, only to find that one of the buttons on the top was broken. Since they're the snap kind, I couldn't fix it myself by sewing it back on. Edenfantasys was great and sent me a replacement. The second one arrived, and I finally got to try on a top that wasn't broken. I had already tried on the bottom, and the top button on it wouldn't stay closed. I tried on the new set. It fit well, but the top button on the bottom would not stay shut, and my nipples poked out of the top. I tried buttoning and unbuttoning it. The buttons feel flimsy, like they might break if you're not super careful with them, so don't try ripping this garment open. Honestly, the button-up aspect was useless to me, and I had a friend sew up the top and bottom so they no longer open. I enjoy the garment a lot this way. It's a bit of a hassle to have to modify this garment before wearing it, but it's super cute and inexpensive. If you're handy and you know how to sew it up yourself, then it's still worth getting. It's sleek and sexy with the lace-up back and heart buttons as accents (not as actual buttons for opening and closing).
This product was provided free of charge to the reviewer. This review is in compliance with the FTC guidelines.

Thank you for viewing
Red heart satin camisole set
review page!