4 "Unique" Uses
The U-nique is an exceptional multi-useful, sexually arousing unisex toy that is perfect for everyone. It provides the necessary stimulation required to achieve a soaking wet satisfying orgasmic experience.
Published:
Pros
Multi Uses
USB Rechargeable
Easy To Clean
Cons
Moderate Strength Vibrations
The U-nique is a flexible u-shape vibrator that can be used for solo OR couple's play! It's shaped like a tiny horseshoe.

Ladies can use the U-nique for clit stimulation during masturbation or let your partner wear it around his penis and delight you with each thrust. Turn the toy around, and guys can boost their stamina while providing vibration stimulation to their balls. Another way to use this multi-talented toy is for nipple stimulation. There are 9 vivacious vibration modes that range from steady to intermittent pulses. The vibration intensity is moderate (3 out of 5), so it is gentle enough to provide long-lasting (approximately 1.5 hours) sensual, sexual & arousing sensations to various parts of your already sexually heightened body. Guaranteed to make you moan in ecstasy!

Both the toy and remote are USB rechargeable. No batteries required!! Just attach the magnetic charging cord to each device. Please note that only one device can be charged at a time.


The U-nique is made of silicone material that is hypo-allergenic, latex, and phthalates-free. This is a non-porous material that doesn't harbor bacteria. It has an attractive purple color and smooth texture that glides easily over your body's sexual stimulating receptors (i.e., nipples, clit, cock, balls) with less lube. Personally, I have not used any lubricant with this toy and have always been seduced by its smooth vibrating material.
Whether you use lube or not, the toy is easily cleaned using antibacterial soap and warm water. Towel dry, then let air dry completely. Once it is completely dry, I return each piece to the box that it came packaged in and close the top to keep dust, dirt, and sunlight from damaging the toy.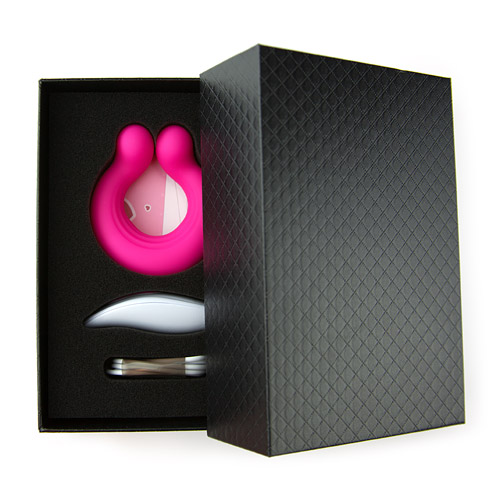 My review is based on my experience using it as a single male during solo sessions. It's a pleasurable experience, and I can only fantasize what it would be like to use it with a female partner. I imagine starting off with a steady vibration and rubbing the U-nique against her left nipple, causing it to become hard and sexually aroused. I swirl my tongue all around her nipple. Going up, down, back & forth. She starts to lightly moan while she feverously grabs her right breast and caresses the nipple to try and match the feeling that her other nipple is experiencing. As she starts to squirm, she begs me to use the toy on her clit. Slowly, I move the toy down her body, across her stomach, eventually arriving at the outer regions of her now soaking wet pussy. I change the vibration setting to a pulsating mode. As I rub the toy over her swollen clit, she orders me to go harder and faster. I'm never one to disobey a sexually energized woman, so I oblige her and stealthfully add my tongue into the mix. Now there is rubbing, licking, and stroking occurring on and around her beautiful pink pussy. In an amazing turn of events, her eyes roll back, she tosses her head side to side, she grabs my hair and lets out a loud continuous scream while her body convulses and pussy cum spews into my mouth. As I lick my lips and see the sweat glistening on her face and abdominal muscles, I notice she is still caressing her tits. As she regains her breath, I hear her say, please do that again!
I guess my fantasy is like following the instruction on the shampoo bottle.......wash, rinse, REPEAT!
Considering that the U-nique provides a stupendous sexual "punch" during its usage, the toy is quite small. It is 3" long x 2 3/4" wide, with a diameter that ranges from 1 1/4" to 2 3/4". It weighs a mere 2.25 oz. Lightweight and great in bed. Sounds like the perfect mate to me!
This content is the opinion of the submitting contributor and is not endorsed by EdenFantasys.com
Thank you for viewing
U-nique
– multipurpose vibrator for couples review page!