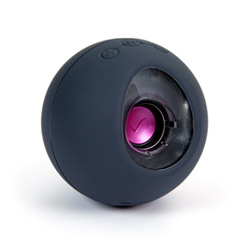 Revel body One sonic vibrator
Pulsating clitoral vibrator
by Resonant Systems, Inc.
A completely different kind of vibe. Which is great. . . sometimes.
This is the most different vibrator I've ever used. It's made incredibly well, has well thought out controls and is a definite rethinking of the vibrator. Because of that it's hard to use with a partner and can take some getting used to. Totally worth the effort, though.
Published:
Pros
Intense stimulation, different feel, great materials, long lasting, no numb hands.
Cons
Strange. Hard to get used to. Really difficult to use in a partner situation.
Where do I even start with this thing? It's amazing and frustrating and tantalizing and wonderful and strange and perfect and awful and great.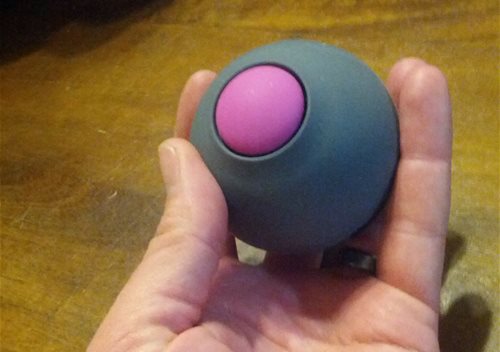 I'll start with the easy stuff. It's about the size of a pool ball and the active area is about the size of a quarter. It's got three buttons, one is on off and toggle from low to high power (not there's much difference between them, but I'm getting ahead of myself.) The other two buttons adjust the frequency. Yes. Frequency. They also kind of adjust power, but in a non-linear kind of way. I'll try to explain later. The whole thing is made of silicone, is waterproof and rechargeable on a little stand. I don't think that most people seeing this would think it was for your lady parts. I don't know what I think they'd think it was for, it but doesn't look obviously sexy. The active part (the pink circle) can pop out and be replaced with various other shapes, but the one it comes with is just the flat dome.
Basically this thing works like your electric toothbrush. It's got a magnetic drive linear motor that moves that pink disk in and out at varying speeds. The faster you ask it to move the less distance it moves so at low frequencies it's going in and out about a quarter inch (a lot for a vibrator. I've never seen one do anything similar) and at the highest frequency it hardly moves at all. I have to think that kind of level of adjustment is a good thing. Diff'rent strokes and all. The manufacturer claims that this kind of motor will last longer and their argument makes sense. Rather then being a motor that wobbles because it isn't balanced it's a linear motor that's running properly. Makes sense it would last a longer.
It lasts forever on a charge. The wife once used it daily for nearly a week without charging it. I've had it on for more than a half hour and then used it again before recharging. Great battery life.
For the power level it's whisper quiet. It's also super easy on your hand. If you use it properly (as in don't press too hard and let the toy dot the work) then you barely feel anything on your hand while your sexy bits gt a serious pounding. Really amazing design in that department.
Now for the hard part. Using it. The wife loves it for solo play. For a while it was the only toy she'd grab. Before that she wouldn't use it at all. It's really different than a normal vibrator. It's hard to articulate how, but it took her three or four uses to get comfy with it but then she fell in love (and she's only tried it on the very low frequency setting). I'll even use it on myself now and again. It's the only vibrator that has consistently given me good and quick orgasms. Strange. It's more like being stroked than being vibrated. I attribute that to the long travel it has on low frequency settings (The high frequency settings don't do it for me).
For couples play it's a disaster. It's too round for me to see what I'm doing and because none of the vibration is transferred to the main body from the active tip if you get it misaligned then you're not rally doing much. It's nice to not have a numb hand after she cums, but it's not worth the headache of trying to keep the tip aligned properly with her clit (while completely blinded by the bulk of the device). Maybe some of the optional attachments would make it better, but in stock mode I can't recommend it for couples play.
You can easily take the tip out and swap it with others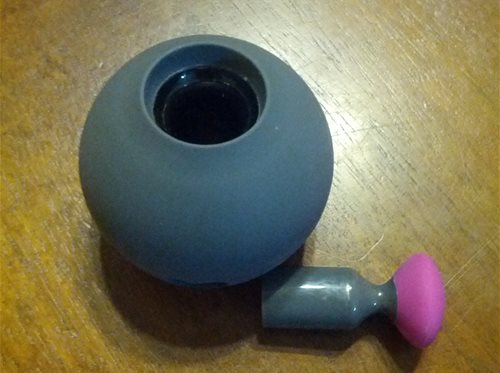 (They, like this toy, are not cheap) and get different sensations. I don't have any of the accessories, so I can't comment on them.
Experience
Practice. This thing is strange. And wonderful. But different. We love it, it's like nothing else out there, but if your ladyparts like routine that can be problematic. If you have a bad experience the first few times you use it don't give up. Nirvana might be right around the corner (or Stone Temple Pilots, but that might be less of a good outcome). And guys, try this thing right on the sensitive underside of your head, right where it meets the shaft. Super fun.
This product was provided at a discounted price in exchange for an unbiased review. This review is in compliance with the FTC guidelines.
Thank you for viewing
Revel body One sonic vibrator
– pulsating clitoral vibrator review page!