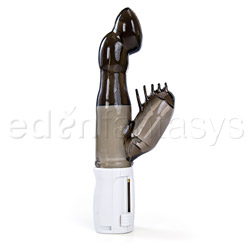 Hot love
Rabbit vibrator
by Toy's heart
A dual-stim vibe that FITS (omg)
The Hot Love dual-stim vibe sent me into an orgasmic shock. The swinging head fit my g-spot perfectly, the finned bullet vibe fit my clit perfectly, and despite the noise, I find this vibe to be awesome. Sporting only two functions (rotate, vibrate), the Hot Love does both amazingly well.
Published:
Pros:
Clit part can fit many body types, g-spot stimulation strong, easy to control.
Cons:
Clit vibes can be considered diffuse; loud; not sterilizable; g-spot part may not fit everyone.
Hot Love
is a
dual stimulation vibrator by Toy's Heart
, a Japanese company which has been getting mix reviews.
Made of TPE, the material is hygienic but not sterilizeable, so use a nonporous barrier if you're trying to share. Since the TPE is on the sticky/tacky side, you'll want to lube up before playtime. Silicone and water based lubricants are both safe to use with this vibrator, so you have the luxury of lube selection while using it. Cleanup of TPE is fairly standard, requiring either soap and water, or toy cleaner.
The Hot Love is comfortably squishy, but holds its shape very well during use due to the solid core of the vibrating mechanism.
The shaft of Hot Love pivots, not vibrates, so the flat pad on top taps your g-spot repeatedly. The pivoting action (called Swing on the box), is quite strong and difficult to stop with a hard clench. I like to clench toys very hard when I use them, and very often doing so causes the toy to stop working entirely, or significantly slow. The swing on this baby slows just barely, which means that I can't accidentally slow down the action when I start having an orgasm.
The bullet at the base of the shaft is not pointed, but instead has a series of flaps. I like this choice, since I normally have an extremely difficult time finding
dual-stim toys
that fit my body. The many flaps help ensure that, one way or another, your clit is going to be stimulated. It has been noted by others, that the vibrations diffuse with this design, but I personally felt that the flaps did a fantastic job of focusing the vibrations where I want it, because my clit was sandwiched neatly between two flaps the whole time, causing an orgasm so earth shaking it kinda scared me. The vibrations are reasonably low, with the lowest setting at about a 3 and the highest a 4.
This toy is by no means quiet, but it's not horrifically loud, either. I would say that it's nearly impossible to have a discreet session using this toy, unless you have some very good cloaking mechanisms to deal with it.
As far as ergonomics go, the
Hot Love vibrator
is pretty standard. The vibration and swing is operated by two labeled slides. Unfortunately, due to their placement, if you forget that's how its operated, you can accidentally switch gears mid use. The slides also make clean up a touch tricky, because you immediately feel that the motor is exposed to water. I haven't had any issue washing it, but I do feel it requires a touch more special care because of it.
Experience
Let's face it, the rabbits don't fit everyone. Bunnies are not one size fits all. I've owned at least three other
dual-stim style vibrators
in the past, and I've found that none of them fit my anatomy very well. The weak orgasms they gave me was enough to put me off the whole style entirely, figuring that it was simply too difficult for me to find the right fit. I needed a bunny that had a strong enough stirring motion or bead tumbler, that I couldn't stop it by bearing down, and I needed a bunny that could target the top part of my clit and NOT cause me to go numb. I just thought that was too much work, and avoided the whole field entirely.
But, when I first saw the Hot Love vibrator, I was suddenly filled with hope. It looked like it was long enough, and the clit stimulator was tall enough, to finally give me the advertised dual orgasm.
When it arrived, I tried it with the included batteries, which were alkaline. Alkaline batteries can die on the shelf, as their power slowly bleeds off while inactive. Depending on how long its been in the box, it can be very weak indeed. The stirring the Hot Love presented was very enthusiastic, and the vibrations as well. Then, I swapped out the included batteries for a pair of my own rechargeable batteries, which were newly charged. Hot Love was easily twice as powerful.
Sadly, I had to wait a week to actually use it, and when I did, I admit I treated it as if it were homework. I huffed, I sighed, I pulled it out and gave it a dubious look. I made up excuses. I tilted my head from side to side, and finally, reluctantly, I put on some porn, lubed it up, and gave it a ride.
The Hot Love vibrator took no offense to my hesitations. 3:12 into my clip, I was INTO it, and while I'd just been wiggling it about looking for a good spot, in a fit of inspiration I grabbed its handle and thrust like mad… my shoulders abruptly snapped into the bed, my back arched, and I let out a brutish groan born from my throat, unexpectedly announcing a root deep orgasm. My thrusting hand suddenly didn't know what to do, and my legs became rigidly straight. I had to clap my hand over my mouth to protect my visiting family members, one room over, and my head thrashed from one side to another.
Now, usually, when I feel pleasure, I elect to cry out. "Oh! I'm feeling quite dandy, I do believe I'll let out an affirmation of pleasure!" … but, this time, I cried out as an involuntary reaction to pleasure. My orgasm went beyond humility and common sense, for just a split second. The best orgasm I've ever had.
This vibrator? It's possibly the nicest thing Eden has ever done to me. <3 Of all the toys Eden has sent me to review, this is the first from Japan… and also the first to make me involuntarily cry out and turn me into an animal. Guess I truly am a Japanophile.
This product was provided free of charge to the reviewer. This review is in compliance with the FTC guidelines.

Thank you for viewing
Hot love
– rabbit vibrator review page!