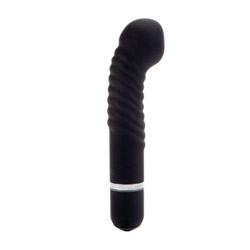 Charisma sassy
Discreet massager by California Exotic
A nicely hooked little guy
The shape is awesome for external stimulation. It's fairly quiet, and the patterns are unusually fun. It definitely gets the job done, which puts it in the top third of vibrators, at least. It looks like a tiny leprechaun should be hitting his enemies with it, and the soft touch finish feels really nice. A shame it couldn't be silicone and more rumbly.
Published:
Pros:
Nice size, nice shape, feels great.
Cons:
Buzzy vibrations, the pattern is backwards for the solid settings, material could be safer.
This one's fairly small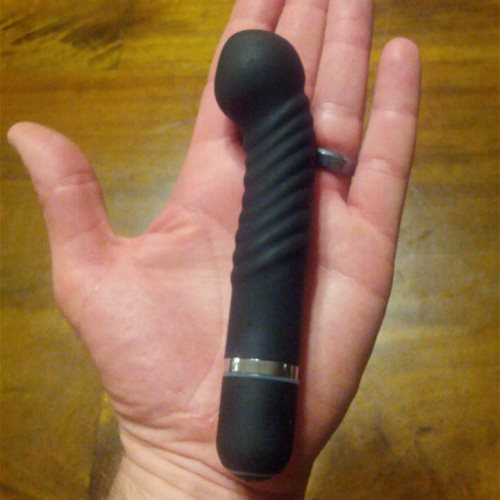 .
It's more like an elongated bullet that mated with a shillelagh than a normal insertable vibrator. It's made of plastic with a soft touch coating. It may not be the most safe and sterilizable material, but it sure feels good. The wife agreed and mentioned that despite the fact that it's totally rigid (no bend or give,) it still feels velvety and soft. In that same vein, the hook is perfectly suited for external stimulation. Either with a partner or by yourself, the way the bulbous tip curves into the ridged shaft is perfect. It hugs the lady curves like no other. Inserted, well, that's a bit more of a mixed bag. If she's really turned on and I'm wielding it, it works fine, seems to do well and goes in like gangbusters. If she's using it alone the tip is a little big and a little draggy to go in easily and then it's hard to move around. So as a couple's toy it's fun inside or out (and has led to orgasms pretty reliably.) As a solo toy, it's pretty much exclusively external - at least, around here.
The vibrations are a little bit buzzy, but not bad to the point of unusability. It has 7 pulsing settings that are more usable then most (including a couple ramping settings that the wife actually used and enjoyed solo. She usually HATES the patterns.) It does have the strangely common problem that the three constant patterns go 'high, medium, low' rather than 'low, medium, high.' If you start on low, you have to loop through all the settings to get back to high. I used to think of this as a terrible thing, but it happens so much now that I've given up on using low or medium to start with any of these toys and just use high. This toy is weak enough that that works quite well. It's not underpowered, exactly, but if you're a power queen, it's not going to do it for you. On the plus side, it's fairly quiet. Even on high, you're not going to be able to hear it through blankets across the room (so it's probably dorm usable.) It's waterproof, so feel free to take it in the shower and when you hold the one button down for 3 seconds to turn it off, it remembers where you left off in the pattern parade (so it's easy enough to just leave on high.) All in all, very usable.
I wouldn't use this toy anally. It's not flared, it's too short to really reliably grip, and the material is definitely porous, so maybe save it for the vagina. If you're going to share it, make sure you're covering it. Can't be too safe these days. Other then that, this is a very serviceable, small, well-shaped vibrator that's on the quiet side. While it's not a jackhammer, it packs enough power to get the job done. I'm a fan. If it were made of silicone, it would rate higher. If it was a deeper, more rumbly vibrator, it would rate even higher.
Experience
From the first outing, this worked well. It can be a little tough to insert, but especially around the clit, this little thing rocks it out. The vibrations are concentrated near the tip, so it can really get in there on her ladyparts without numbing your hands. And it's small enough that you can lick around it when inserted or maneuver it very precisely around the outside. Fun fun fun.
Follow-up commentary
2 months after original review
It's still in the regular rotation. The shape is easy to work with, the size is very nice and the shape still fits her curves. Maybe it's a little too hard, but that could be looked at as a plus. Sometimes you like a toy that's harder. All in all, it's a good little device.
This product was provided free of charge to the reviewer. This review is in compliance with the FTC guidelines.

Thank you for viewing
Charisma sassy
– discreet vibrator review page!