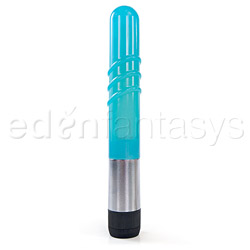 Starlight massager
Traditional vibrator by California Exotic
A Pleasant surprise with the bitter aftertaste of disappointment
A toy that's wholly average, made of a safe material with some bells and whistles, but this is more useful as a tool for annoyance or a flashlight than as a vibrator, at least for me.
Published:
Pros:
Silicone, rather pretty, waterproof, simple for those who like simple toys.
Cons:
Noise, weak vibes, bland delivery, low quality feeling silicone.
The vibrator, from the measurements, sounded small - however the 1:1 view was promising, and the delivered product matched that promise, and then some. I was a bit excited, my first silicone toy, and it was a size that might actually fill me.
However I'll admit, once I opened the package, my expectations that had been pushed higher and higher by everyone's constant praise of silicone, fell dramatically. While there wasn't any smell, nor taste that I could discern, the toy was still tacky to the touch. Most silicone I've felt in other applications, for cooking and such, is smooth, NOT tacky.
The feel actually reminded me of... *shudders* Jelly. The softness, if it can be called that, was really rather firm, and since most of the toy was filled with a solid core, was somewhat wasted. The second thing I noticed about this toy, was the ANNOYING buzzing noise. It's not all too loud, the noise is just so grating on one's nerves, that I find it impossible to tolerate. For this reason, I'm giving it three bees. It's such a high pitched whine, and the vibrations are nothing but a light skin buzz- they didn't even help my clit much at all, since the vibes don't carry well to the tip.
The light is nothing more than a novelty. It really looks like they shoved a flashlight in the tip, and unlike some toys that cycle through colors or have pulsing/flashing lights that match the toys vibrations, this just flickered weakly while adjusting the intensity of the vibrations, and then once you made your choice, it bore intensely into the darkness. If the power goes out, I know where to reach.
I tried to push aside my doubts and give the toy a chance to redeem itself where it mattered. I turned it on, dripped
Sliquid Natural lube
all over it, and then rubbed at my entrance, beginning my session. The entire experience was so bland, I'm surprised I got off at all. I did get off mind you, but it was such a bland orgasm, no high points, no urge to moan, just getting off with no real frills, and I had to really, REALLY go at it to get off, rubbing my clit with my finger, and thrusting the toy quickly, with it pumped up to high, attempting to hit that illusive spot - but unable to, always just barely unable to.
In the end, I cleaned the toy, put it in a plastic baggie to keep dust and lint from sticking to it, and tossed it into my toy dresser. I don't expect to get it out again, since I have other things that can do the job so much more efficiently. Cleanup wasn't even that easy, due to the toy's tacky nature, all the cloths I used to wipe it stuck to it half the time, and I couldn't let it air dry (I tried) because dust and lint would be stuck to it by the time I went back to check on it.
I was very excited about this toy, and perhaps in the end my expectations were simply too high. But I have cheaper toys that do better in the sack, and no matter what material you're packing, that's where performance matters.
...At least I can use it to annoy my adversaries with its high-pitched whine.
This product was provided free of charge to the reviewer. This review is in compliance with the FTC guidelines.

Forum
| Discussion | Posts | Last Update |
| --- | --- | --- |
| LIGHTS!! | 12 | |
Thank you for viewing
Starlight massager
– traditional vibrator review page!