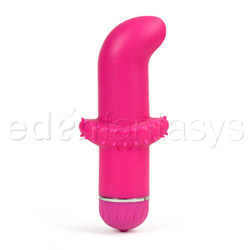 Gyrating chubby G
G-spot rabbit vibrator
by California Exotic
A Vibrating Chubby
Like any other toy out there on the market, this toy has some pros and cons and will only be pleasureable for a certain amount of people. A person that doesn't care much for length, prefers dual stimulation, and appreciates power and simplicity will enjoy this toy.
I'm giving it 3 stars because I found the name to be misleading and I feel as though the head is in to much of a point to appeal to alot of people.
Published:
Pros
~SILICONE~ ~EASY TO CARE FOR~
~WATERPROOF~
~EASY TO USE~
~POWERFUL~
Cons
~HEAD IS TO POINTED~
~NO GYRATING..like the title says~
~ONLY 2 SPEEDS~
The Gyrating chubby G is just one in a small collection by Cal Exotics that came out in the same time frame and has "Gyrating" in their title. Each one in their collection counting this one also comes in a few different bright colors. This one in paticular is available in three colors.. purple, pink, and orange, my review and pictures will be on the pink. Being attracted to the "girly" colors and unique shapes of this collection I knew I had to try one!

What is this toy used for:

This small vibrator is intended to stimulate a womans g-spot with its bent/curved head and to stimulate the clit at the same time with its oval nubbed attachment. The head could be used as well for pleasuring the clitoris. As far as anal is concerned I would have to say no, while there is the clit attachment that protrudes out some I don't think it is wide enough to act as a base.

What did the packaging look like?

Delivered and packaged in a medium sized white box with a picture of the vibrator on the cover makes the packaging anything but discreet! Purple writing saying the name and its features cover the front of the box as well. On the back it describes its functions and features in a few different languages. Inside the box you will find the vibe in a small plastic baggy with a small folded paper stating only how to insert the batteries.

What's the design of this vibrator?

The design is unrealistic and does not look like a real penis. The head is smooth and angled slightly with the top forming more into a slight point than rounded. About half the way down the vibrator bulges out into an oval shape with 26 soft nubs running around the top and bottom. It then goes right back to the original girth underneath it. The bottom is rounded off with no straight cut edges, this is where the battery compartment is hidden along with the power/functions button.

What functions does this have?

Well they call this the "Gyrating Chubby G" but infact there is no gyrating to this. Gyrating to me is something that rotates around, so this had me insinuating the head spun around but it doesn't. Infact the only movement this vibrator has is VIBRATING. There are two settings of vibrations one low and one high. A push button directly on the bottom operates it by 1 push low speed, push again you get the gigher setting, and then push it one more time and it turns it off.
Even though there is only two sets of vibrations on this they are stronger than some vibes I have. I'm more of a power queen and am quite satisfied with the highest setting on this, and the lowest isn't to bad either! The vibrations can be felt from the top to the bottom evenly.

How is it powered?

Three -AA- batteries is all you would need to get this going. The bottom of the vibrator has a turn nob that houses the batteries..simply turn, insert, screw back on and thats it! When I received this I was anxious to see how strong the functions worked and had no new batteries so I took out some elsewhere to put in this and it still had a great deal of power.

What materials are used to make this?

The chubby G. is made from 100% silicone. Which is a safe material and easy to clean and care for. However when using lube with silicone toys you should use a water based lubricant instead of silicone so you get more life span out of your toys. Cleaning is easy with a toy cleaner or simply soap and water, and since this is not porous you don't have to worry about any bacteria hidding out anywheres. To store this when your not using you can just put in your toy box or in the box it came in. No tacky material or odors leaves this safe to be stored near other toys.
The silicone is soft and smooth with a slight seam that runs along one side of it. While the texture is smooth the vibrator is by no means "squishy" or flexable.
The cap on the bottom and the silver ring running right around the top of it are made of a hard plastic.
Experience
Waterproof?

Yes it is waterproof, you can take this in the shower with you anyday! I have yet to submerge it under water so I am unable to say on how reliable the functions would be in the bathtub though.
Being waterproof is a great feature for just sanitizing alone. Unlike a few toys I own when I clean them and have to quickly run them under water this I can leave this underneath without worries.

Now to the size..

The whole length of the vibe is alittle over 6 inches( hard to get accurate measurement with bent head). The bent part of the head is alittle over an inch long and a half of an inch thick. The clit attachment sticks out on each side about a half of an inch. The width of the "Chubby G" is an inch. There is 3 1/2 inches between the top and the clit attachment and 3 inches from the bottom of it.


Now to my thoughts and experience with the chubby..

Personally I think the head is in to much of a point for me. While it is intended to touch a womans g-spot it really all depends on the anotomy of the woman. I have yet to use it internally just because I'm slightly afraid of the head. However, I have used this on my clit and as a back messager and the powerfull vibrations made it do the trick quickly for both uses!
I really enjoy the power it has and think besides from the piece of mind of the safe material, the power is my favorite feature.

*I WILL INCLUDE PICTURES AT A LATER DATE AS I AM HAVING TROUBLE UPLOADING THEM AT THIS TIME*
This product was provided free of charge to the reviewer. This review is in compliance with the FTC guidelines.
Thank you for viewing
Gyrating chubby G
– g-spot rabbit vibrator review page!