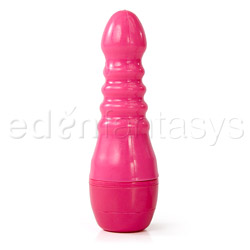 Power surfer amped
Traditional vibrator by California Exotic
Adventures Fall Flat With This Surfer Chick
Power Surfer Amped is a vibrator which can be used for either penetrative or clitoral stimulation. As a penetration vibrator, she's on the small side and won't reach your g-spot though she will stimulate the outer parts of your vagina (or anus) with her ridges. As a clitoral vibrator, she is on the less intense side, though you can use her ridges for a more intense experience.
Published:
Pros:
Ridges, good for certain types of clitoral and vaginal stimulation.
Cons:
Weak vibration, cannot be sterilized, broke partially after two uses.
I was a bit perplexed when I first got the Power Surfer Amped as to what its intended use entailed. Was it a clitoral vibe? The head seemed to suggest as much, though the ribbed sides made me think penetration. I noticed that it said "multi-use" on its simple but functional packaging so I decided to try and figure out what uses that might refer to.

Use Number One: Power Surfer Amped Goes Spelunking. As a penetration vibe, this surfer chick left something to be desired. Though the ribbed edges did feel nice right on the outer edges of my vagina, the head was small enough that I wasn't getting a whole lot out of the part of the toy inside me. The vibration was strong enough to feel and gave me that kinda warm and fuzzy feeling that comes from internal vibration but the toy was so small and rigid that there was no chance that vibration was going anywhere deep or near my G-spot which is where I really wanted it to be. This first time that I tried it, the Power Surfer Amped had three "amp" levels, of which only the third and strongest one really did anything for me once inside; the others were too weak. Switching between vibration levels was a frustrating experience as well. The surfer's on/off/change intensity button requires you to push a sunken plastic button into its base, a task which is awfully difficult when you can't hold the base or the button firmly because you've got lube on your fingers. 2/5 stars on this trip: sorry, surfer friend, you just didn't cut it.

Use Number Two: Power Surfer Amped Takes on the Nerve Mountain. I figured, it's not fair to judge the Power Surfer Amped solely based on its penetration qualities without also appreciating what it can do for my clit. So I slipped it out of my vagina, and let it rest on my clit. I was, unfortunately, disappointed again. The vibration coming out of the top was fairly limited, even on the highest setting. Now, I don't always want super-intense-power-a-fire-engine type vibration, but it takes a little more than a pleasant buzz to get me to orgasm. The power surfer wasn't weak but it also didn't have that extra kick that I needed. I did find it enjoyable if I rested the side ridges against my clit; this part of the vibrator has more intense vibrations and offers nice texture for the clit. 3/5 stars for this adventure: you're improving, surfer friend, but you still don't really get it.

Use Number Three: Power Surfer Amped Goes Down Under. Fast forward a few days. I take my not-so-favorite new pal out of the box to go for another foray into orgasm-land. Today, I decide, we're going to make use of the fact that she's waterproof. So, I put in the batteries (watch batteries, by the way; she comes with two sets but you'll have to find them afterwards in stores unless you happen to have watch batteries around the house) and start flipping through her settings just to feel them for kicks. Oh no! Where did that middle setting go? Suddenly, Power Surfer Amped has turned into a two setting vibe, with an off setting in between. Broken? Malfunction? Not clear, but frustrating to have after just two play times. Nonetheless, I take her into the shower with me with some water-based lube and try her out. This is another moment when her not-quite-roaring vibration gets me down. I've always needed even more vibration in the shower and Power Surfer Amped just wasn't making it happen. Adventure 3 score: 1/5 stars, for breaking before I went underwater, and not doing it for me during. Sad shower.

So there you have it. The Power Surfer Amped can be an okay clitoral vibe if you use the ridges and would be a good penetration vibe for folks who care about exciting the outer edges of the vagina. She doesn't quite cut it for those of us who need more vibration, though, and partially broke after just two uses. She's made of TPR silicone which means you can't sterilize her, though you can clean her with warm water and soap. I advise using a condom with her at all times. Don't leave her near your pure silicone toys since she'll melt into them.
This product was provided free of charge to the reviewer. This review is in compliance with the FTC guidelines.

Thank you for viewing
Power surfer amped
– traditional vibrator review page!