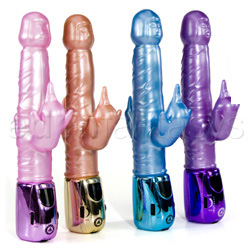 Amour
Triple stimulation vibrator by Golden Triangle
Amour sex toy review
This is a fairly basic rabbit style vibrator but it works well. It's vibrations can go really strong or nice and soft...but it's really loud! However, it certainly did the trick to make me climax FAST.
Published:
Pros:
1) good range of vibration strengths 2) clit and anal vibe 3) made me climax really fast!
Cons:
1) very basic functions 2) slimy and smelly at first 3) shared dial for anal and clit vibe.
The "Amour" triple stimulation vibrator is my very first rabbit style toy and I was very excited to see what all the fuss was about. When I saw this toy I was even more excited that it had an extra anal stimulator as well. Even more fun!

When I took the toy out of the package the first thing I noticed was the smell. It had quite a strong odour of something sort of sour and rubbery. I guess this makes sense, because it is made out of rubber. Also it was coated in a sort of slime that was totally unappealing. Needless to say, I didn't feel like sticking this thing inside me right away! So I washed it off with soap and water and stuck it by the window to air out. This seemed to do the trick.

Later that night I decided it was time to try it out. Before getting down to business I familiarized myself with the functions. There is one main on/off switch on the bottom and then two rotating dials: one for the main shaft and the other controls both the clit and anal vibe. I was really disappointed that the shaft of this toy doesn't rotate or do anything other than vibrate unlike some of the other similar products out there. I was a little skeptical of this toy's ability to get me off. I have to say I was pleasantly surprised though!

The first time using the toy, I positioned it and then my partner operated the controls. I found that the little 'nose' on the clit vibe was able to tuck underneath my clitoral hood to give me clit direct stimulation. My partner basically just held the thing in place and slowly escalated the vibes power. I didn't really notice the anal vibe much, but even still I reached climax super fast! This thing managed to make me orgasm in a matter of minutes. I was shocked--I guess this thing is just shaped right and has strong vibrations that it seems to do the trick and fast!

In order to get the anal vibe to stimulate a little better I tried using a different position than lying on my back. The base of this toy is fairly wide and I found that it stands up nicely. So I knelt overtop and lowered myself onto it and let its vibrations do their thing while I was giving oral to my man. I found in this position I could feel the anal vibe a lot more, and I really liked the triple stimulation pleasure.

Overall, as far as rabbit style vibes go this one is fairly basic in its function options; but it does the trick quite well. Its vibrations can go quite strong and are easily adjustable. However, it is a bit on the loud side…might not be good if you're trying to conceal its use. After washing the toy the original foul smell didn't come back. Since it's a rubber toy, using a condom is probably safest as it is porous.

Finally, its shaft is a nice size and the clit vibe is shaped just right to hit the spot. This toy definitely did the trick for me!
This product was provided free of charge to the reviewer. This review is in compliance with the FTC guidelines.

Thank you for viewing
Amour
– triple stimulation vibrator review page!